Nesta semana, um vídeo apareceu nas redes sociais supostamente mostrando o lançamento de dois mísseis Kh-22 ('AS-4 Kitchen') de um bombardeiro Tu-22M3 na Ucrânia. O Kh-22 foi desenvolvido na década de 1960, é uma arma antiga, algo como geração 1,5 de mísseis guiados soviéticos.
O fracasso da Rússia em alcançar a superioridade aérea na Ucrânia foi descrito como um dos erros mais significativos que Moscou cometeu. Esperava-se que a Força Aérea Russa desempenhasse um papel vital na invasão, que poderia ter permitido que as forças terrestres entrassem profundamente na Ucrânia e tomassem Kiev.
Não foi por falta de experiência ou capacidade. A Rússia tem quase 4.000 aviões de combate e tem experiência com alvos de bombardeio na Síria, Geórgia e Chechênia.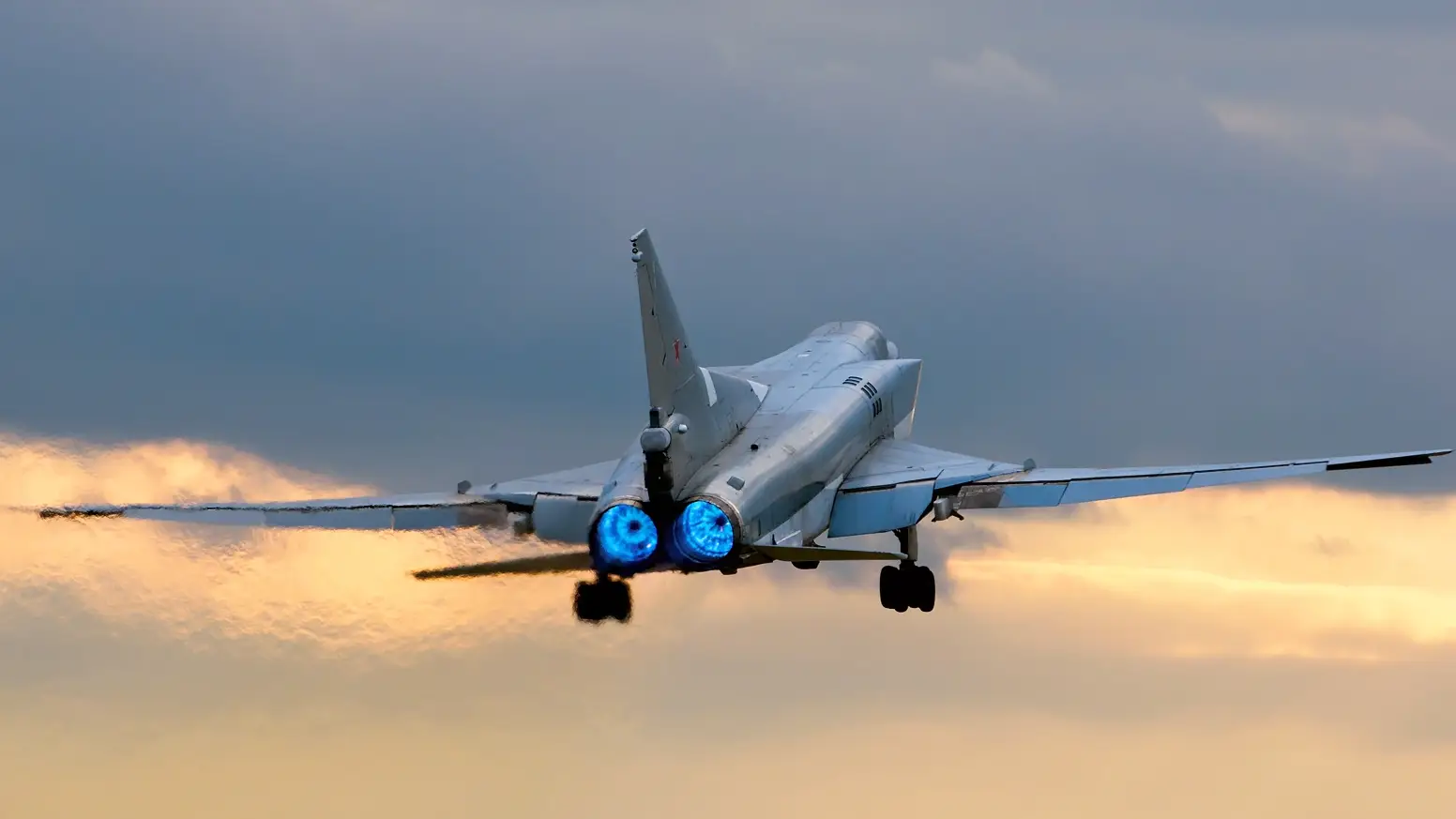 Talvez vendo a oportunidade perdida, nas últimas semanas, Moscou desdobrou sua força de bombardeiros Tu-22M3 modernizados armados com mísseis Kh-22 para atingir o sistema ferroviário ucraniano. Tais operações foram inicialmente conduzidas com mísseis de cruzeiro, incluindo o Kh-101 e Kh-555 e lançados de bombardeiros Tupolev Tu-95 e Tu-160, mas nas últimas semanas uma mudança aparentemente foi feita para o Tupolev Tu-22M3 (nome de relatório da OTAN "Backfire").
Undated photo uploaded on the Fighterbomber Telegram page a short while ago showing Tu-95MS bort "15" red ("Kaluga") armed with four Kh-101 ALCMs. Not clear if this is related to air operations against Ukraine. pic.twitter.com/XmVLIYcunh

— Guy Plopsky (@GuyPlopsky) May 10, 2022
De acordo com uma reportagem do The Aviation Geek Club, a munição russa está sendo esgotada mais rapidamente do que pode ser substituída – e, como resultado, os russos implantaram estoques mais antigos do Kh-459 ("AS-13 Kingbolt") e outros mísseis da Guerra Fria.
O vídeo que circulou online mostra o lançamento de dois pesados mísseis antinavio Kh-22 ("AS-4 Kitchen") da era soviética a partir de um bombardeiro Backfire. O Kh-22 é notável, pois é provavelmente muito mais antigo do que qualquer um dos pilotos dos bombardeiros Tu-22M3 – já que remonta à década de 1960. Projetado para atacar navios ou alvos fortemente protegidos em terra, estava longe de ser um míssil de precisão. Ele tinha um erro circular provavelmente de cerca de três milhas e, como resultado, era tipicamente equipado com uma ogiva nuclear.
Launch of two supersonic cruise missiles Kh-22 from Tu-22M3 on targets in Ukraine pic.twitter.com/6klrovfwhz

— ZOKA (@200_zoka) May 11, 2022
O Kh-22 é alimentado por um motor de foguete de combustível líquido Tumanski, abastecido com TG-02 (Tonka-250) e IRFNA (ácido nítrico fumegante vermelho inibido), dando-lhe uma velocidade máxima de Mach 4,6 e um alcance de até 600 km (320 milhas náuticas). Os primeiros mísseis prontos para serviço foram introduzidos em 1962, mas levou 60 anos para ver o uso real em combate.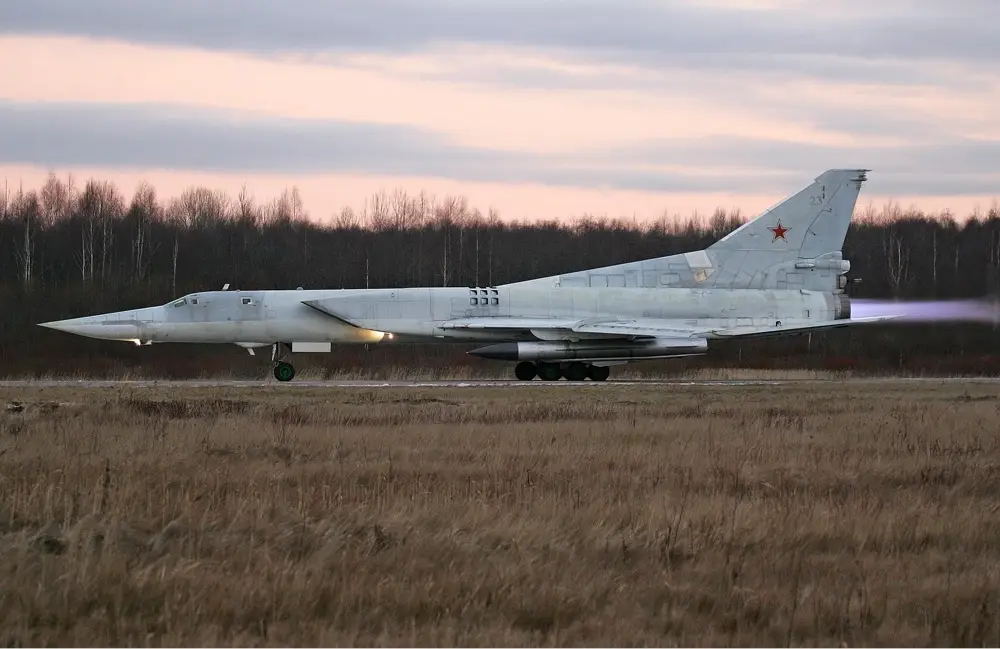 O míssil de asa delta é alimentado por um foguete de combustível líquido e normalmente é lançado de um Tu-22M3 voando a uma velocidade de Mach 1,5. O míssil então acelera para Mach 3 antes de se aproximar do alvo. Em sua fase terminal, o míssil mergulha em um ângulo acentuado e atinge uma velocidade máxima superior a Mach 4. Cada Tu-22M3 pode transportar até três desses mísseis em configuração de sobrecarga, embora um seja mais usual.
???????Kh-32???????
???????????Tu-22M3M???????? pic.twitter.com/tbdtGv7iBF

— ????@???????????? (@xia_takamachi) May 13, 2019
Tem sido sugerido que a guerra na Ucrânia é agora apenas uma maneira de Moscou se livrar de sua velha munição da Guerra Fria.
Em meados de abril, foi amplamente divulgado que Tu-22M3s haviam sido usados para bombardear a fábrica de aço Azovstal em Mariupol, um local de resistência ucraniana que ainda continua. Não está claro se esses ataques de "bombardeio" envolveram mísseis de cruzeiro, bem como as bombas "burras" de queda livre que o Tu-22M3 também pode transportar interna e externamente.
Tu 22M3 preparing to attack AzovSteel with FAB 3000 in Mariupol.Using strategic aviation to drop dumb bombs not smartest thing. pic.twitter.com/nYvip3IlNh

— ZOKA (@200_zoka) April 6, 2022
Video of Russian Tu-22M3 over Mariupol pic.twitter.com/XS0XNeXw6h https://t.co/s478PsWb6I via @TRTRussian #Ukraine

— Liveuamap (@Liveuamap) April 17, 2022
As aeronaves que transportam o Kh-22 também estão mostrando sua idade. O Tu-22M3 é uma versão modernizada dos bombardeiros de longo alcance da Guerra Fria que entraram em serviço no final da década de 1950 e que foram projetados para atingir alvos terrestres e marítimos com mísseis supersônicos e bombas. Os bombardeiros têm um alcance operacional de 7.000 km e são capazes de transportar armas nucleares.
For reference, the missile is 92 cm in diameter, and the conventional warhead weighed either 700 or 1000 kg, depending on source.

Here is a picture of a different AS-6 warhead displayed at the PO "Start" Museum. I think the warhead behind it might be for the Kh-22 (AS-4 Kitchen) pic.twitter.com/5z7uXVIq9e

— Michael Duitsman (@DuitsyWasHere) September 14, 2021
O modelo Tu-22M3, que foi desenvolvido no início da década de 1980, entrou oficialmente em serviço em 1989. Foi um dos poucos bombardeiros soviéticos a entrar em combate quando foi usado no final da Guerra Russo-Afegã.
A Rússia atualmente mantém uma força de mais de 100 bombardeiros Tu-22M em todas as configurações.
No início do mês, um oficial de defesa dos EUA disse que a Rússia havia lançado quase 2.125 mísseis na Ucrânia em 68 dias de guerra, ou pouco mais de 30 lançamentos de mísseis por dia. No entanto, não ficou claro quantos deles foram lançados do ar.
NEW: Russia has launched nearly 2,125 missiles into Ukraine in 68 days of war, no major change from yesterday: senior US defense official

That's just over 30 missile launches per day. Russia's focus is on isolating Ukrainian troops in the Donbas and besieged city of Mariupol

— Jack Detsch (@JackDetsch) May 2, 2022
Com os estoques de mísseis de cruzeiro mais avançados aparentemente diminuindo rapidamente, não seria uma surpresa se a utilização do Tu-22M3 na guerra na Ucrânia realmente aumentasse à medida que a campanha aérea continuasse.