Algumas fontes alegaram que a Rússia havia destruído a Força Aérea Ucraniana nos primeiros dias da invasão, mas os Flankers ainda estão bem na ativa e os ucranianos deram uma mostra disso.
Logo após as 22h, o jornal ucraniano Ukrayinska Pravda publicou o vídeo abaixo mostrando um ataque de dois caças ucranianos Sukhoi Su-27 contra posições militares russas em Snake Island (Ilha da Serpente), perto da região de Odessa. As imagens foram gravadas por um drone Bayraktar TB2 da Força Aérea Ucraniana.
Dois Su-27 entram muito baixo do sul – mais baixo que o farol no ponto sul da ilha, enquanto lançam flares de contramedidas infravermelhas.
Uma abordagem ao sul faz sentido tanto por causa da orientação que o farol fornece para alinhar no alvo quanto porque, mais provavelmente, os defensores russos na ilha estarão focados principalmente em olhar para o norte e oeste em direção ao litoral ucraniano.
Imagens de satélite confirmaram incêndios e sérios danos aos edifícios de Snake Island, sugerindo que os ataques ocorreram nos últimos dois dias.
This tweet suits this thread well. https://t.co/v2OLlpSmif

— Kemal (@kemal_115) May 7, 2022
As imagens de outro ataque ucraniano na ilha foram divulgadas durante a manhã, mostrando a destruição de um navio de desembarque da Classe Serna. Esses ataques podem ser uma resposta aos recentes ataques de mísseis russos a Odessa, que hoje enviaram grandes nuvens de fumaça para a cidade.
Os Su-27 não foram os únicos caças ucranianos vistos hoje. Nesta manhã,o canal do Telegram @odessa_typical postou a foto abaixo de um MiG-29 ucraniano sobrevoando Odessa, observando que duas dessas aeronaves foram vistas sobrevoando a cidade.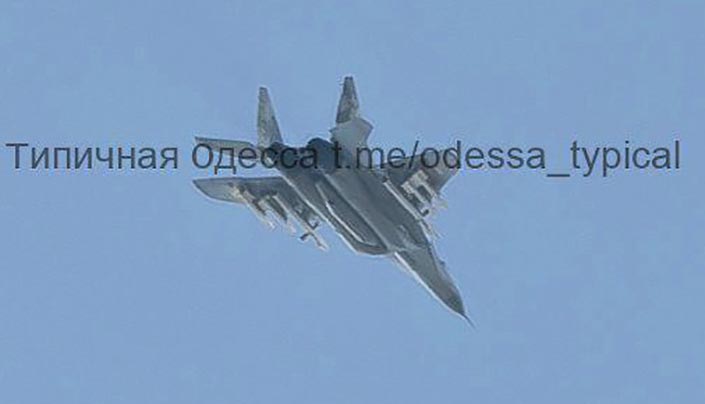 A aeronave na foto estava equipada com dois mísseis ar-ar Vympel R-27 de médio alcance e quatro mísseis Vympel R-73 de curto alcance.
Além disso, um usuário do Tiktok, Vitaly Shulga, publicou ontem um vídeo de um avião de ataque Su-25 ucraniano voando a baixa altitude, algumas imagens que teriam sido gravadas no leste da Ucrânia. O Ukraine Weapons Tracker publicou um vídeo reduzindo sua velocidade no momento da passagem do avião. Os cocares ucranianos sob as asas são claramente visíveis.
#Ukraine: The Ukrainian Air Force is still active on the Eastern front – this Su-25 jet with interesting weaponry was captured flying over somewhere in the East recently.

It is loaded with 4 B-13L rocket pods each with 5 S-13 122mm unguided rockets, and 2 PTB-800 drop tanks. pic.twitter.com/M3HrnHeAWw

— ?? Ukraine Weapons Tracker (@UAWeapons) May 7, 2022
O Ukraine Weapons Tracker observa nesta mensagem que o avião carregava quatro lançadores de foguetes B-13L, cada um armado com cinco foguetes S-13 de 122 mm e dois tanques de combustível externos PTB-800 sob as asas.