No dia 24 de março de 2022, a Coreia do Norte testou o novo míssil balístico intercontinental Hwasongpho-17. Em resposta a Coreia do Sul demonstrou seu poder de combate num Elephant Walk com 28 caças F-35A.
O ICBM foi lançado verticalmente no Aeroporto Internacional de Pyongyang, a partir de um transportador Erector Launcher e voou 1.090 quilômetros por 4.052 segundos, atingindo a altitude mais alta de 6.248,5 quilômetros antes de "atingir corretamente o alvo nas águas definidas sobre o Mar do Leste da Coreia".
NEW: North Korea's state-run television shows the moment the country's military officials count down from 10 before they push what appears to be the launch button for Thursday's ICBM.

Read more about the launch: https://t.co/1pa0Xs9ryd
(Video: KCTV) pic.twitter.com/03mwM0haBS

— NK NEWS (@nknewsorg) March 25, 2022
Em resposta ao lançamento da Coreia do Norte para o leste, o Ministério da Defesa japonês lançou uma aeronave de patrulha marítima P-3C e pelo menos um caça F-15J. Um vídeo, filmado do cockpit do F-15J da JASDF (Força de Autodefesa Aérea do Japão) mostra o ICBM durante a fase de subida.
???????????????????????????????????????????????????????????????????????????????????????????????????????????????????????????????????????????? pic.twitter.com/m8Ukr4nYf4

— ??????? (@ModJapan_jp) March 24, 2022
Como consequência da demonstração de força da Coreia do Norte, a Força Aérea da República Coreana (RoKAF) também flexionou seus músculos, colocando suas aeronaves mais avançadas F-35A Lightning II na pista para uma demonstração de poder.
O impressionante Elephant Walk incluiu 28 dos 40 caças furtivos F-35A que a RoKAF recebeu foi amplamente divulgado nas redes sociais com o slogan "Poder stealth para proteger a Coreia do Sul" para mostrar que os militares da Coreia do Sul "usarão o F-35A com todos os intempéries e capacidades de ataque de precisão para alcançar vitórias estratégicas avassaladoras e manter uma postura militar completa que impedirá as ações da Coreia do Norte".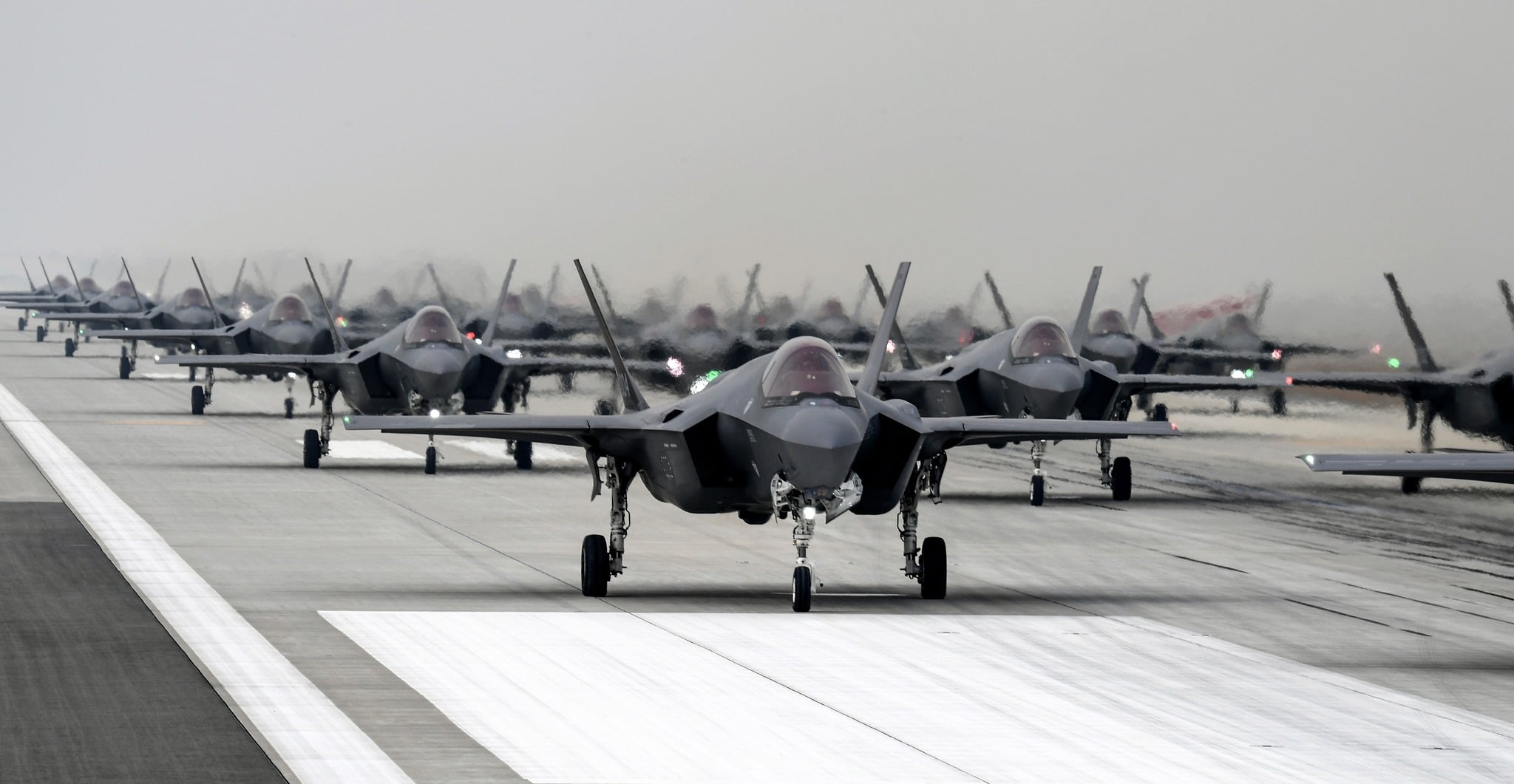 O ministro da Defesa, Suh Wook, supervisionou o treinamento "Elephant Walk" e ordenou que as tropas mantivessem a prontidão "plena" com base no "poder stealth" dos F-35As, disse o ministério da defesa. Não divulgou o local de treinamento por motivos de segurança.
O treinamento marcou a primeira grande mobilização dos caças furtivos depois que a Força Aérea Sul Coreana concluiu a implantação de 40 F-35As em janeiro.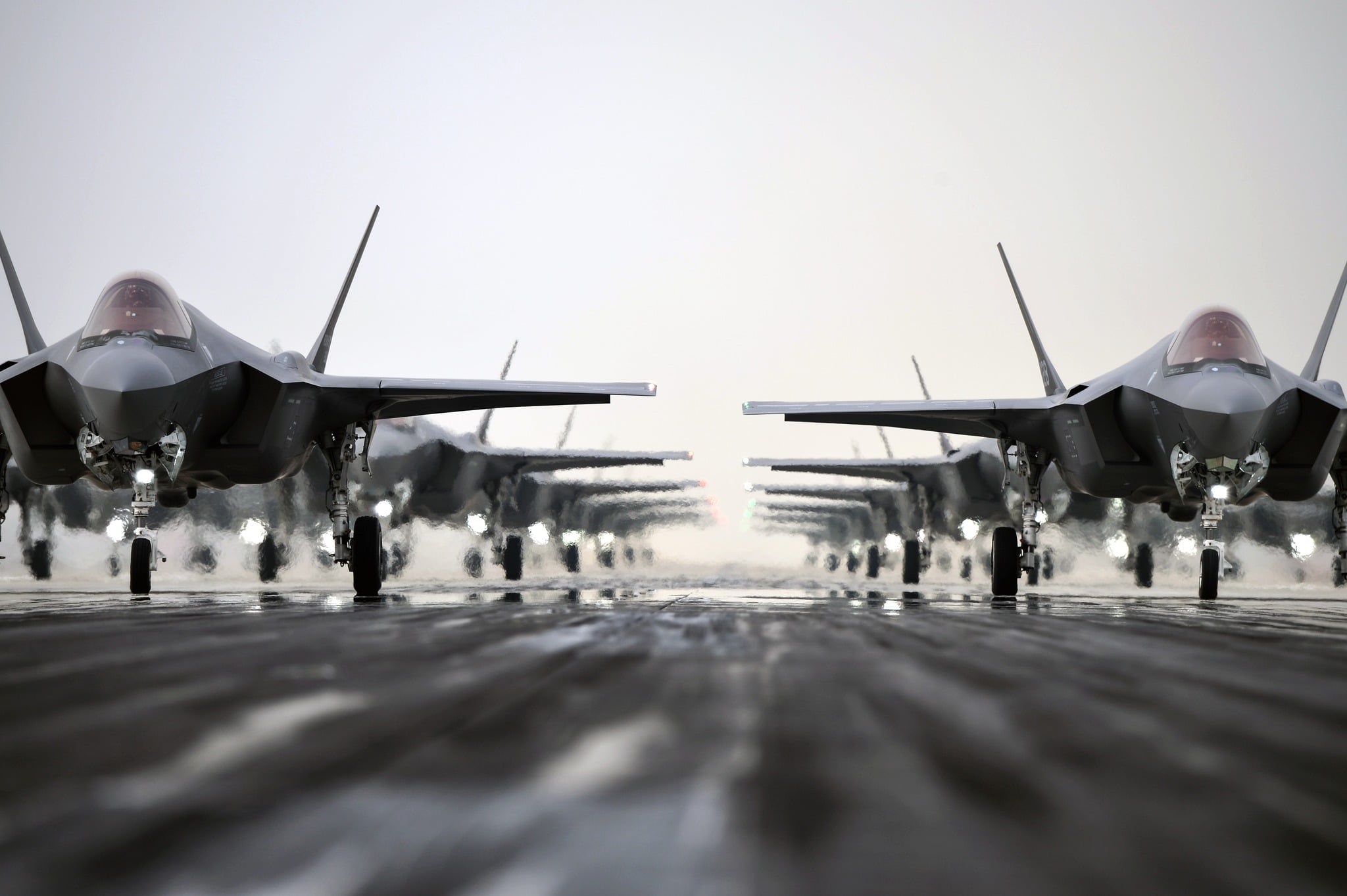 "Usando os caças furtivos F-35A, devemos manter uma postura de prontidão total para alcançar uma vitória estratégica esmagadora (em qualquer luta) e impedir as ações adicionais da Coreia do Norte", disse Suh.
Durante o treinamento, caças F-35A fortemente armados taxiaram em uma grande formação ao longo de um aeródromo para verificar sua prontidão operacional, disseram autoridades.