Os primeiros caças Gripen E de produção em série, chamados de F-39 Gripen pela Força Aérea Brasileira (FAB), estão no Brasil. As aeronaves chegaram ao país na última sexta-feira (1º), no porto de Navegantes (SC), e hoje (06) concluíram o primeiro voo no país.
As aeronaves voaram do Aeroporto Internacional de Navegantes para o Centro de Ensaios em Voo do Gripen (Gripen Flight and Test Centre – GFTC), na planta da Embraer, em Gavião Peixoto (SP).
Os voos foram conduzidos por dois pilotos brasileiros da FAB, que realizaram treinamentos na Suécia. Os voos para Gavião Peixoto tiveram duração aproximada de 50 minutos e ocorreram conforme o planejado.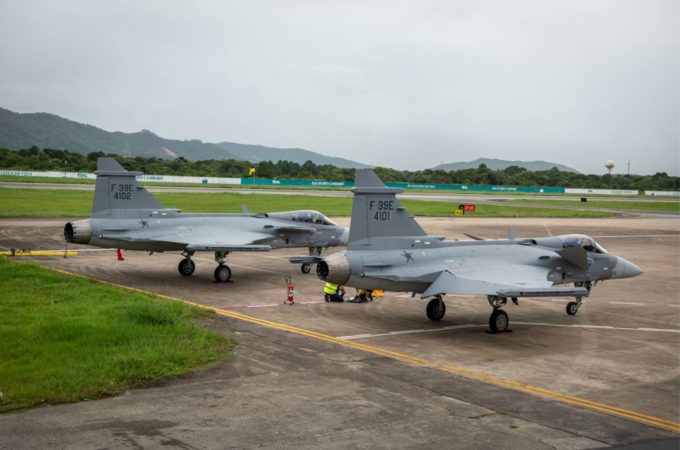 Para o Comandante da Aeronáutica, Tenente-Brigadeiro do Ar Carlos de Almeida Baptista Junior, a chegada das duas primeiras aeronaves de produção em série representa um marco para a defesa do espaço aéreo nacional.
"A chegada das aeronaves é resultado de um projeto que, desde o início, buscou o incremento de nossas capacidades dissuasórias, bem como tinha o objetivo de ser um estímulo à pesquisa e ao desenvolvimento industrial do Brasil. Temos agora uma aeronave multimissão que chega no estado da arte e será o principal vetor para a garantia da soberania do espaço aéreo brasileiro" ressaltou o comandante.
Os novos caças permanecerão no GFTC até que as aeronaves obtenham o Certificado de Tipo Militar. Depois disso, as aeronaves serão transferidas para Anápolis para as etapas finais da fase de entrega.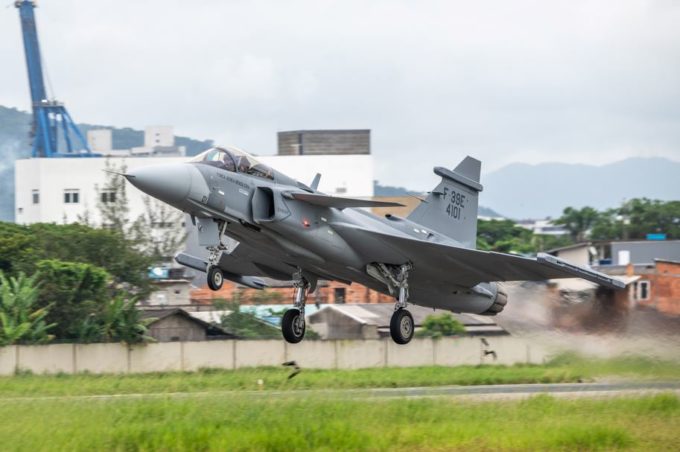 "O Brasil participa ativamente do desenvolvimento, da campanha de ensaios em voo e da produção dos caças, como parte do amplo pacote de transferência de tecnologia para a indústria de defesa brasileira. A chegada das duas aeronaves de produção em série é resultado dessa grande colaboração", destacou Jonas Hjelm, vice-presidente sênior e head da unidade de negócios Aeronautics da Saab.
O Programa Gripen
Em dezembro de 2013, a Saab foi selecionada para o início das negociações contratuais do programa F-X2, que tinha por objetivo substituir a frota de aeronaves de caça da Força Aérea Brasileira (FAB). Em outubro de 2014, a Saab e Governo Brasileiro assinaram o contrato para o desenvolvimento e produção de 36 aeronaves Gripen E/F, incluindo suporte logístico, armamentos, simuladores, equipamentos e treinamento.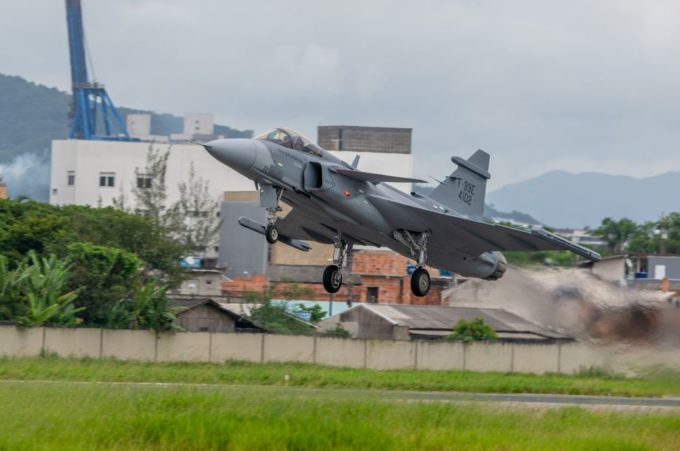 Em 2015, a Saab deu início ao programa de transferência de tecnologia do Gripen, um dos maiores já realizados para a Aeronáutica e o maior já feito pela Saab para outro país. O programa visa proporcionar o conhecimento prático necessário para a execução de diversas atividades de desenvolvimento, produção e manutenção dos caças no Brasil. Até 2025, mais de 350 engenheiros e técnicos brasileiros de empresas parceiras terão participado de treinamentos teóricos e práticos na Saab, em Linköping, na Suécia.
Até o momento, aproximadamente 300 profissionais brasileiros de empresas parceiras da Saab já foram treinados e estão de volta ao país. A maioria trabalha no Centro de Projetos e Desenvolvimento do Gripen (Gripen Design and Development Network – GDDN), localizado na planta da Embraer em Gavião Peixoto, e na fábrica de aeroestruturas da Saab em São Bernardo do Campo, ambos no estado de São Paulo.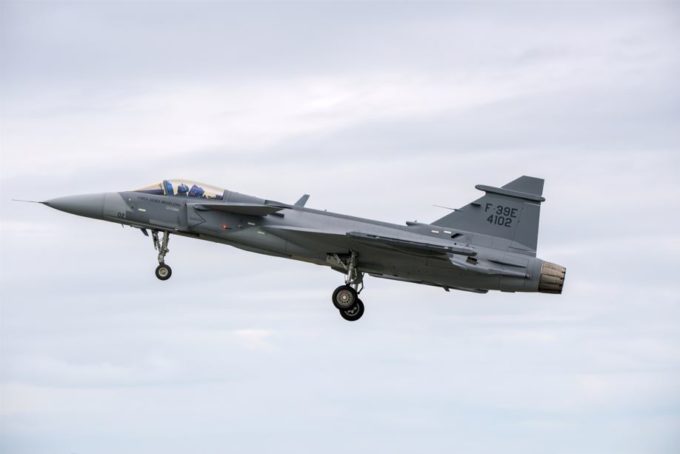 Como parte do programa de transferência de tecnologia, em 2018, a Saab apresentou sua planta em São Bernardo do Campo, concebida para realizar a montagem de aeroestruturas do Gripen. Dois anos depois, a unidade agregou outros serviços de suporte ao mercado de defesa e civil. Além disso, é no local que será realizada a manutenção dos radares e sistemas de guerra eletrônica do F-39 Gripen.
O primeiro Gripen E chegou ao Brasil em 20 de setembro de 2020 para realizar a campanha de ensaios em voo no país no GFTC. A atividade é totalmente integrada ao programa de testes que já está em andamento na Saab, em Linköping, Suécia, desde 2017. As atividades no Brasil incluem testes nos sistemas de controle de voo e de climatização, assim como testes na aeronave em condições climáticas tropicais.
---