A Boeing mostrou seus esforços para aumentar a eficiência de suas aeronaves nesta semana, poucos dias após a rival Airbus realizar uma conferência semelhante, enquanto a aviação global enfrenta crescente pressão política para cortar emissões e demandas de grupos ambientais querem frear as viagens aéreas.
A fabricante de aviões dos EUA é apenas uma das muitas empresas do setor que estão empenhando-se em tornar seus produtos mais ecologicamente corretos, embora haja debate sobre a velocidade com que a nova tecnologia será adotada.
O evento da Boeing em seu hangar de teste de voo em Seattle foi ancorado por um demonstrador de voo da Alaska Airlines 737 MAX 9 equipado com atualizações potenciais, como uma luz de aviso de redução de arrasto e paredes laterais da cabine feitas de fibra de carbono reciclada.
"Muitas de nossas melhorias vêm com um monte de pequenas coisas ao mesmo tempo", disse o vice-presidente de Desenvolvimento de Produto da Boeing, Mike Sinnett, aos funcionários da Boeing, autoridades da indústria e do governo e a mídia reunidos dentro do prédio.
A aviação produz até 3% das emissões de CO2 do homem e 12% do CO2 do transporte, diz a indústria. Ele se comprometeu a reduzir as emissões líquidas de carbono para 50% dos níveis de 2005 até 2050.
A Airbus da Europa anunciou no ano passado planos para desenvolver um avião movido a hidrogênio a partir de 2035.
A Boeing, por outro lado, enfatizou o uso expandido de combustíveis de aviação sustentáveis ??(SAF), que são feitos de matérias-primas como óleo de cozinha usado e gordura animal, embora isso não exclua saltos tecnológicos geracionais.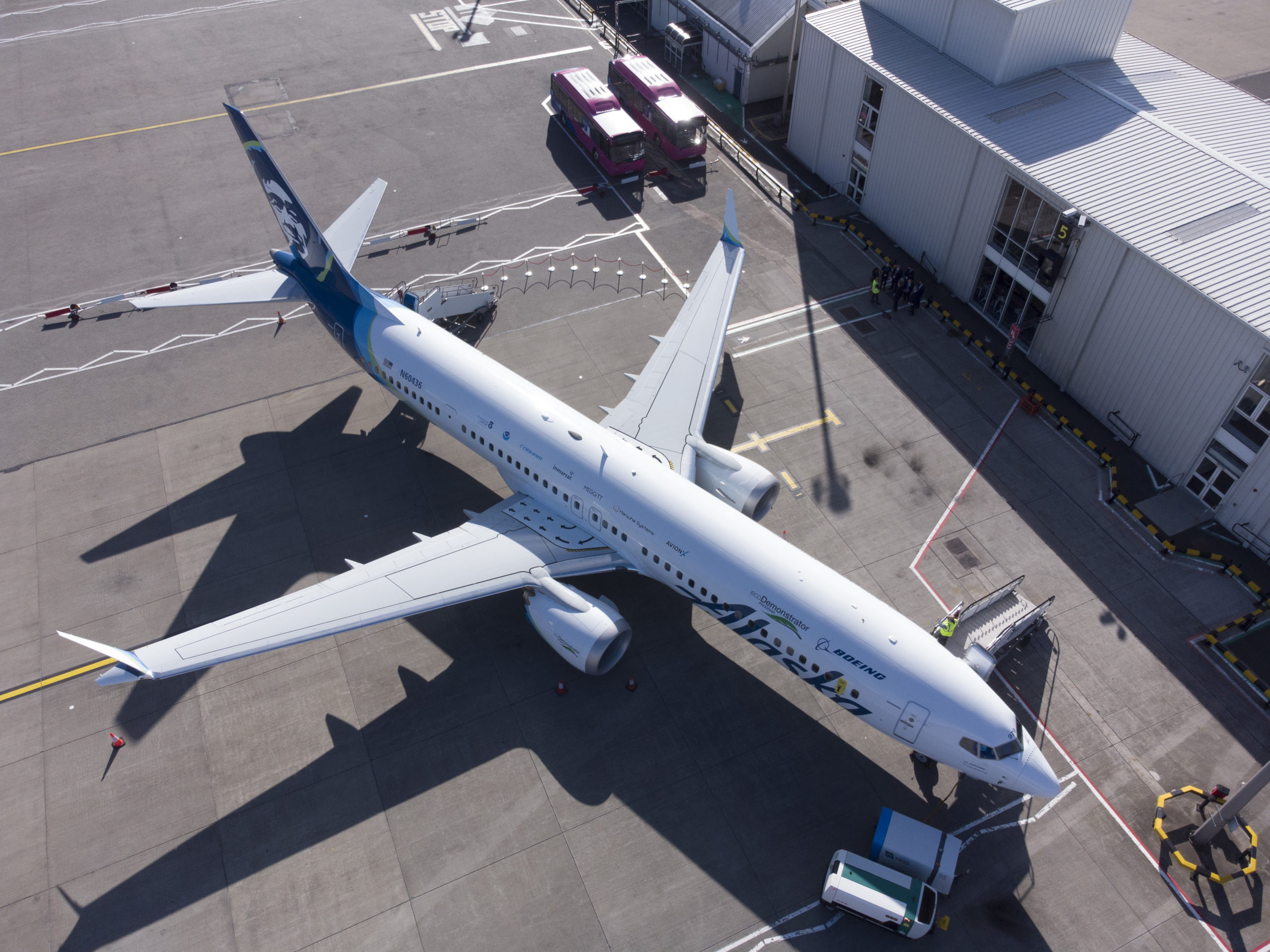 "Para ter um impacto significativo, teremos que … expandir o uso de combustíveis sustentáveis", disse ele, chamando o hidrogênio e outras tecnologias de "um jogo de longo prazo".
A Boeing prometeu que sua frota voaria com combustíveis de aviação 100% sustentáveis ??até 2030.
Atualmente, a SAF é responsável por apenas uma quantidade minúscula do uso geral de combustível de aviação e os motores de aviação estão atualmente certificados para funcionar com até 50% do combustível.
We're accelerating innovation on our #ecoDemonstrator in partnership with @AlaskaAir this year.

Learn about our recent test of a new LED anti-collision light system that:

?Reduces drag to improve fuel efficiency
?Provides 360° visibility
?Better protects lights pic.twitter.com/O5i9SrEfvt

— Boeing Airplanes (@BoeingAirplanes) September 16, 2021
O 737 MAX 9 ecoDemonstrator da Boeing, a configuração mais recente em um programa de testes de uma década, fez então um voo de Seattle a Glasgow. A aeronave foi emprestada pela Alaska Airlines e será usada para testar novas tecnologias sustentáveis durante o voo.
A aeronave chegou a Glasgow por ocasião do Boeing Innovation Forum, que discutiu como tornar a aviação mais sustentável. O convidado de honra é o primeiro-ministro escocês Nicola Sturgeon, que também visitou o ecoDemonstrator.
A Boeing tem usado várias aeronaves de passageiros e de carga como plataforma de teste desde 2012. O Boeing 737 MAX 9 da Alaska Airlines – que estava pronto para ser entregue pela Corendon Dutch Airlines – é usado para testar entradas de motor avançadas que causam menos ruído e tem painéis de parede internos feitos de plástico reciclado.