Quatro aviadores que tripulavam um C-17 durante a evacuação de não combatentes de Cabul, Afeganistão, em agosto de 2021, receberam no dia 1º de abril a Distinguished Flying Cross, a quarta maior condecoração dos EUA por bravura em combate.
O tenente-coronel Dominic Calderón, 1º tenente Kyle Anderson e sargento mestre Silva Foster são aviadores de reserva da 349ª Ala de Mobilidade Aérea na Base Aérea de Travis, Califórnia, enquanto o aviador sênior Michael Geller está em serviço ativo e é designado para a 3ª Ala na Base Conjunta Elmendorf-Richardson, Alasca.
No verão passado, esses quatro aviadores estavam voando em um C-17 encarregado de apoiar a 82ª Divisão Aerotransportada para ajudar a proteger o Aeroporto Internacional Hamid Karzai em Cabul quando a capital caiu para o Talibã em 15 de agosto.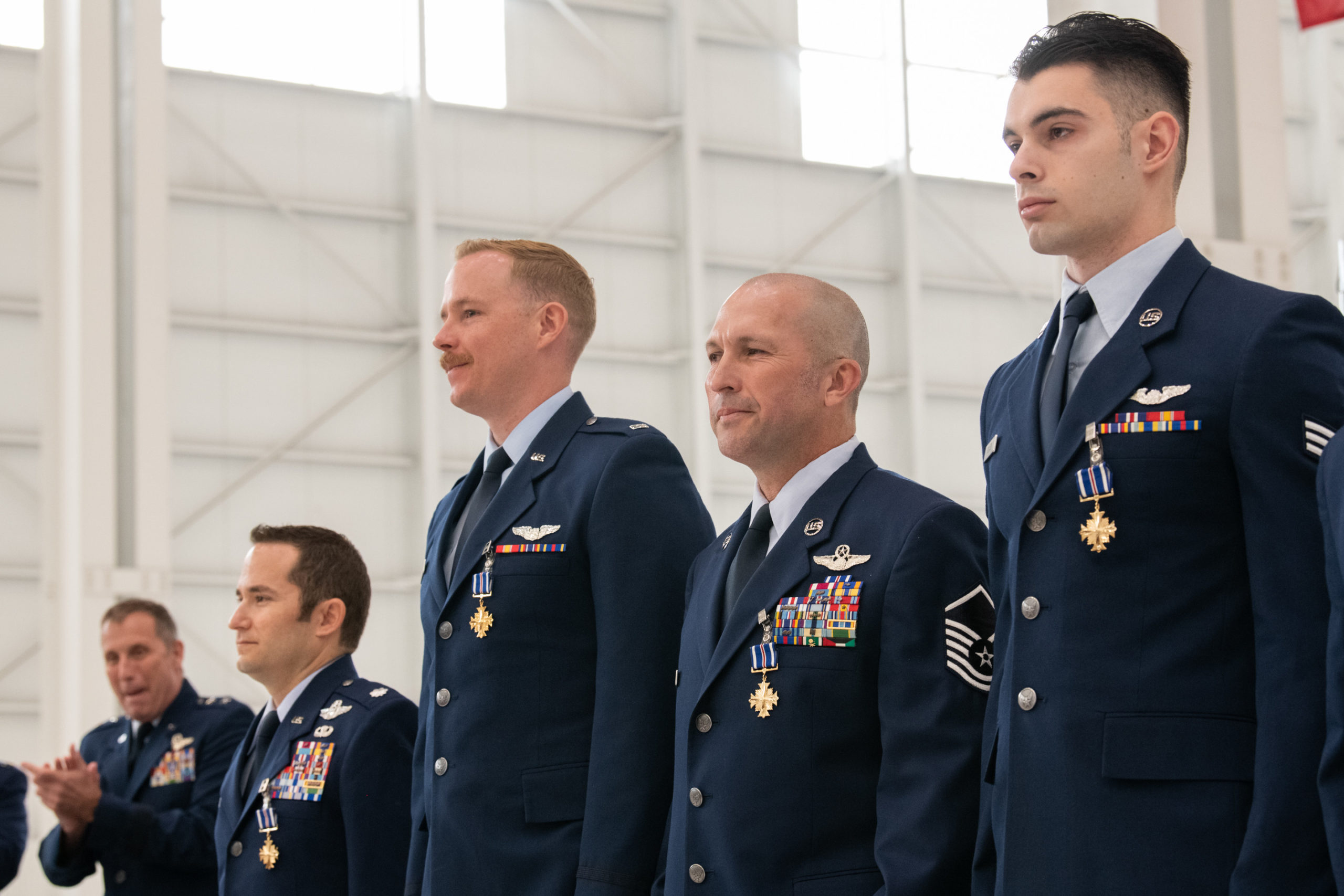 Diante de um ambiente dinâmico, a missão passou a evacuar o maior número possível de pessoas. A tripulação minimamente tripulada foi capaz de se ajustar em condições caóticas. Enquanto multidões de afegãos desesperados invadiram a linha de voo, o C-17 voou com 153 cidadãos americanos, além de parceiros aliados e afegãos vulneráveis, totalizando 640 pessoas.
A @usairforce C-17 Globemaster III safely transported approximately 640 Afghan citizens from Hamid Karzai International Airport Aug. 15, 2021.

This photo is not related to the crew that faced a security breach on the runway. Evacuations in Afghanistan are ongoing. pic.twitter.com/JfTsjyG8Xq

— Air Mobility Command (@AirMobilityCmd) August 17, 2021
"As condições naquele dia eram como nenhuma que eu já tinha visto", disse Calderón logo após a missão. "O aeródromo foi violado e havia multidões em massa entrando no aeródromo. Ainda assim, a tripulação teve um bom desempenho sob enorme pressão. Eu não poderia estar mais orgulhoso da maneira como toda a equipe operou."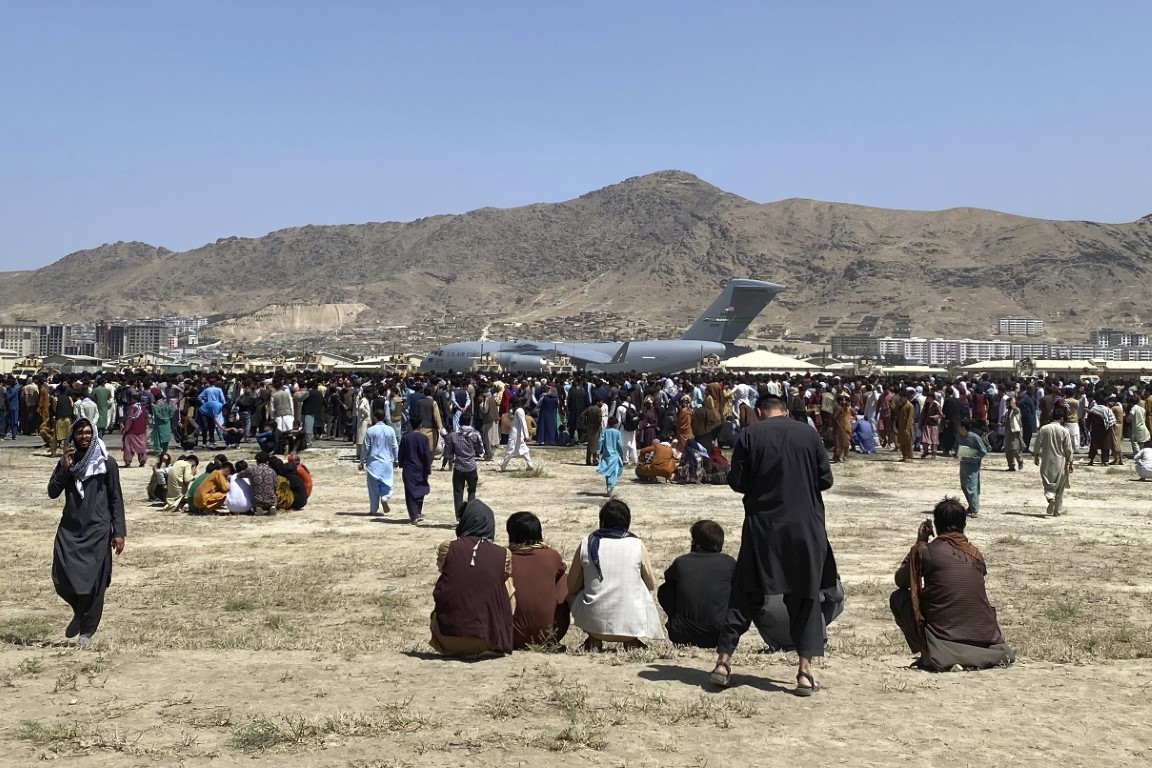 Também homenageado durante a cerimônia foi o Sgt. Dennis Gonzales-Furman, do 437º Esquadrão de Manutenção de Aeronaves da Base Conjunta Charleston, SC, que serviu como chefe da tripulação de voo da tripulação durante a missão no Afeganistão.
Calderon, Anderson e Foster são os primeiros aviadores de mobilidade na Reserva a receber a Distinguished Flying Cross desde 2004, de acordo com o major-general Matthew J. Burger, vice-comandante da Reserva da Força Aérea dos EUA. Existem apenas 45 reservistas ainda servindo que foram premiados com a DFC.
.@USMC Gen. Frank McKenzie, @CENTCOM commander, greets American servicemembers and Afghan civilians on board a @usairforce C-17 Globemaster. pic.twitter.com/aM9eD9OtIM

— Department of Defense ?? (@DeptofDefense) August 18, 2021
"Esta é uma honra especial para esses aviadores e toda a 349ª Ala de Mobilidade Aérea", disse o coronel Jacquelyn Marty, vice-comandante da 349ª AMW, em comunicado. "Ter esses três aviadores cidadãos da reserva reconhecidos por sua conquista extraordinária com esta medalha os colocou em nossa história duradoura".
Foster, que serviu como loadmaster durante a missão, chamou o prêmio de "a maior honra que já experimentei", e Anderson citou a natureza histórica do prêmio, que é concedido desde 1926.
"Para nós, receber algo assim é uma grande honra", disse Anderson em comunicado. "Foi uma honra servir ao lado de um piloto tão experiente como o Major Calderón e um loadmaster como o Master Sgt. Foster. Foi fundamental para o nosso sucesso naquela noite ter todo esse conhecimento e amplitude de experiência a bordo."