A primeira missão totalmente privada chegou à Estação Espacial Internacional no início do sábado com uma tripulação de quatro membros da empresa startup Axiom Space.
A NASA saudou a parceria de três vias com a Axiom e a SpaceX como um passo fundamental para comercializar a região do espaço conhecida como "Low Earth Orbit", deixando a agência se concentrar em viagens mais ambiciosas mais profundas no cosmos.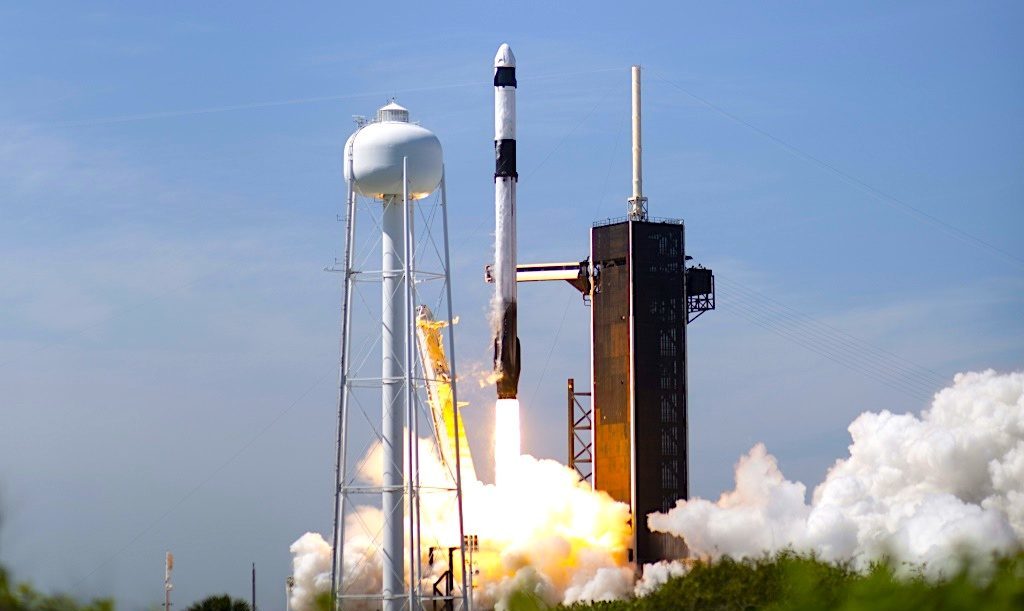 Um foguete SpaceX Falcon 9 com a cápsula Crew Dragon Endeavour atracou às 12h29 GMT de sábado e a tripulação entrou na estação espacial quase duas horas depois, após o lançamento do Centro Espacial Kennedy, na Flórida, na sexta-feira.
Falcon 9 launches the first all-private human spaceflight mission to the @space_station pic.twitter.com/krDfQyaVTO

— SpaceX (@SpaceX) April 8, 2022
Comandando a Axiom Mission 1 (Ax-1) está o ex-astronauta da NASA Michael Lopez-Alegria, com dupla cidadania dos Estados Unidos e da Espanha, que voou para o espaço quatro vezes ao longo de sua carreira de 20 anos e visitou a ISS pela última vez em 2007.
Ele é acompanhado por três tripulantes pagantes: o investidor imobiliário americano Larry Connor, o investidor e filantropo canadense Mark Pathy e o ex-piloto de caça, investidor e filantropo israelense Eytan Stibbe.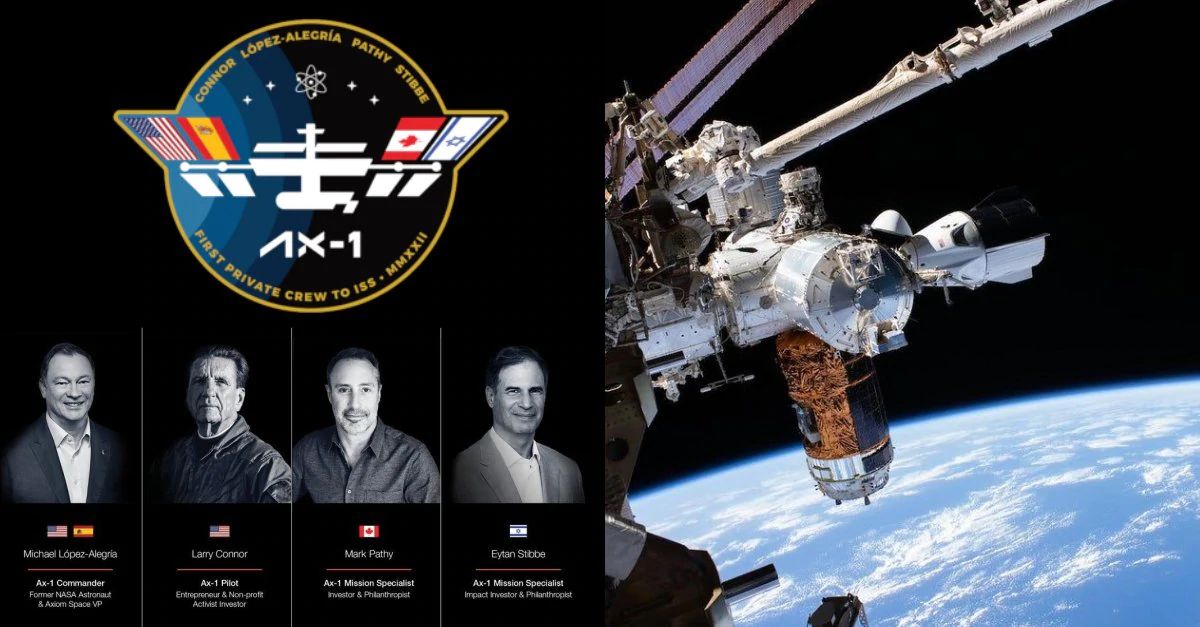 "Estamos aqui para experimentar isso, mas entendemos que há uma responsabilidade", disse Connor em comentários mostrados no feed ao vivo da NASA.
Como a primeira equipe civil, disse ele, eles "precisam acertar".
O preço amplamente divulgado dos ingressos – que inclui oito dias no posto avançado, antes de uma eventual queda controlada no Atlântico – é de US$ 55 milhões.
Enquanto cidadãos particulares ricos já visitaram a ISS antes, a Ax-1 é a primeira missão com uma tripulação totalmente privada voando em uma espaçonave particular para o posto avançado no espaço.
Watch Dragon and the @Axiom_Space Ax-1 crew dock with the @space_station ? https://t.co/N3MHSxCS0k https://t.co/QkDJTTXqvK

— SpaceX (@SpaceX) April 9, 2022
A Axiom, com sede em Houston, paga a SpaceX pelo transporte, e a NASA também cobra a Axiom pelo uso da ISS.
A bordo da ISS, que orbita 400 quilômetros acima do nível do mar, o quarteto realizará 25 projetos de pesquisa, incluindo uma demonstração da tecnologia do MIT de telhas inteligentes que formam um enxame robótico e se automontam na arquitetura espacial.
Outro experimento envolve o uso de células-tronco cancerígenas para cultivar minitumores e, em seguida, alavancar o ambiente de envelhecimento acelerado da microgravidade para identificar biomarcadores para detecção precoce de câncer.
"Nossos caras não vão lá e flutuam por oito dias tirando fotos e olhando para fora da cúpula", disse Derek Hassmann, diretor de operações da Axiom Space, a repórteres em um briefing de pré-lançamento.
Além disso, o tripulante Stibbe planeja homenagear seu falecido amigo Ilan Ramon, o primeiro astronauta de Israel, que morreu no desastre do ônibus espacial Columbia em 2003, quando a espaçonave se desintegrou na reentrada.
Páginas sobreviventes do diário espacial de Ramon, bem como lembranças de seus filhos, foram levadas para a estação por Stibbe.
More photos from today's Falcon 9 launch of @Axiom_Space's Ax-1 mission to the @Space_Station ? https://t.co/095WHX44BX pic.twitter.com/pUAWj8MeId

— SpaceX (@SpaceX) April 9, 2022
A equipe da Axiom viverá e trabalhará ao lado da equipe regular da estação: atualmente três americanos e um alemão no lado americano e três russos no lado russo.
A empresa fez parceria para um total de quatro missões com a SpaceX, e a NASA já aprovou em princípio a segunda, Ax-2.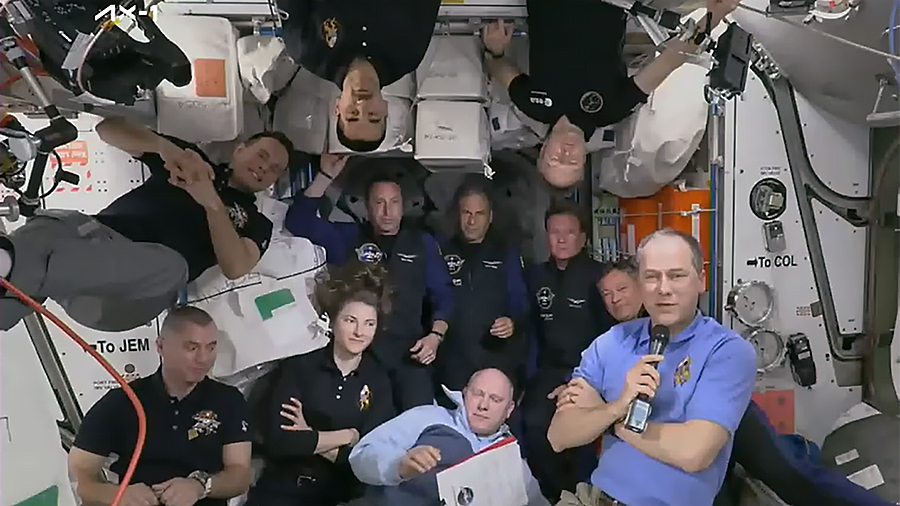 A Axiom vê as viagens como os primeiros passos de um objetivo maior: construir sua própria estação espacial privada. O primeiro módulo deve ser lançado em 2024.
O plano é que a estação seja inicialmente anexada à ISS, antes de eventualmente voar de forma autônoma quando esta se aposentar e sair de órbita em algum momento após 2030.