Ao mesmo tempo que a NASA publica imagens demonstrando o progresso na comissão do Telescópio Espacial James Webb, os preparativos estão sendo feitos para aterrar o Observatório Estratosférico para Astronomia Infravermelha (SOFIA – Stratospheric Observatory for Infrared Astronomy) baseado em um Boeing 747 SP para sempre.
O fim das operações foi anunciado no dia 28 de abril, confirmando que não haveria mais extensões de missão para o Boeing 747 SP modificado e seu telescópio. As operações cessarão "até 30 de setembro de 2022" assim que a extensão da missão atual terminar.
NASA's SOFIA telescope has provided observations in infrared light & made discoveries about the hidden universe. After a successful eight years of science NASA & its partner @DLR_en will conclude the mission, with operations ending no later than Sept. 30:https://t.co/nm8PKFwz87

— SOFIAtelescope (@SOFIAtelescope) April 28, 2022
O SOFIA, um projeto conjunto entre a NASA e parceiros da Agência Espacial Alemã no Deutsches Zentrum für Luft- und Raumfahrt (DLR), estava com tempo adicional ao cronograma original. O desenvolvimento começou em 1996, a primeira luz foi vista em 2010 e a plataforma foi declarada totalmente operacional em 2014.
Sua missão principal de cinco anos foi concluída em 2019 e uma extensão de missão de três anos terminará este ano.
Danke an die @SOFIAtelescope Teams auf beiden Seiten des Atlantiks für die hervorragende Arbeit auf insgesamt 800 Flügen für die Wissenschaft! Gemeinsam mit unserem Partner @NASA haben wir nun beschlossen, die Abschlussphase von @SOFIAtelescope einzuläuten.

— Deutsche Raumfahrtagentur (@DLR_SpaceAgency) April 28, 2022
"Como parte de sua revisão do estado atual da pesquisa astronômica, a Pesquisa Decadal das Academias Nacionais em Astronomia e Astrofísica 2020 avaliou o SOFIA", disse a NASA.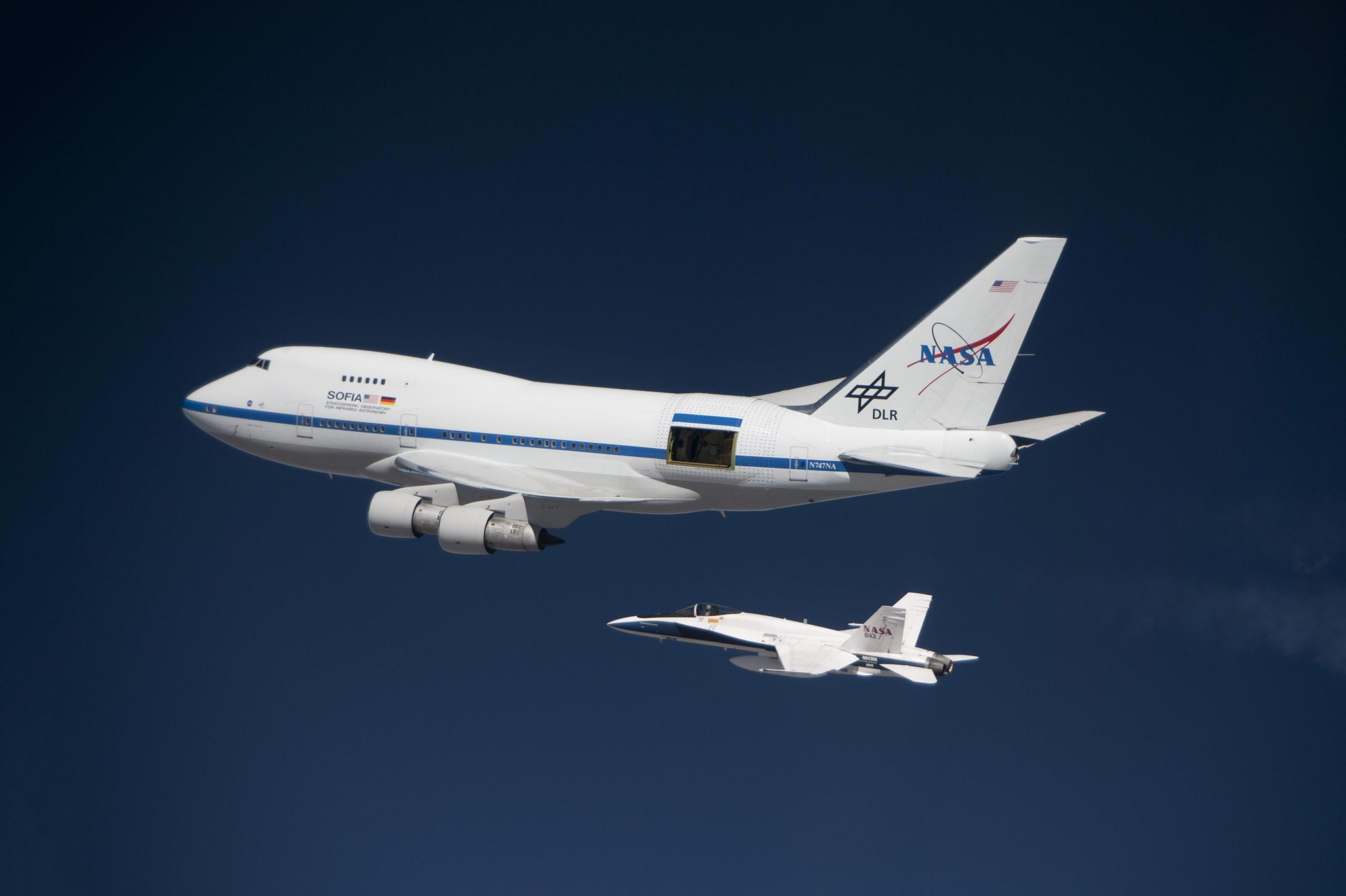 O relatório afirma que o SOFIA não justificou o custo de operação e nem suas capacidades "se sobrepõem significativamente" às ??prioridades estabelecidas na pesquisa. Uma das críticas à "Pesquisa Decadal" são os custos operacionais anuais de cerca de 86 milhões de dólares americanos, que, na opinião da Academia Nacional, não são proporcionais à produtividade científica da SOFIA.
"A SOFIA é única no mundo e foi usada com sucesso para a ciência com o início da operação regular em 2014, com um total de cerca de 800 voos. As equipes de ambos os lados do Atlântico fizeram um excelente trabalho", diz o Dr. Walther Pelzer, membro do conselho da DLR e chefe da Agência Espacial Alemã da DLR.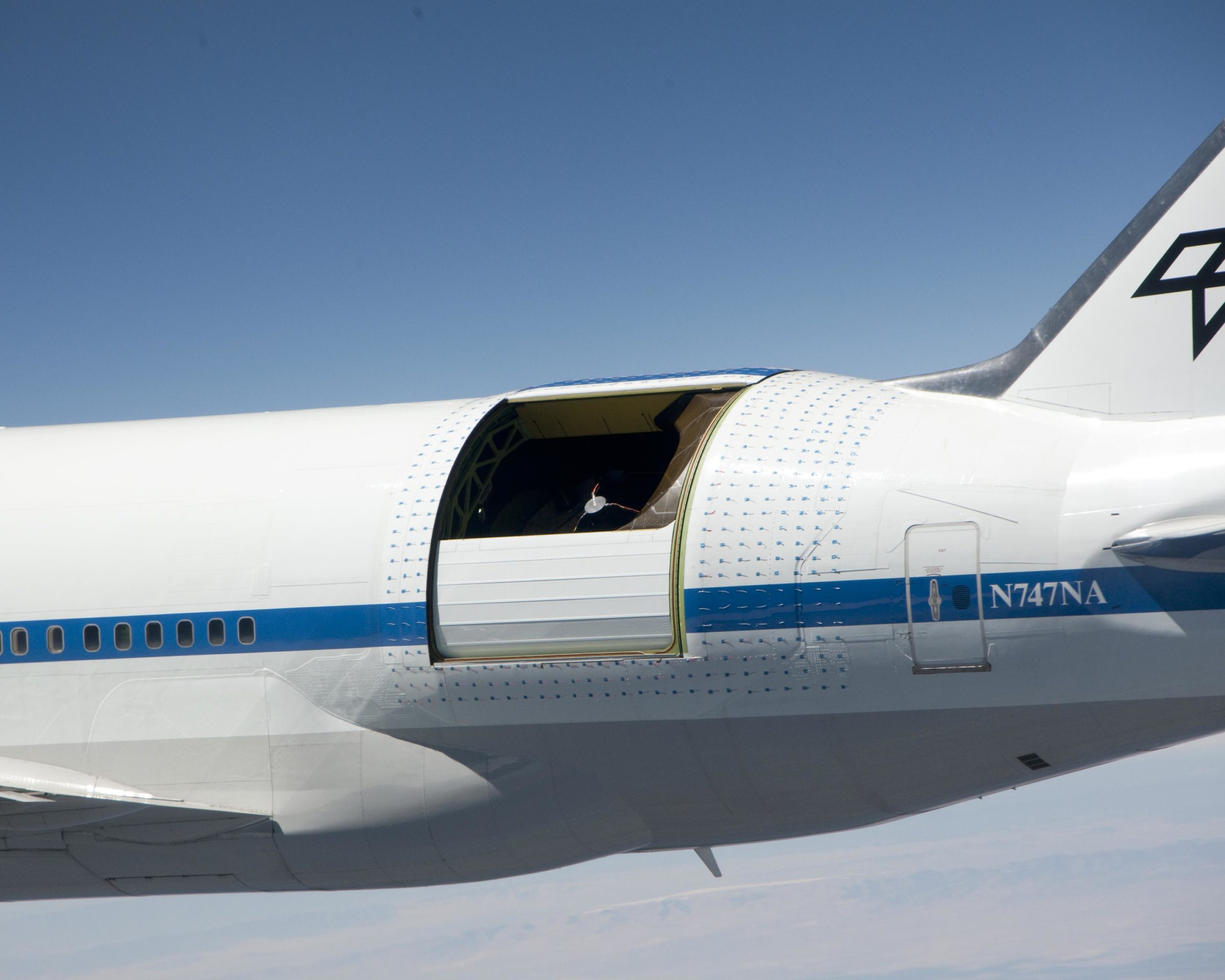 O telescópio de SOFIA espia por uma grande porta na fuselagem da aeronave, perto da cauda. As observações são realizadas enquanto a aeronave está voando entre 38.000 e 45.000 pés, acima de 99 por cento da atmosfera de bloqueio de infravermelho da Terra, de acordo com a NASA.
Os instrumentos do telescópio operam nos comprimentos de onda do infravermelho próximo, médio e distante e, em virtude do fato de o Boeing 747 pousar após cada voo, os engenheiros também têm a oportunidade de atender e atualizar a carga útil.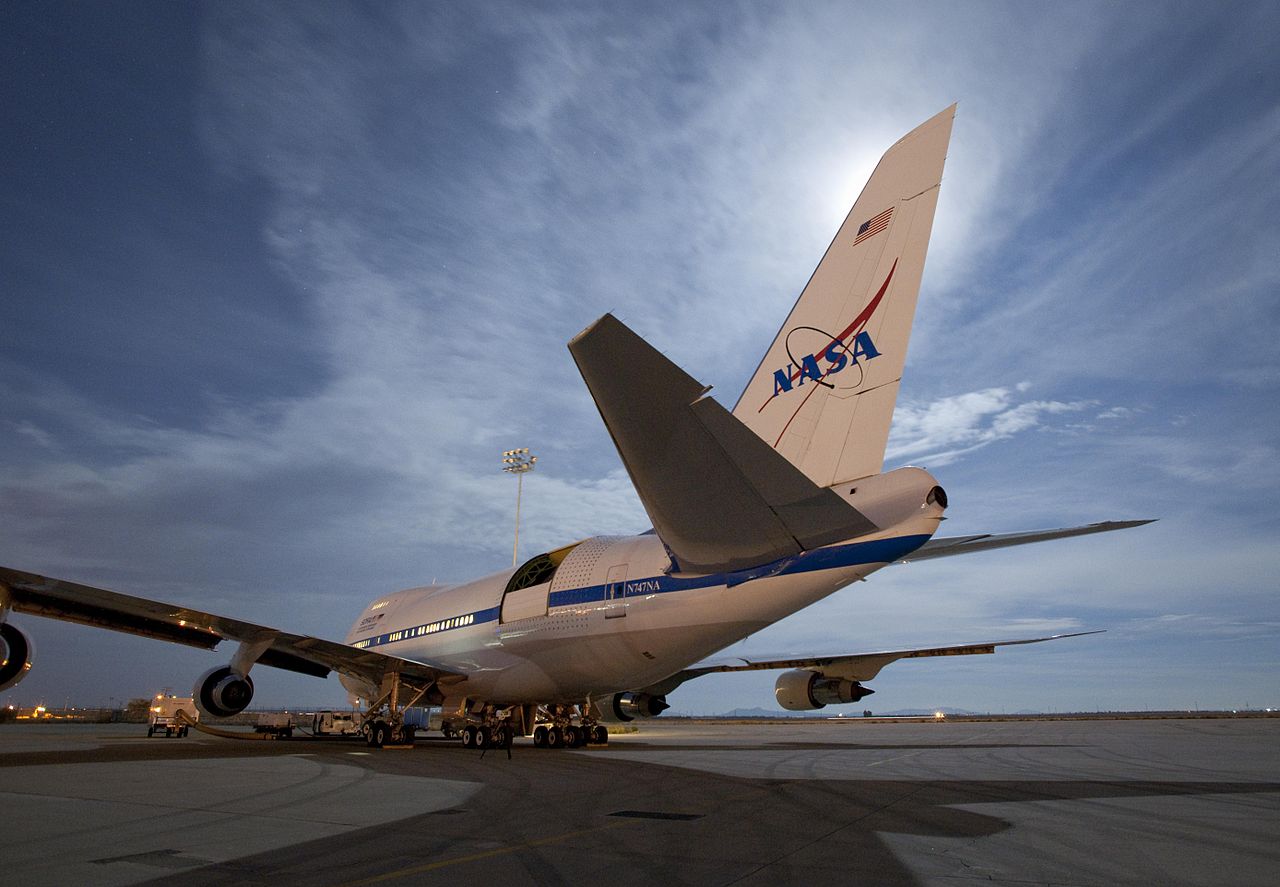 Todas as coisas boas devem, no entanto, chegar ao fim. O valor do telescópio voador tem sido questionado há muito tempo, principalmente quando medido em relação às citações geradas pelo Telescópio Espacial Hubble.
O próprio Boeing 747 SP data de 1977, passando pelas mãos da Pan Am e da United Airlines antes do trabalho de adaptação da aeronave para tarefas de observação (incluindo o corte daquele grande buraco na fuselagem).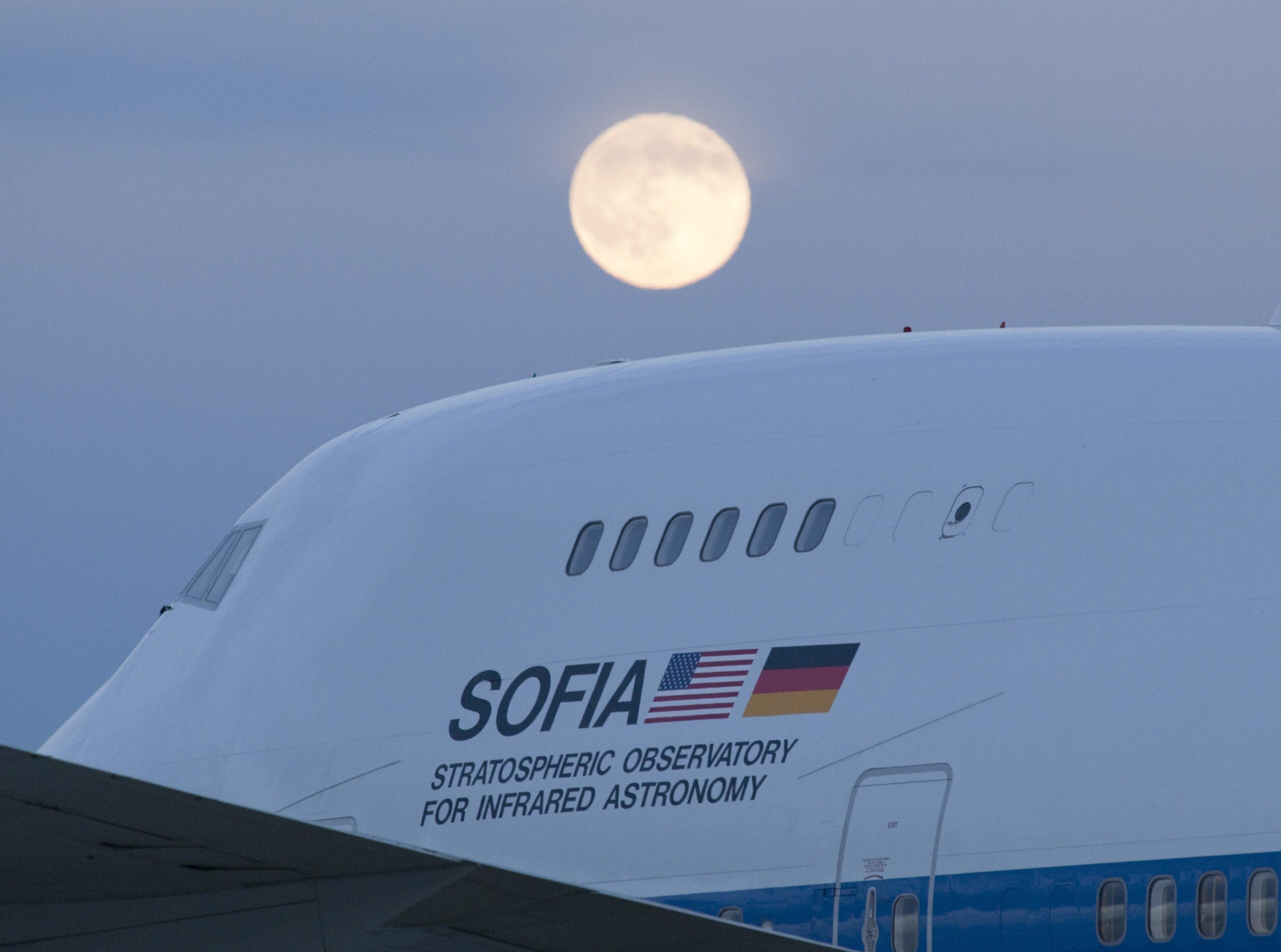 As descobertas da missão incluíram a de água na superfície ensolarada da Lua em 2020. Mais voos estão planejados para o observatório antes que a missão termine, incluindo um passeio para a Nova Zelândia.
A aeronave SOFIA também pesquisou como as galáxias se desenvolvem e como as estrelas e os sistemas planetários são formados a partir de nuvens moleculares e de poeira interestelares. Isso foi possível graças ao telescópio especial desenvolvido e fabricado na Alemanha com um diâmetro de 2,7 metros e um peso de 17 toneladas.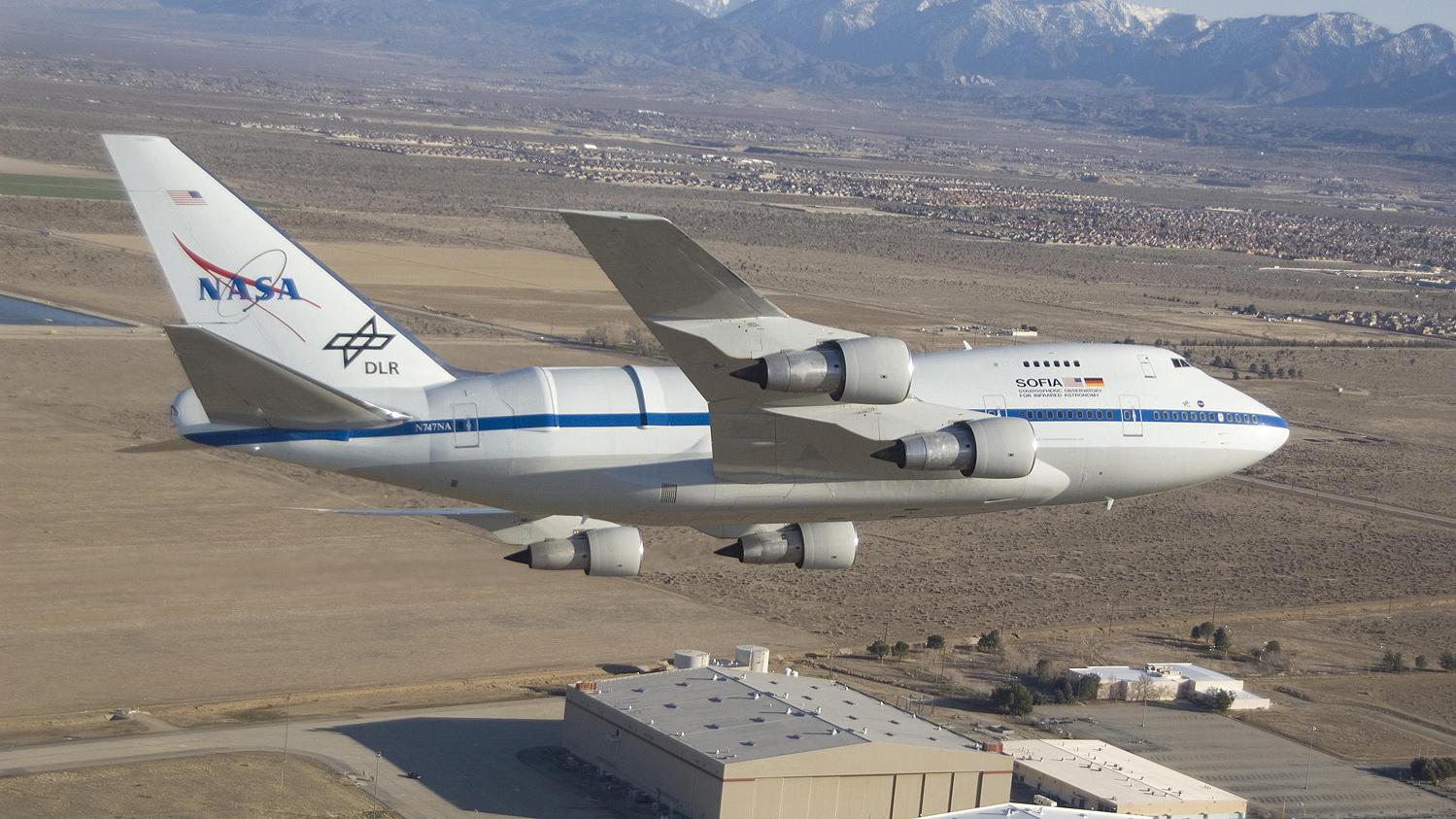 O Boeing 747SP, de 45 anos, realiza a maioria dos voos de observação de Palmdale. No entanto, decolou repetidamente em outros lugares para missões de pesquisa, mais recentemente em março de 2022 no Chile. Para observações de objetos astronômicos no céu do sul, a SOFIA foi operada regularmente a partir de Christchurch, na Nova Zelândia.
No entanto, com nada no orçamento da NASA para o observatório e um aceno do DLR, parece que o fim está à vista para o SOFIA.