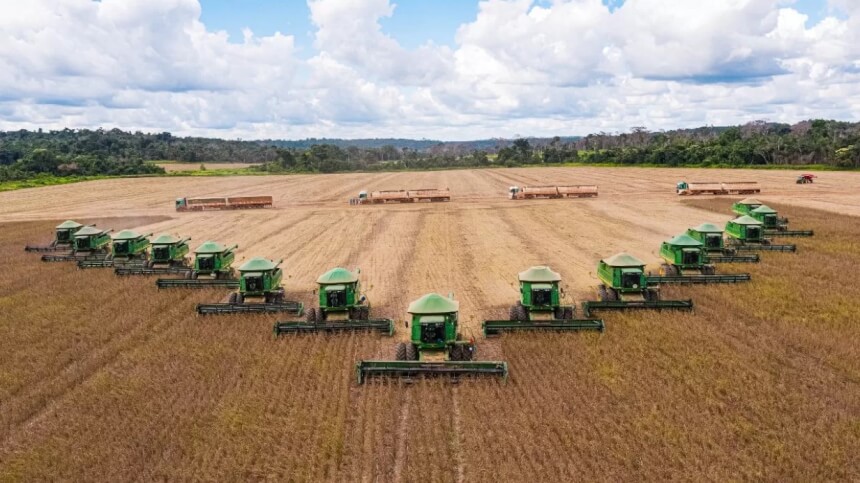 O JP Morgan e o Bank of America reiteraram hoje suas recomendações de compra para a SLC Agrícola focando num aumento da produtividade da próxima safra e na reabertura da China. 
A ação sobe 1,3% depois dos comentários. 
O JP Morgan elevou seu preço-alvo de R$ 52 para R$ 59 — um upside de 20% em relação ao preço de tela — e aumentou sua estimativa para o EBITDA em 2024.
O banco agora projeta EBITDA de R$ 2,8 bilhões, 11% acima da estimativa anterior e 36% acima do consenso do mercado. 
"Essas revisões são baseadas na premissa de que os custos dos fertilizantes vão cair em 2024, o que achamos bem provável," escreveu o analista Lucas Ferreira.
Para eles, o otimismo com a tese da SLC tem a ver com a produtividade crescente da companhia por conta de um melhor clima na safra de 22/23; a reabertura da China,  que deve turbinar a demanda; a perspectiva de que os custos retornem aos níveis históricos; e preços mais atrativos para as commodities agrícolas. 
O JP também disse que o valuation da SLC está atrativo, com o papel negociando a um free cash flow yield de 13% e 16,5% para 2023 e 2024, respectivamente, e a 3,8x e 2,6x o EBITDA. 
Já o Bank of America manteve a recomendação de compra com um preço-alvo de R$ 54, um upside de 11%. O banco disse que a SLC combina forte geração de caixa, um controle de custos exemplar, e o potencial para crescimento inorgânico. 
Além disso, a companhia também tem retornado capital aos investidores por meio de dividendos e recompras de ações, diz o banco.
O BofA também anunciou que lançou uma nova análise para acompanhar a performance das fazendas da SLC durante os períodos de plantio. 
Para isso, o banco está usando dois tipos de dados: os mapas de NDVI (Normalized Difference Vegetation Index) da Nasa, e os sensores do Inmet que medem a retenção de água no solo próximo às fazendas da SLC. 
(O NDVI é um índice que mede o vigor das vegetações com base na intensidade de luz refletida pelas plantações). 
"O objetivo é identificar a performance e criar um monitor melhor para as perdas das plantações em todas as suas fazendas," diz o relatório. 
Na primeira análise, o BofA disse que encontrou números positivos de NDVI e umidade nas fazendas da SLC, "o que reforça nossa tese de que a companhia deve entregar seu forte guidance de yield."
A SLC produz soja, milho e algodão em terras arrendadas, e vale R$ 10,5 bilhões na Bolsa.