A Rússia disse nesta segunda-feira que suas forças derrubaram três jatos ucranianos, um perto da Ilha da Serpente, no Mar Negro, e outros jatos nas regiões de Mykolaiv e Kharkiv, enquanto seus mísseis continuavam a atingir alvos no leste da Ucrânia.
O Ministério da Defesa da Rússia disse que suas forças derrubaram aeronaves Su-25 perto dos assentamentos de Yevhenivka na região de Mykolaiv e Velyka Komyshuvakha em Kharkiv, e um Su-24 perto de Snake Island, que alcançou fama mundial nas primeiras horas do conflito, quando os guardas de fronteira ucranianos estacionaram lá rejeitando a demanda de um navio de guerra russo para sua rendição.
Um vídeo divulgado no dia 15 no Twitter mostra dois jatos Su-25 ucranianos realizando voo em baixa altitude durante ataques, liberando flares. A localização não foi confirmada.
Some of the wildest jet footage I've seen in the last 80 days of the invasion. Wow! ? Slava Ukraini! Heroyam Slava!

"?? Su-24 – Su-25 of the Ukrainian Air Force. The exact date and location of the filming is unknown" Telegram: vorposte#Ukraine #AirForce #SlavaUkraini #Video pic.twitter.com/EnakkVNqnU

— St.Javelina? (@StJavelina) May 15, 2022
Quase três meses desde que a Rússia enviou dezenas de milhares de tropas para a Ucrânia em 24 de fevereiro, as forças russas e apoiadas pela Rússia ainda controlam uma área da Ucrânia do tamanho da Grécia ao longo do Mar de Azov e do Mar Negro, e no leste da Ucrânia que faz fronteira com a Rússia.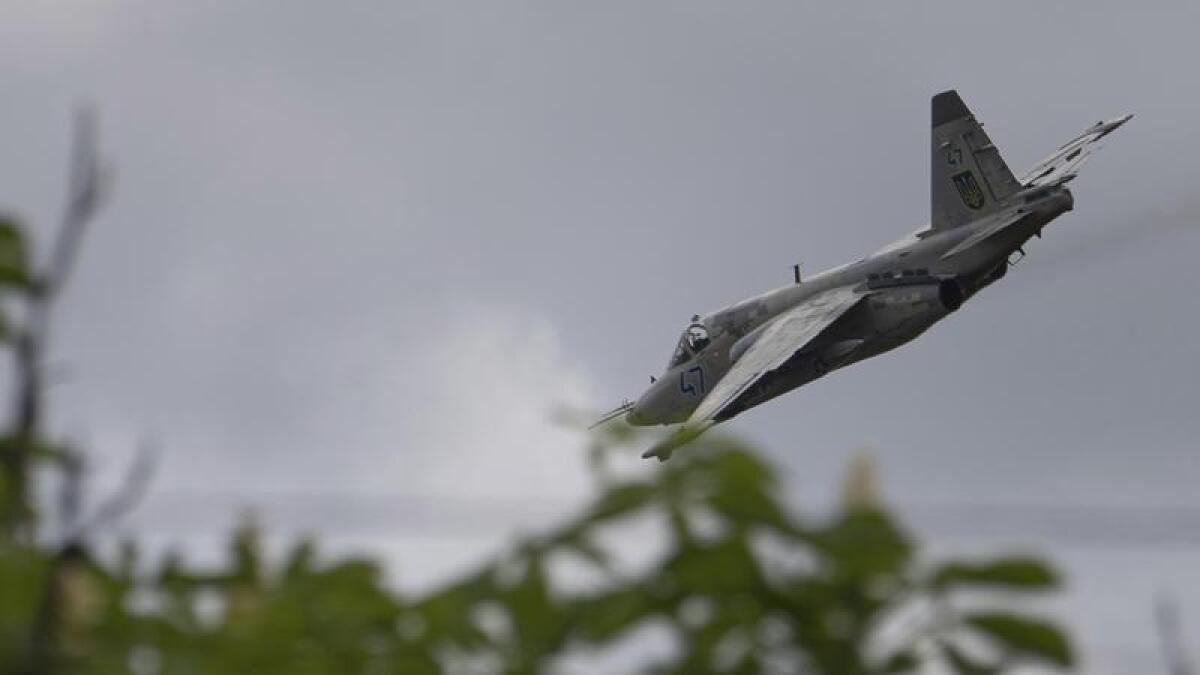 As forças russas foram expulsas da área ao redor da cidade de Kharkiv, no nordeste, nas últimas duas semanas, suas perdas mais rápidas desde que foram expulsas de áreas ao redor de Kiev e do norte da Ucrânia no início de abril.
What is claimed to be a #Ukraine Air Force Su-25 in #Kharkiv region.

Not easy to tell. There are also videos of pairs of #Russian Su-25s in the same region.

This one has no easily identifiable markings like the Russian "V" marked Frogfoot pairs operating in the region. pic.twitter.com/J7OciMajEc

— redintelpanda (@RedIntelPanda) May 17, 2022
A Rússia, que anexou a Crimeia em 2014, está tentando capturar Donbas.
Mísseis russos de alta precisão atingiram dois postos de comando na região de Kharkiv, na Ucrânia, disse o ministério no perfil do Telegram, e também atingiram outros alvos, incluindo depósitos de armas e locais onde tropas e equipamentos ucranianos estavam concentrados.
O ministério disse que fez ataques semelhantes nas autoproclamadas repúblicas pró-Rússia de Donetsk e Luhansk, também eliminando drones.
A Rússia disse que, desde o início da operação militar, suas forças destruíram 168 aeronaves, 125 helicópteros, 889 veículos aéreos não tripulados, 307 sistemas de mísseis antiaéreos e 3.108 tanques e outros veículos blindados de combate.
Os relatórios do Ministério da Defesa russo não puderam ser confirmados de forma independente.