A Rússia destruiu 11 aeródromos militares ucranianos, três postos de comando, uma base naval, além de 18 estações de radar dos sistemas de mísseis de defesa aérea S-300 e Buk-M1 no primeiro dia de sua guerra em grande escala com sua ex-nação camarada soviética.
Moscou invadiu a Ucrânia por terra, mar e ar em 24 de fevereiro, no maior ataque de um estado contra outro na Europa desde a Segunda Guerra Mundial.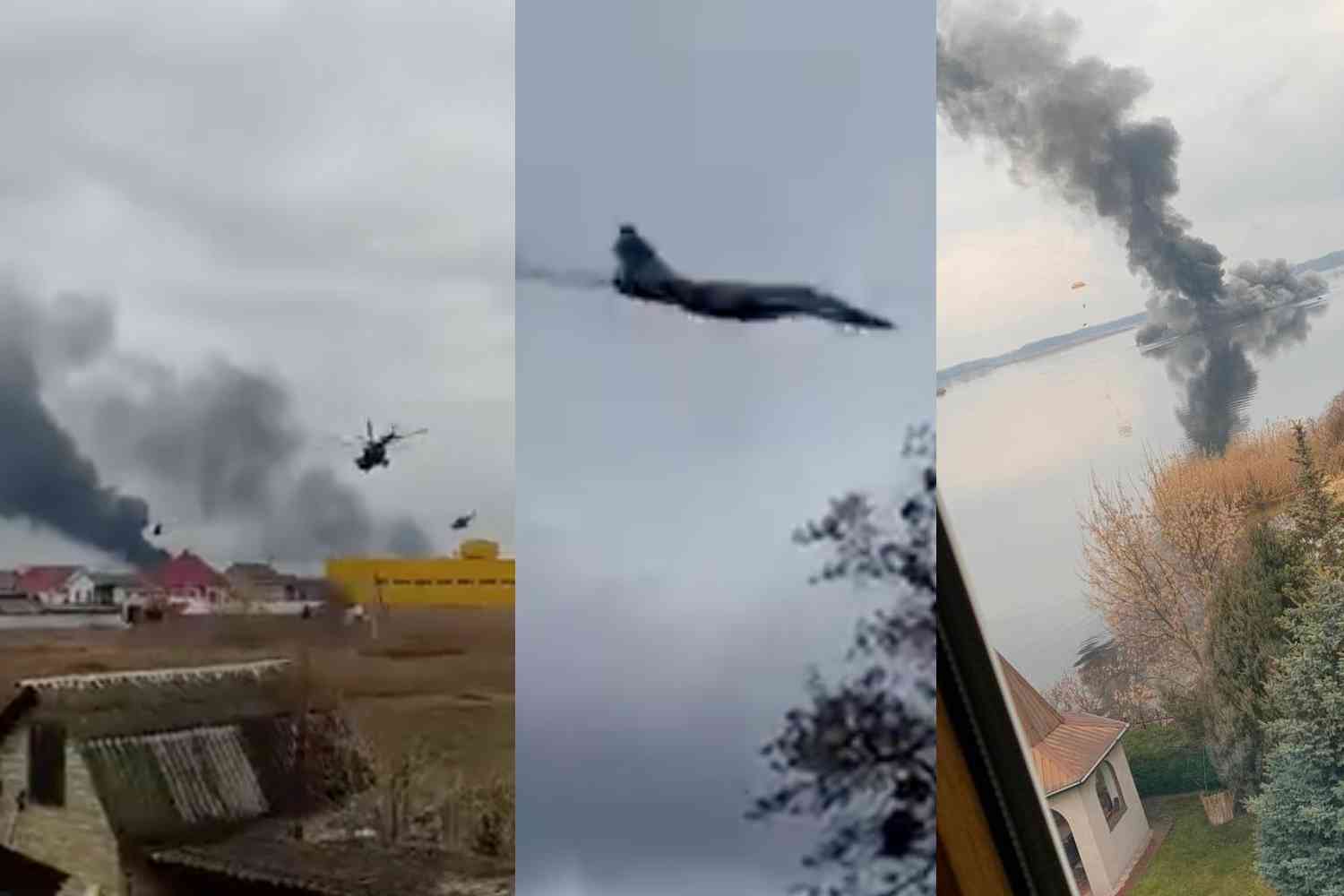 Autoridades dos EUA dizem que a Rússia usou cerca de 75 aeronaves nos ataques do dia 24.
75 fixed wing heavy and medium bombers took part in initial attack. Targets focused on military air defenses, barracks, ammo warehouses, 10 airfields

— Brian Everstine (@beverstine) February 24, 2022
Além da infraestrutura mencionada acima, um helicóptero de combate ucraniano e quatro drones Bayraktar TB2 também foram abatidos, disse o Ministério da Defesa russo.
Russia's attempt to neutralize the Ukrainian Air Force on the ground appears to be a mixed success, with several munitions striking inoperational aircraft rather than their operational brethens. No evidence of any Bayraktar TB2s destroyed so far. pic.twitter.com/HuNaGAYCSn

— Oryx (@oryxspioenkop) February 24, 2022
"Como resultado dos ataques das Forças Armadas russas, 74 objetos terrestres da infraestrutura militar da Ucrânia foram colocados fora de ação. Incluindo 11 aeródromos da Força Aérea, três postos de comando, um ponto de base para as Forças Navais da Ucrânia, bem como 18 estações de radar dos sistemas de mísseis antiaéreos S-300 e Buk-M1″, disse o porta-voz do ministério da defesa da Rússia.
Looks like a ballistic missile was launched by Russian forces towards Ukraine a few minutes ago. pic.twitter.com/Qx8UWWT7Ev

— CaucasusWarReport (@Caucasuswar) February 24, 2022
Em resposta, o presidente ucraniano Volodymyr Zelenskyy disse: "O inimigo sofreu pesadas perdas. A Ucrânia está sob ataque do norte, leste e sul. Atacado do ar. A proteção funciona." Ele ressaltou que o fornecimento de armas a todos os cidadãos que querem defender a soberania da Ucrânia já começou.
????Looks like the debris of a cruise missile or an air defense missile in Kiev. pic.twitter.com/bECc8VYKgc

— OSINT UKRAINE (@OSINT_Ukraine) February 24, 2022
A Ucrânia cortou todos os laços diplomáticos com a Rússia. "Cortamos relações diplomáticas com a Rússia. Para todos aqueles que ainda não perderam a consciência na Rússia, é hora de sair e protestar contra a guerra com a Ucrânia", disse Zelenskyy.
Two Su-25 Frogfoot attack aircraft apparently damaged at Mykolaiv air base #Ukraine ?? (46.94714° N, 32.09651° E)

?@planet pic.twitter.com/Kb8szyznba

— Joseph Dempsey (@JosephHDempsey) February 24, 2022
Vários relatos falavam de vários tanques russos destruídos com mísseis antitanque Javelin (que a Ucrânia havia adquirido dos Estados Unidos alguns meses antes da guerra) e um helicóptero Ka-52 derrubado por um míssil Stinger disparado de um MANPADS do Exército ucraniano.
Images of a Russian Ka-52 forced to make an emergency landing after being hit by a surface to air missile pic.twitter.com/ogGSMkDpwR

— Oliver Alexander (@OAlexanderDK) February 24, 2022
As forças ucranianas alegaram ter derrubado uma aeronave russa de ataque ao solo Su-25 que o Kremlin descreveu como tendo perdido a aeronave por 'erro de pilotagem'.
Um avião de transporte militar ucraniano que transportava 14 tripulantes a bordo caiu cerca de 20 km ao sul de Kiev na quinta-feira.
Video from the scene confirms that this particular Helicopter was struck and badly damaged by MANPADS fire. pic.twitter.com/VIjkQQgTOu

— ?? Ukraine Weapons Tracker (@UAWeapons) February 24, 2022
Pelo menos 40 soldados ucranianos e 10 civis morreram, enquanto vários outros ficaram feridos em meio à incursão russa em território ucraniano. Quatro tanques também foram queimados perto de Kharkiv.
Pelo menos mais uma aeronave, supostamente russa, foi perdida durante os combates de quinta-feira, embora ainda não esteja claro que tipo estava envolvido, ou se de fato foi derrubado por ação hostil. O vídeo abaixo foi identificado como mostrando o desaparecimento de outro helicóptero de ataque Ka-52 das Forças Aeroespaciais Russas, um tipo que possui assentos ejetáveis para seus dois tripulantes. Um paraquedas pode ser visto, com o tripulante posteriormente resgatado da água por barco. Ainda é possível que um tipo de asa fixa esteja envolvido no incidente, que teria ocorrido perto de Vyshhorod, ao norte de Kiev.
UKRAINE: A Russian helicopter has been shot down in the Kyiv region. At least one parachute can be seen. pic.twitter.com/euG9VVhLAg

— Conflict News (@Conflicts) February 24, 2022
Embora as capacidades de combate aéreo da Ucrânia, em grande escala, tenham sido o principal alvo das operações da Rússia até agora, o Ministério da Defesa ucraniano diz que pelo menos algumas de suas aeronaves não tripuladas armadas TB2 fabricadas na Turquia ainda estão sendo empregadas contra forças invasoras. O Ministério da Defesa da Rússia diz que derrubou pelo menos quatro TB2s enquanto o componente de guerra aérea desse conflito maior continua.
Bayraktar TB2s are active according to the Ukrainian MoDhttps://t.co/C9mXp3bsOl

— Oryx (@oryxspioenkop) February 24, 2022
O secretário-geral da Otan, Jens Stoltenberg, disse que a aliança colocou mais de 100 aviões de guerra em alerta. Ele reforçará as tropas em seu flanco leste, mas não tem planos de implantar nenhuma na Ucrânia.
MORE: @NATO has +100 jets on high alert protecting allied air space, +120 ships from "the High North to the Mediterranean" per @jensstoltenberg

"We will continue to do whatever is necessary to shield the Alliance from aggression"

— Jeff Seldin (@jseldin) February 24, 2022
O presidente de Belarus, Alexander Lukashenko, disse na quinta-feira que tropas do ex-país soviético poderiam participar da operação militar da Rússia contra a Ucrânia, se necessário, informou a agência de notícias Belta. As tropas russas começaram a chegar à Belarus no mês passado para participar de exercícios militares conjuntos em larga escala no início de fevereiro.
Quatro mísseis foram supostamente lançados de Belarus para a Ucrânia. O Serviço de Guarda de Fronteira do Estado da Ucrânia (SBGS) afirmou que a fronteira do país com a Belarus foi atacada por tropas da Rússia e de Belarus.