O Ministério de Defesa da Romênia informou hoje que as atividades de voo do jatos MiG-21 LanceR realizadas pela Força Aérea Romena foram suspensas, a partir de sexta-feira, 15 de abril.
Por ordem do Chefe da Defesa Major General Daniel Petrescu, a medida foi tomada tendo em conta a considerável incidência de eventos e acidentes aeronáuticos registados durante a operação da aeronave MiG-21 LanceR, causando a morte de militares e deixando aeronaves danificadas ou destruídas, com o mais recente acidente ocorrendo no dia 3 de março deste ano, logo após o início da invasão russa na Ucrânia. O objetivo com a suspensão é melhorar a segurança das aeronaves e para evitar acidentes aéreos reduzindo os riscos associados com as dificuldades técnicas.
Durante a suspensão das atividades de voo com as aeronaves MiG-21 LanceR, a Força Aérea da Roménia continuará a executar o Serviço de Policiamento Aéreo de Combate com aeronaves F-16, apoiadas por aeronaves aliadas deslocadas na Romênia, como parte do Policiamento Aéreo Aprimorado do comando da OTAN. Desde o início da invasão da Ucrânia pela Rússia no final de fevereiro de 2022, caças adicionais foram enviados para a Romênia.
Additional fighter jets have been deployed in #Romania by @NATO Allies ????????to safeguard & monitor the ?? airspace. Check out below how ?? Air Force F-16s & ???? Eurofighter Typhoons perform an interception over the ?? skies ??? #WeAreNATO #StrongerTogether pic.twitter.com/X6xCWXO0G7

— Romania at NATO (@RomaniaNATO) April 15, 2022
Além disso, os sistemas de defesa aérea baseados no solo irão realizar missões da Policiamento Aéreo sob o comando nacional, bem como dentro do Sistema Integrado de Defesa Aérea e Contra Mísseis da OTAN (Mísseis Integrados Aéreos e Defesa) deste sistema.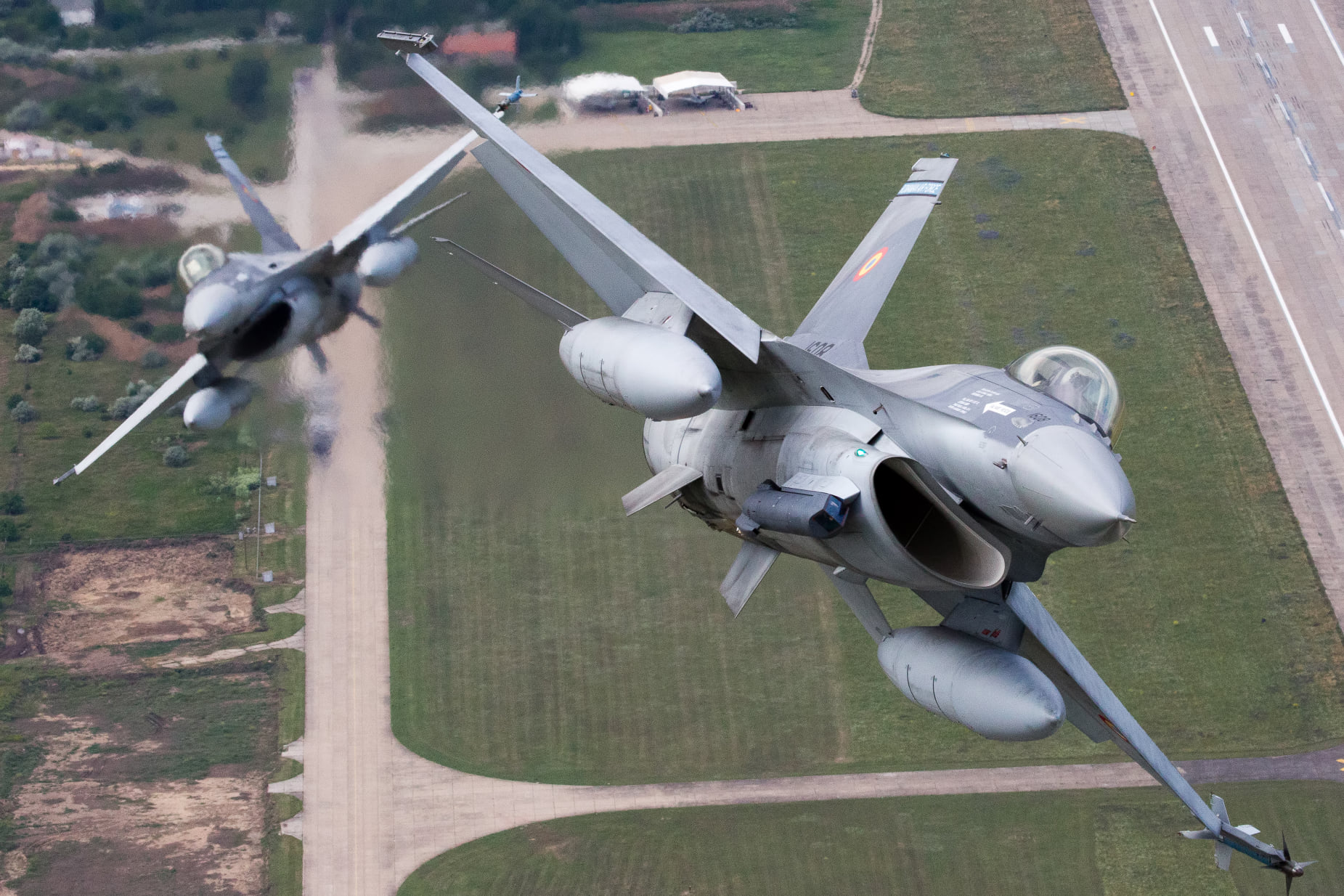 Ao mesmo tempo, foram tomadas medidas para acelerar os passos tendo em vista a compra das 32 aeronaves F-16 da Lockheed Martin, que irão constituir, no próximo período, mais dois esquadrões operacionais. O projeto de lei para aprovar esta aquisição passou a fase de transparência legislativa e encontra-se no circuito de notificação, a seguir a ser apresentado ao parlamento romeno em breve.
O recurso disponível de aeronaves dentro dos três esquadrões de aviões multimissão F-16, que serão operados pela Força Aérea Romena, garante a sua operação por um período de pelo menos 10 anos. Os três esquadrões irão constituir uma capacidade operacional aérea de transição para as aeronaves F-35 da quinta geração.