O Reino Unido pretende fornecer drones Maloy T150 às Forças Ucranianas. Os drones são capazes de entregar carga ou armas à linha de frente.
"O pacote inclui equipamentos de guerra eletrônica, um sistema de proteção radar, equipamento de interferência de GPS, drones de abastecimento de carga pesada e milhares de dispositivos de visão noturna", anunciou o primeiro-ministro do Reino Unido em um post no Twitter em 3 de maio de 2022.
Did someone order a bergen? Malloy drones drop rucksacks to Royal Marines of @40commando in #Cyprus as the #LRGX task group led by @hms_albion conducts trials in the field with tomorrow's tech shaping the Future Navy and Future Commando Force.https://t.co/K06WZjfkDm pic.twitter.com/kcC1ANNWYq

— Royal Marines (@RoyalMarines) November 6, 2020
Com a capacidade de levantar 68 kg de forma confiável em qualquer clima, o T150 já testado pelos fuzileiros britânicos, pode entregar mercadorias em qualquer lugar em distâncias de até 70 quilômetros e tem um tempo máximo de voo de 36 minutos. Com uma bateria removível, não é necessário esperar horas para enviar o veículo de volta, aumentando a cadência de carga e o custo-benefício.
A aviônica redundante e o sistema de acionamento do T150 permitem focar na tarefa – não no veículo. O UAS foi projetado para os ambientes militares mais difíceis, com operações demonstradas no círculo ártico, deserto e no mar.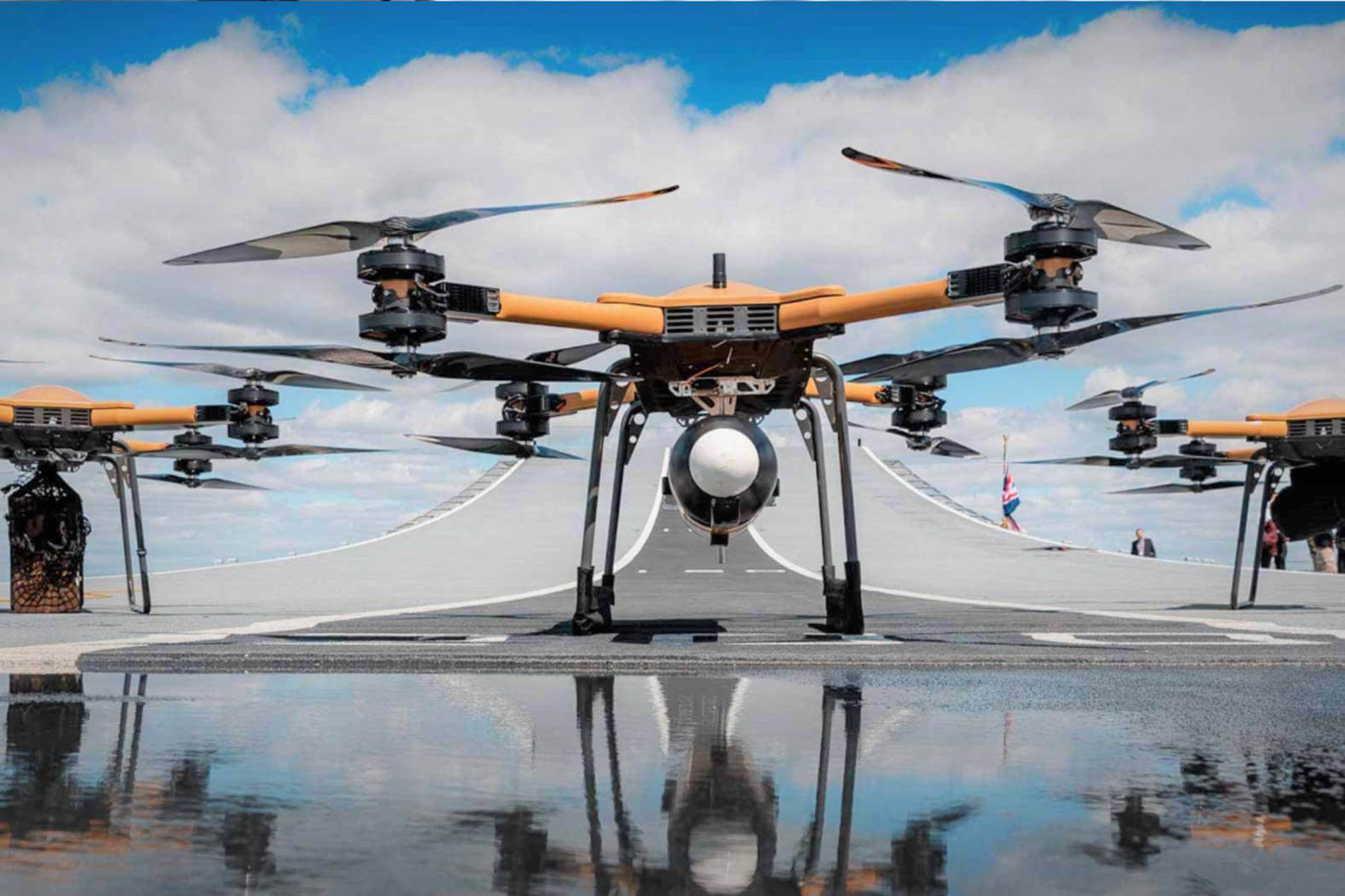 O dispositivo pode ser controlado a partir de um laptop e entrega o pacote ao seu destino com base em pontos predefinidos em um mapa. O drone é alimentado por bateria, mas a empresa está trabalhando em uma maneira de carregar o dispositivo sem fio em voo.
O dispositivo é mantido no ar por quatro conjuntos de duas hélices, portanto, se alguém falhar, o T150 ainda poderá pousar com segurança. Testes mostraram que ele pode voar em todas as condições climáticas, portanto, ventos fortes e neve não atrapalham sua operação.
Tanto a Malloy Aeronautics quanto os militares do Reino Unido posicionam o drone como perfeito para entregar cargas com segurança, como suprimentos e munições, nas linhas de frente.