Depois de mais de 30 anos de serviço dedicado à Real Força Aérea Australiana (RAAF), a frota australiana de F/A-18A/B Classic Hornets se despediu para dar lugar ao caça F-35A Lightning II de quinta geração.
Os poucos Classic Hornets ativos – que têm sido empregados na defesa da Austrália desde 1985 – foram aposentados em 29 de novembro de 2021, em uma cerimônia que contou com o Ministro da Defesa, Hon Peter Dutton, Chefe da Força Aérea, Marechal do Ar Mel Hupfeld, aviadores da RAAF e parceiros da indústria em cerimônia na Base da RAAF de Williamtown.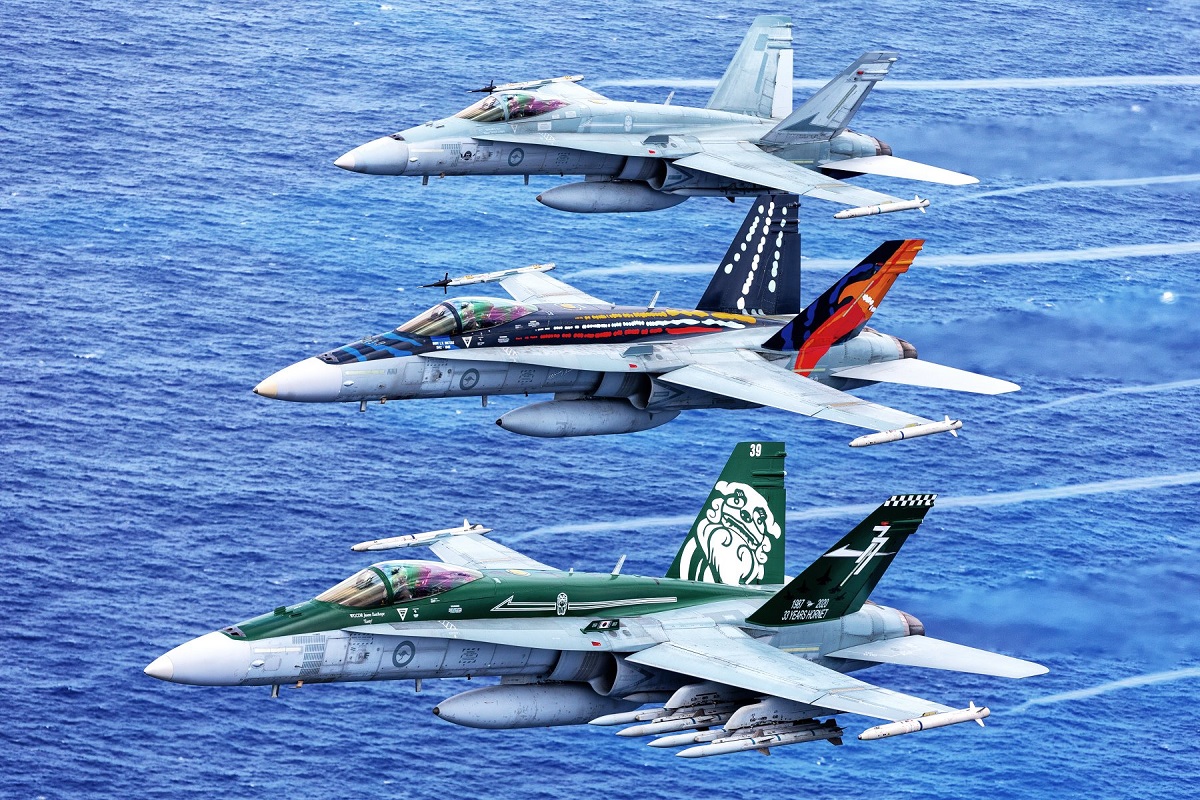 As aeronaves eram do Esquadrão Nº 75, da Base da RAAF de Tindal, perto de Katherine no Território do Norte; o último esquadrão de jatos Classic Hornet a mudar para o F-35A.
A F/A-18A/B Classic Hornet is flying from RAAF Base Tindal to RAAF Base Williamtown today, flown by WGCDR Leon Cossins, 75SQN CO.

It will conduct a low initial & pitch over the Base & land between 2-4pm.

This is the last flight for a Classic Hornet in Australia.#AusAirForce pic.twitter.com/jddNoCGV1p

— Royal Australian Air Force (@AusAirForce) December 3, 2021
O marechal do ar Hupfeld, piloto de F/A-18A/B e instrutor de combate de caça, elogiou a capacidade extraordinária que os Hornets proporcionaram ao poder aéreo da Austrália e a contribuição que deram em tantos teatros de combate, em um comunicado à imprensa no site do Departamento de Defesa do Governo Australiano.
"É bastante apropriado que no ano do Centenário da RAAF possamos nos despedir do Classic Hornet, um caça a jato que tem sido parte integrante da capacidade de defesa da Austrália por mais de três décadas", disse ele.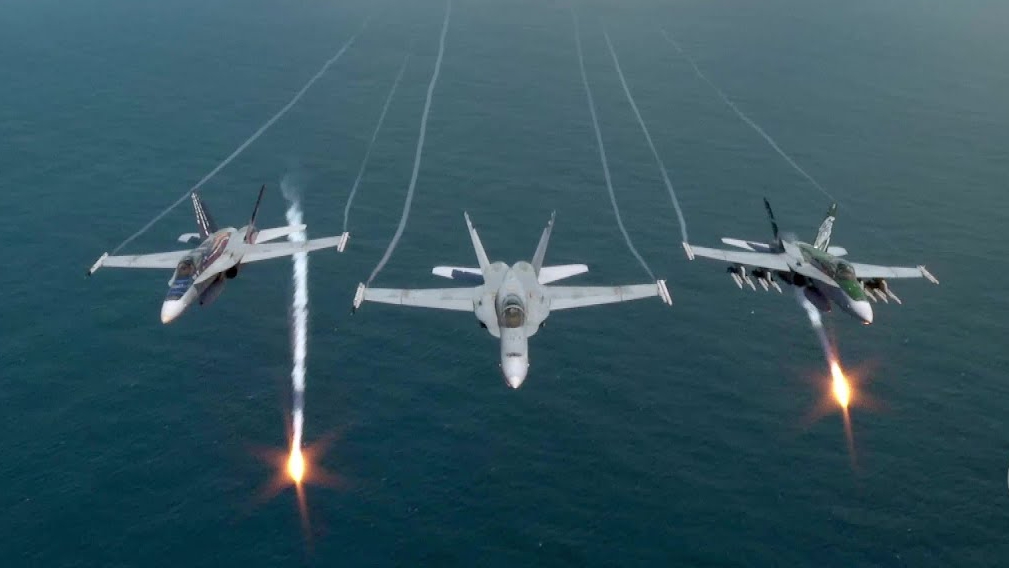 "À medida que o tempo do Classic Hornet chega ao fim, após quase 408.000 horas de voo no total, é hora de fazer a transição para a letalidade, capacidade de sobrevivência e capacidade de suporte avançadas fornecidas pelo F-35A Lightning II."
O marechal Hupfeld também observou que o Classic Hornet foi uma aeronave especial para a RAAF e uma peça importante da história da aviação australiana.
Farewell old friend. ??

This week we acknowledge the service of the F/A-18A/B Classic Hornet, and of our personnel who flew and maintained them for more than 30 years.

To all our techos, engineers, aircrew and support staff – thank you.

? SGT David Gibbs, 2019.#AusAirForce pic.twitter.com/JmT7EHUDaE

— Royal Australian Air Force (@AusAirForce) December 4, 2021
"O primeiro desdobramento operacional do Hornet foi em novembro de 2001 a maio de 2002 sob a Operação Slipper, após os ataques terroristas de 11 de setembro de 2001. O governo australiano concordou em implantar o F/A-18A/Bs para proteger a principal base aérea da Força Aérea dos Estados Unidos na ilha de Diego Garcia, no Oceano Índico, que estava sendo usada para realizar operações no Afeganistão", disse o marechal Hupfeld.
"Em fevereiro de 2003, tive o privilégio e uma honra de comandar pessoalmente o contingente de 14 Hornets e pessoal do Esquadrão Nº 75 que foi implantado no Iraque sob a Operação Falconer como parte da contribuição da Austrália para a guerra contra o terrorismo.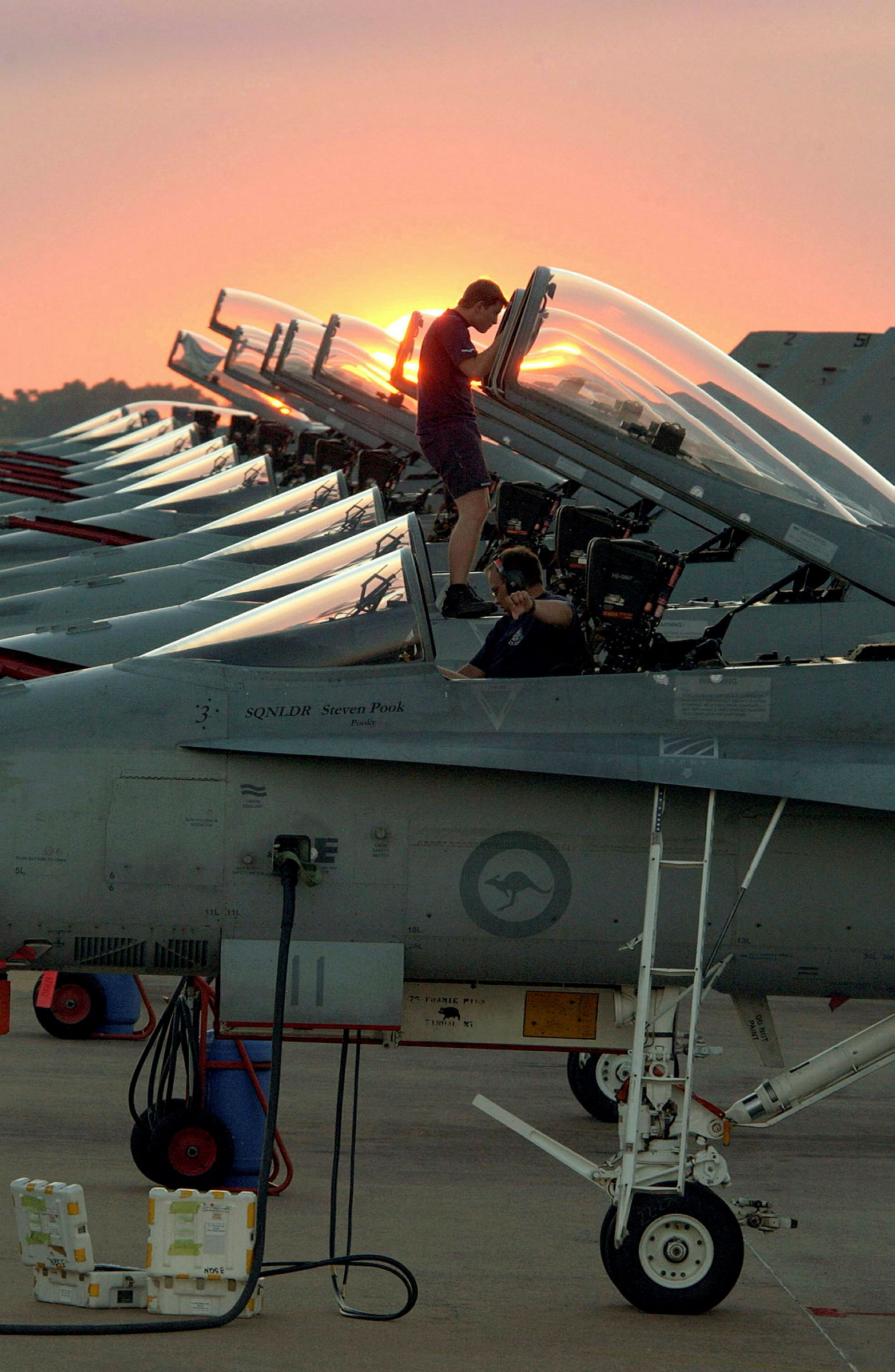 A Austrália pretende manter uma série de fuselagens aposentadas para exibição em museu, enquanto 25 foram vendidas para o Canadá, que pretende colocar 18 em serviço para cobrir uma lacuna de capacidade de caça. O primeiro foi entregue em fevereiro de 2019, e a ex-aeronave australiana deve passar por um programa de modernização que adiciona o radar APG-79 AESA antes de entrar em serviço. Os sete restantes serão usados como sobressalentes e como treinadores de reparo de danos em batalha.
Em março de 2020, foi anunciado que as aeronaves restantes da Austrália seriam vendidas à Air USA para tarefas de treinamento de agressores contratadas por civis, embora esse negócio não tenha sido concluído.