Dois veteranos da mídia nos EUA estão criando um novo veículo de comunicação global para tentar bater de frente com os gigantes do setor — incluindo o The New York Times, a BBC, o Washington Post e a CNN.
O veículo vai se chamar Semafor, e nasceu da cabeça de dois Smiths: Justin, o ex-CEO da Bloomberg Media, e Ben, o ex-editor chefe do BuzzFeed e ex-colunista de mídia do New York Times. 
A dupla acaba de levantar US$ 25 milhões com investidores como Jorge Paulo Lemann; Sam Bankman-Fried, um bilionário de cripto; John Thornton, um venture capitalist apaixonado pela mídia sem fins lucrativos que fundou o Texas Tribune; e David Bradley, o ex-controlador da revista The Atlantic.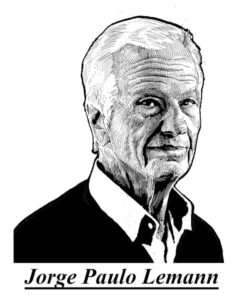 Jorge Paulo investiu no projeto por sua relação prévia com Justin. Os dois se conheceram cinco anos atrás nos eventos que a Bloomberg organiza na Ásia. 
O Semafor pretende ser lido pelas "200 milhões de pessoas que têm ensino superior, que lêem em inglês, mas que ninguém está tratando como uma audiência," Ben disse numa entrevista recente.
"Nossos grandes competidores, que dominam as notícias globais, foram criados no século 20. Eles estão exportando notícias de Londres ou de Atlanta ou de Nova York," disse Ben. "A gente está tentando construir uma forma [de fazer notícia] muito mais em rede e para um momento totalmente diferente."
Um diferencial do projeto: a primeira editoria internacional do Semafor será dedicada à África, com uma equipe local.
Com o dinheiro, a Semafor já contratou 60 pessoas (30 deles jornalistas). O lançamento do site está marcado para outubro. 
Os fundadores têm dito que os grandes veículos globais acabam focando muito em seus leitores domésticos e não têm mais a confiança do público.
"Há um descontentamento óbvio dos consumidores com o negócio de notícias," Ben disse numa entrevista recente. 
Mas como reconquistar a confiança dos leitores? 
Segundo ele, a Semafor vai focar em conseguir furos de reportagem e dividir suas histórias de tal forma que, numa seção, o repórter narre os fatos; em outra, faça sua análise. Para lutar contra a crítica de que a imprensa tem viés, a Semafor planeja publicar sempre uma visão crítica àquela retratada na matéria, e uma visão sobre o mesmo tema de outra região do mundo. 
A ambição da startup foi criticada… pela imprensa. 
O FT notou que o New York Times – o padrão ouro da imprensa global – tem 1.700 jornalistas e mais de US$ 500 milhões em caixa, mesmo depois da aquisição do site esportivo The Athletic. Já a BBC tem um exército de mais de 2.000 repórteres espalhados pelo mundo. 
Tentar ser um veículo generalista global com poucos jornalistas é difícil, disse um analista do setor ao FT. 
"Como essa redação teria respondido se, no terceiro dia depois do lançamento, o Putin começasse uma guerra na Europa? As grandes marcas de notícias têm vantagens grandes porque elas podem levar jornalistas de helicóptero para lá no dia seguinte," disse o analista.
Os Smiths optaram por levantar capital com investidores pessoa física (muitos deles já ligados à mídia) em vez de fundos de venture capital para evitar o mesmo tipo de cobrança por resultados pelo qual o BuzzFeed e a Vice Media passaram — ambos são bancados por VCs. 
Com isso, eles esperam que os acionistas continuem junto ao projeto independente do ambiente macro e das dificuldades comerciais do início.
Apesar do discurso inovador, o Semafor vai adotar o mesmo modelo de negócios predominante na imprensa: a startup planeja começar com um site e um app gratuitos, fazendo receita com publicidade e eventos. 
O plano é cobrar uma assinatura depois de um ou dois anos.
***
Enquanto uma nova mídia está nascendo, outra luta para achar o dono certo. 
O controlador da Forbes, a chinesa Integrated Whale Media, colocou o negócio à venda depois que a transação com um SPAC – que levaria a empresa para a Bolsa – acabou não indo adiante.
Segundo o NYT, o Citigroup tem circulado um 'offering memorandum' com as informações da Forbes junto a empresas de mídia, incluindo o Yahoo. 
O valuation pretendido é de US$ 630 milhões, o mesmo da transação com o SPAC. A Forbes faturou US$ 200 milhões no ano passado e teve US$ 40 milhões de lucro.