Um curto vídeo promocional, feito em conjunto pela Força Aérea dos Estados Unidos e pela nova Força Espacial dos EUA, mostra um modelo do que parece ser o avião espião SR-72, também conhecido como 'Son of Blackbird' (filho do Blackbird).
A aeronave aparece bem no final do vídeo, com apenas um esboço e alguns detalhes visíveis. O objeto, uma imagem gerada por computador, fornece uma possível teoria de que os militares dos EUA estão trabalhando no misterioso avião.
Os rumores de que a Lockheed Martin está planejando um sucessor para o SR-71, um famoso avião de reconhecimento da era da Guerra Fria, datam do final dos anos 2000.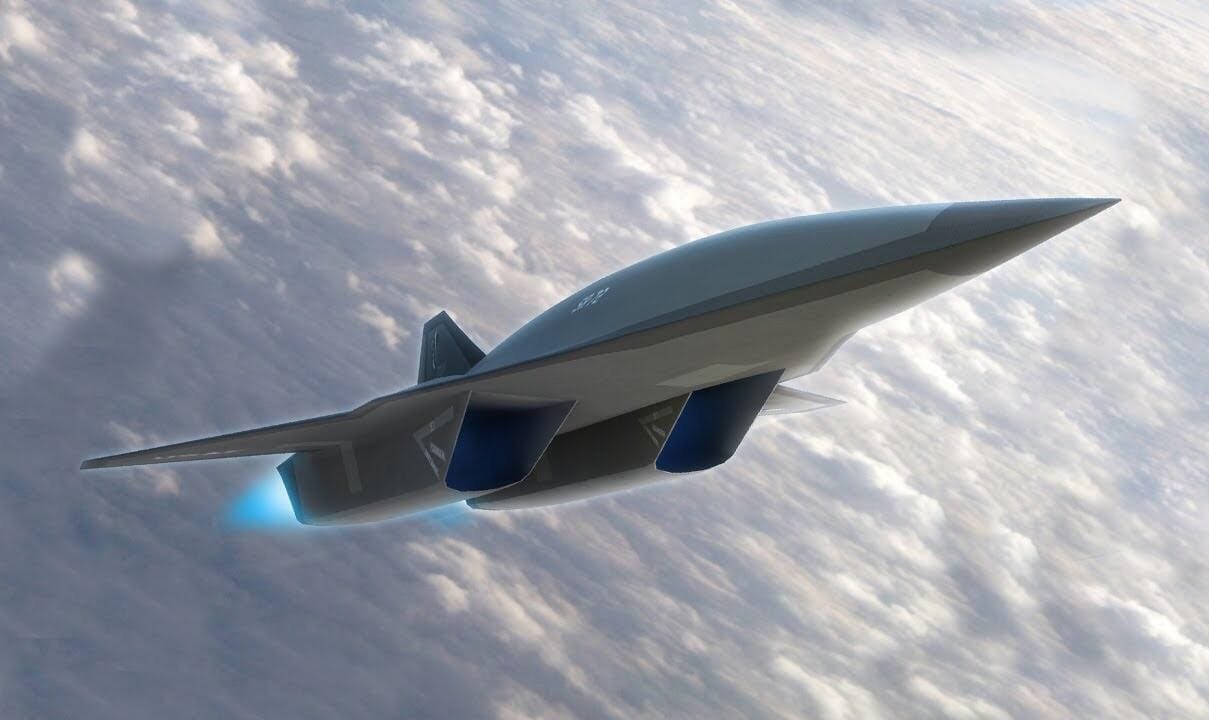 Muito pouco se sabe sobre o projeto. De acordo com a Lockheed Martin, ele foi projetado para ser não tripulado e voar a velocidades superiores a Mach 6, ou seis vezes a velocidade do som. Para atingir tais velocidades, a aeronave deve usar um motor de ciclo combinado baseado em turbina (TBCC), que combina um motor de turbina para voos abaixo de Mach 3 e um ramjet para velocidades mais altas.
Também foi dito que era capaz de transportar mísseis hipersônicos, mudando o foco de uma plataforma de reconhecimento puro. De acordo com o fabricante, o objetivo principal de tal avião seria penetrar em espaços aéreos contestados e atingir alvos altamente valiosos.
No entanto, o vídeo, publicado em 18 de novembro de 2021, pelo canal do Youtube do Centro de Excelência Profession of Arms da USAF (PACE), enfoca as capacidades de coleta de inteligência do serviço, divulgando sua capacidade de "[conduzir] o reconhecimento mais rápido do que a velocidade de guerra". Isso pode mostrar que os militares ainda consideram o SR-72 um avião espião, ou pelo menos uma plataforma capaz de funcionar como tal.
Vários outros projetos misteriosos podem ser vistos no vídeo. Esses incluem, mais proeminentemente, o drone de reconhecimento de asa voadora Northrop Grumman RQ-180 de alta altitude, conhecido como o White Bat (Morcego Branco). Nunca oficialmente confirmado, o drone foi acidentalmente avistado em vários locais em todo o mundo, e é especulado que seja o sucessor do igualmente misterioso RQ-170 Sentinel.
O vídeo também mostra um esboço do avião espacial Boeing X-37, visto na tela de uma espécie de centro de comando. Uma trajetória de lançamento balístico é mostrada em outra tela, aludindo à ideia de que uma missão do veículo está sendo monitorada. O objetivo oficial do X-37 é testar várias novas tecnologias em órbita, embora a natureza dessas tecnologias nunca tenha sido revelada.