A ilha Maurício colocou em serviço uma aeronave Do-228 para transporte de passageiros e um helicóptero Dhruv alugado, ambos para a Força Policial de Maurício (MPF), em 27 de abril.
As aquisições utilizaram uma linha de crédito de US$ 100 milhões estendida pela Índia. A Hindustan Aeronautics Limited (HAL) fabricou ambas as aeronaves.
O primeiro-ministro das Maurícias Pravind Kumar Jugnauth afirmou que as induções irão melhorar as capacidades operacionais dos agentes da lei. O Alto Comissariado da Índia em Port Louis afirmou que as aeronaves ajudarão a atender aos crescentes desafios marítimos na região do Oceano Índico.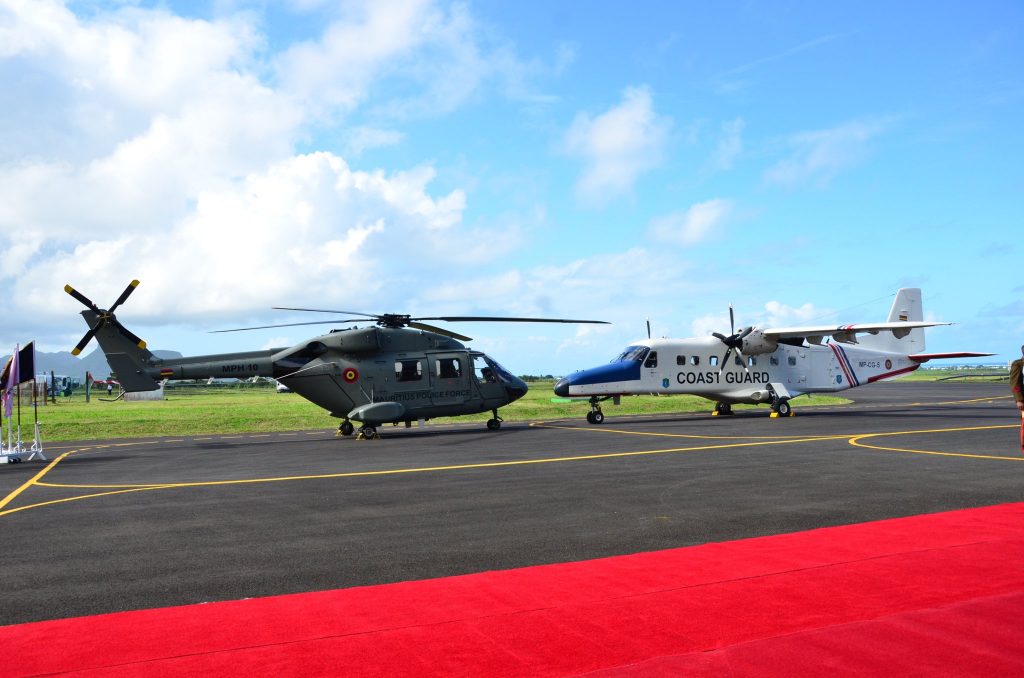 O recém-entregue Do-228 (MP-CG-5) substituirá um Do-228 (MSN 4059) arrendado que foi entregue para Maurício em setembro de 2021. A aeronave arrendada foi fornecida pela Marinha Indiana gratuitamente para apoiar o aumento da carga de operações aéreas enquanto a HAL fabricava e entregava um novo. O Advanced Light Helicopter Dhruv (MPH 10) também foi alugado com o mesmo objetivo. A HAL assinou um contrato com Maurício em janeiro de 2022 para fornecer um helicóptero Dhruv. O MPH 10 será operado até que o novo Dhruv seja entregue.
Bienvenue à Maurice!

Mauritius welcomes the arrival of the newly purchased Passenger Variant Dornier aircraft with a traditional water cannon salute.#IndiaMauritius ?????@MEAIndia @IndianDiplomacy @HALHQBLR @IndiaEximBank pic.twitter.com/HFeGUR6iVj

— India in Mauritius (@HCI_PortLouis) April 10, 2022
O Esquadrão Aéreo Marítimo (MAS) da Guarda Costeira Nacional (NCG), que integra a MPF, operará o Do-228. Antes desta indução, o MAS tinha quatro aeronaves operacionais que consistiam em três aeronaves indianas Do-228 e um BN-2T Defender. O BN-2T (MP-CG-2) enfrentou problemas de manutenção e espera-se que seja substituído pelo quarto Do-228. Os Dorniers existentes foram empossados ??em 1990 (MP-CG-1), 2004 (MP-CG-3) e 2016 (MP-CG-4). De fato, foi a transferência de um Dornier pela Índia em 1990 que permitiu o estabelecimento do MAS. Todos os Do-228s foram equipados com pods de metralhadora 7,62×51 mm sob as asas em 2018.
IAF C-17 aircraft lands in Mauritius with ALH Dhruv helicopter to be handed over to the Government of Mauritius on lease by India. The leased Dhruv will add to the fleet strength of PHS, thereby redoubling its operational capabilities.@MEAIndia @SpokespersonMoD @IAF_MCC pic.twitter.com/I3cPVszJhO

— India in Mauritius (@HCI_PortLouis) March 31, 2022
O Esquadrão de Helicópteros da Polícia (PHS) da MPF vai operar o Dhruv. O PHS já opera seis helicópteros, que consistem em quatro HAL Chetaks, juntamente com um Eurocopter Fennec e um Dhruv. O Dhruv foi entregue em 2009, enquanto dois dos Chetaks foram entregues em 2016. O PHS realiza missões de até 90 milhas náuticas no mar e visa garantir pelo menos 60% de disponibilidade em sua frota.
A MPF depende fortemente da Índia para aquisição e manutenção de sua frota de aeronaves e navios. As três maiores embarcações: CGS Barracuda, CGS Victory e CGS Valiant e a maioria das embarcações menores usadas pela guarda costeira de Maurício foram feitas na Índia e fornecidas usando uma combinação de doações e linhas de crédito.
As relações tradicionalmente estreitas com a Índia também se estendem ao pessoal envolvido. Os serviços militares de Maurício são regularmente chefiados por comandantes indianos destacados. A Índia também está construindo uma grande pista de pouso e píeres no remoto arquipélago de Agalega. O local, capaz de abrigar aeronaves como o P-8I, deve ser amplamente utilizado pela Marinha da Índia junto com unidades da MPF. Isso ajudaria a Índia a manter uma presença persistente no sudoeste do Oceano Índico.