O E/A-18G tem a capacidade de realizar uma ampla gama de missões de supressão de defesa inimiga com a mais recente tecnologia de ataque eletrônico, pods de interferência e comunicações por satélite. (Foto: U.S. Air Force)
A Marinha dos EUA enviou seis aeronaves EA-18G Growler para a Alemanha, onde melhorarão a postura de defesa coletiva da OTAN na região após a invasão da Ucrânia pela Rússia.
A aeronave partiu da Estação Aérea Naval de Whidbey Island, Washington, e chegou à Base Aérea de Spangdahlem, na Alemanha, na segunda-feira.
Esses Growlers, atribuídos ao Esquadrão de Ataque Eletrônico 134 (VAQ-134) – também conhecido como "Garudas", estão equipados para uma variedade de missões, mas são especializados em missões de guerra eletrônica, usando um conjunto de sensores de interferência para confundir radares inimigos, ajudando muito na capacidade de conduzir a supressão de operações de defesa aérea inimigas.
Six @USNavy ?? EA-18G Growlers have deployed to Germany ??

The electronic warfare aircraft will join other Allied fighters operating over @NATO's Eastern Flank providing an integrated and robust shield for the Alliance.@NATOpress @USNATO @PentagonPresSec @USNavyEurope #NATO pic.twitter.com/3vNoof2HRd

— NATO Air Command (@NATO_AIRCOM) March 29, 2022
Eles serão acompanhados por cerca de 240 tripulantes, mantenedores de aeronaves e pilotos.
O secretário de imprensa do Pentágono, John F. Kirby, observou que as aeronaves não estão sendo utilizadas contra as forças russas na Ucrânia.
"Eles estão sendo implantados completamente de acordo com nossos esforços para reforçar as capacidades de dissuasão e defesa da OTAN ao longo desse flanco leste. A implantação não é uma resposta a uma ameaça ou incidente percebido", disse Kirby.
Six @USNavy EA-18G Growler aircraft out of Naval Air Station Whidbey Island in Washington State are on their way to #Europe and are expected to arrive at @Spangdahlem_AB in #Germany.

Read more: https://t.co/XTqkJgtX9m pic.twitter.com/QtD6mFeGRo

— USAFE-AFAFRICA (@HQUSAFEAFAF) March 29, 2022
"Como dissemos o tempo todo, o secretário quer manter as opções em aberto. Ele está em constante consulta com o general Wolters e, como resultado das discussões com o general Wolters, bem como com o governo alemão, este foi considerado um movimento adicional que poderia continuar a reforçar nossa dissuasão e reforçar nossas defesas no flanco leste. Esta implantação é uma decisão prudente para continuar a reavaliar nossa postura de força no flanco leste da OTAN."
O capitão da Marinha Christopher M. Bahner, que serve como comandante da Electronic Attack Wing Pacific, disse que a equipe do VAQ-134 está preparada para realizar qualquer missão que lhes seja solicitada enquanto estiverem na Alemanha.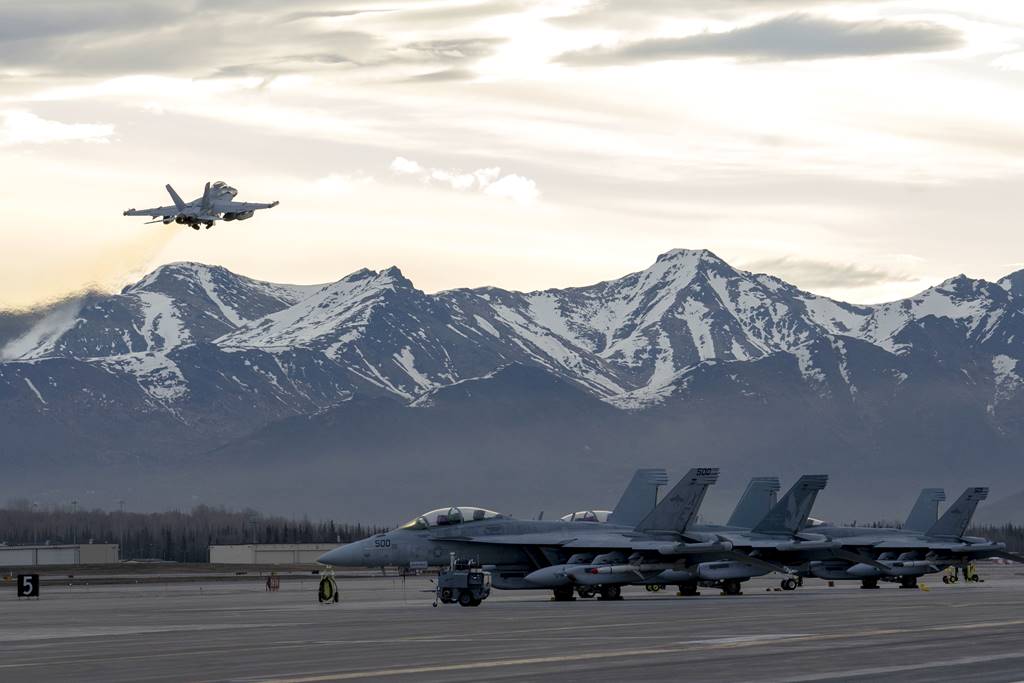 "Estou extremamente orgulhoso dos homens e mulheres do VAQ-134", disse Bahner. "Os Garuda tiveram um desempenho excepcional durante o ciclo de trabalho planejado e estão prontos para apoiar as forças-tarefa expedicionárias e aliadas dos EUA na Europa. Os esquadrões EA-18G expedicionários se integram às forças conjuntas e de coalizão para fornecer aos nossos comandantes recursos para defender nossas forças em todas as fases potenciais de operação, permitindo que nossos esquadrões EA-18G da Carrier Air Wing permaneçam no mar, defendendo a liberdade de navegação com nosso ataque de porta-aviões equipes do grupo".
Os Growlers estão se juntando aos caças F-35A da Força Aérea dos EUA já implantados na Base Aérea de Spangdahlem. O pessoal da USAF da ativa 388ª e da Reserva 419ª Ala de Caça chegou à Alemanha em 16 de fevereiro, de onde está realizando operações nas regiões do Báltico e do Mar Negro.