O Consórcio Eurofighter entregou o terceiro e quarto Eurofighter Typhoons à Força Aérea do Kuwait, com as aeronaves pousando no país em 29 de março.
O voo de translado dos novos Eurofighters do Kuwait foi possibilitado pelo apoio da Força Aérea Italiana, que forneceu reabastecimento ar-ar com um avião-tanque KC-767A da 14ª Ala, de Pratica di Mare.
A entrega faz parte do quadro de um pedido mais amplo para um total de 28 aeronaves que serão entregues à Força Aérea do Kuwait.
Per la prima volta i nuovi velivoli #Eurofighter Typhoon delle Forze aeree kuwaitiane hanno sorvolato la capitale del #Kuwait, in occasione della Giornata Nazionale | via @askanews_ita https://t.co/zg2r1XwRby

— Leonardo (@Leonardo_IT) February 26, 2022
"Fiquei muito orgulhoso no mês passado ao ver Eurofighters sobrevoando a Cidade do Kuwait durante a celebração do dia nacional, como hoje aumentando conforme planejado a frota. Os Eurofighter Typhoons que desenvolvemos e produzimos para a Força Aérea do Kuwait são os mais avançados em todo o programa europeu. Em cooperação com a Força Aérea Italiana, estamos fornecendo ao País uma impressionante capacidade de defesa aérea e construímos infraestruturas de última geração para apoiar e manter uma frota de 28 aeronaves", disse Guido Sibona, vice-presidente do programa Eurofighter da Leonardo.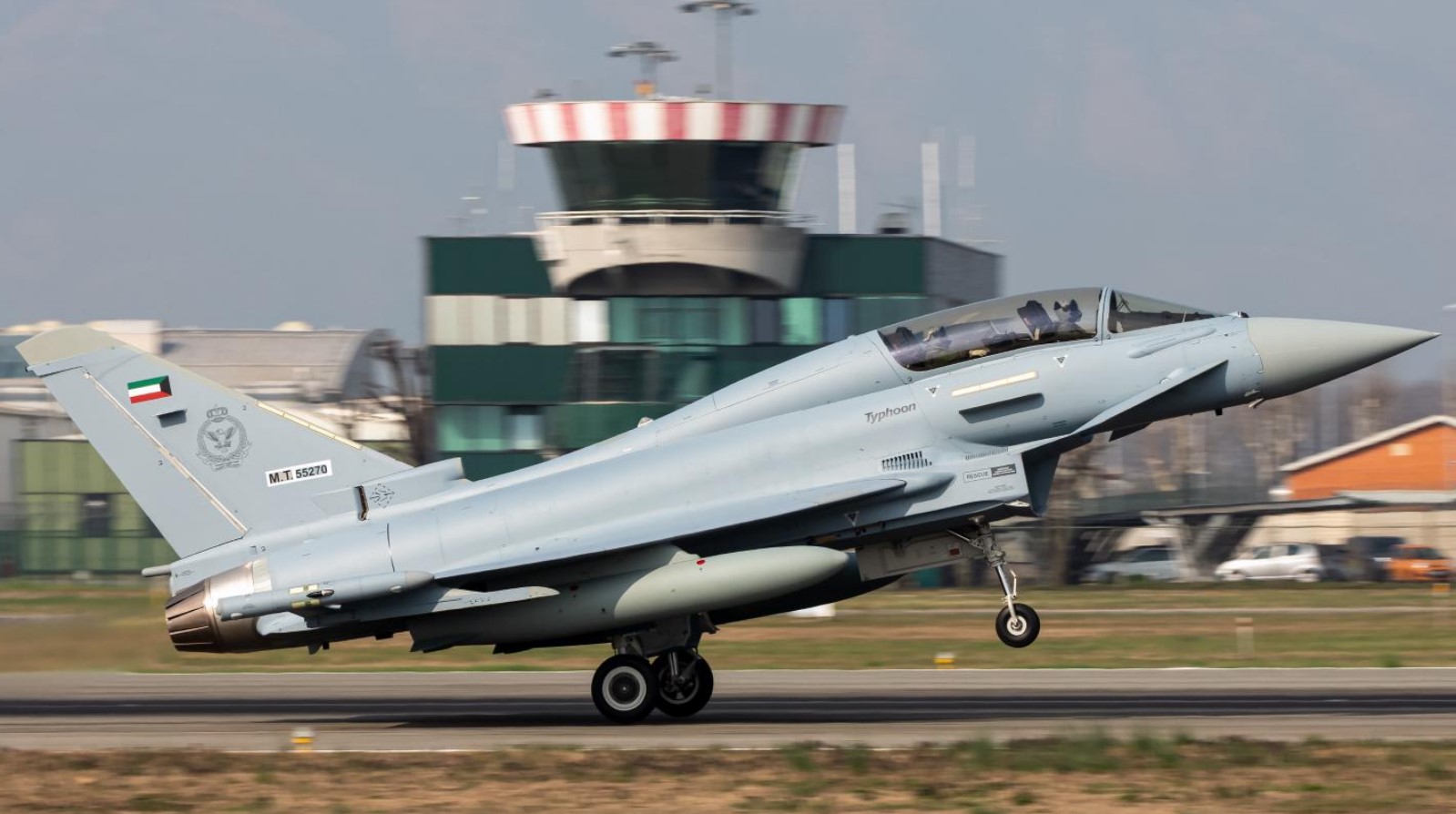 O programa Eurofighter Kuwait faz parte de uma colaboração mais ampla e profunda entre a Força Aérea Italiana e a Força Aérea do Kuwait, abrangendo operações, treinamento de pilotos e suporte. A Força Aérea Italiana está garantindo o treinamento inicial dos engenheiros e técnicos na Itália, que posteriormente apoiarão a frota do Typhoon no país.
O programa Eurofighter é administrado pelo consórcio Eurofighter GmbH, empresa sediada em Munique (Alemanha) de propriedade da Leonardo, BAE Systems e Airbus Defence & Space para Alemanha e Espanha. Do lado do governo, o programa é administrado pela NATO Eurofighter & Tornado Management Agency (NETMA), que foi criada para atender às necessidades de compras das forças aéreas dos quatro países participantes, Itália, Reino Unido, Alemanha e Espanha .
[#EFWorld] The1?st #Eurofighter jet to Kuwait?? represents a series of firsts, including a new E-Scan radar. The challenge was a significant one. Find out how the team overcame their test and what's next for #Eurofighter?https://t.co/QGaCHa6zDE pic.twitter.com/kPMTHgpZyB

— Eurofighter Typhoon (@eurofighter) March 30, 2022
Embora as manchetes do programa tenham se concentrado no novo cliente Kuwait, o vice-presidente da Eurofighter Kuwait & P3Eb Maurizio Fornaiolo, destacou que não é um programa de exportação puro. Ele é qualificado e certificado sob o guarda-chuva de quatro nações do Eurofighter (Itália, Alemanha, Reino Unido e Espanha) porque o P3Eb (o nome formal do programa) é um contrato NETMA.
Fornaiolo diz que este novo padrão formará a linha de base para o programa central da nação. "Nós agora estabelecemos uma capacidade de sistema de armas e esse é um primeiro passo fundamental no plano de 10 anos do Eurofighter. Todos os programas futuros usarão isso como uma linha de base para a introdução dos novos recursos. De fato, mesmo enquanto estávamos entregando a aeronave inicial, também estávamos trabalhando para avançar nas autorizações futuras para atualizar as capacidades do sistema de armas para o cliente. Então, o show continua."