Elon Musk, Steve Wozniak e centenas de outros executivos de tecnologia e pesquisadores de ponta pediram hoje que os laboratórios de inteligência artificial suspendam por pelo menos seis meses o desenvolvimento de sistemas de IA que sejam mais poderosos do que o recém-lançado GPT-4. 
O documento, cujo título é "Pausem os Experimentos Gigantes em IA: Uma Carta Aberta", foi divulgado esta manhã pela Future of Life, uma instituição que tem Musk entre seus maiores financiadores. 
O texto afirma que "os sistemas de IA com inteligência competitiva com a humana podem oferecer riscos profundos para a sociedade e humanidade, como demonstrado por extensiva pesquisa e reconhecido por laboratórios de ponta de IA".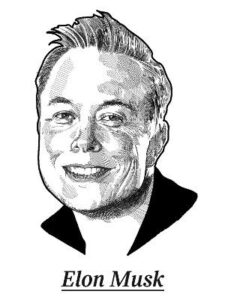 "Como foi afirmado no amplamente apoiado Princípios de Asilomar, a inteligência artificial avançada pode representar uma transformação profunda na história da vida sobre a Terra e deveria ser planejada e administrada com atenção e recursos compatíveis." 
Os Princípios de Asilomar são um conjunto de 23 diretrizes listadas em uma conferência ocorrida em 2017 na Califórnia. 
De acordo com a carta, esses cuidados não estão sendo tomados: os signatários afirmam que os laboratórios de AI estão "numa corrida fora do controle para desenvolver e empregar mentes digitais cada vez mais poderosas que ninguém – nem mesmo seus criadores – conseguem compreender, prever e controlar com confiança." 
"Sistemas de IA poderosos deveriam ser desenvolvidos apenas quando tivermos a certeza de que seus efeitos serão positivos e seus riscos serão administráveis," diz o texto. 
Daí a recomendação para que o desenvolvimento de sistemas mais avançados que o GPT-4 seja suspenso imediatamente. A pausa deve durar até que se crie um protocolo global para a utilização dessa tecnologia. 
Se não for possível coordenar essa suspensão temporária de maneira voluntária e verificável, os signatários recomendam que os governos atuem para "instituir uma moratória" nos experimentos. 
No subtexto da carta está o temor de que a tecnologia atinja o conceito de "singularidade", um estado em que a capacidade de processamento da máquina será superior à do cérebro humano – dando à máquina autonomia de pensamento.
O conceito foi formulado pela primeira vez pelo matemático John Von Neumann e mais tarde elaborado em obras icônicas como Future Shock, escrito por Alvin Toffler em 1970, e The Age of Spiritual Machines, de Ray Kurzweil, de 1999. 
Recursos de inteligência artificial já fazem parte do dia a dia das pessoas e são utilizados por empresas em todo o mundo, incluindo a Tesla de Elon Musk. 
Mas a nova geração de bots e sistemas de IA que desafiam a inteligência humana elevou o grau de preocupação dos pesquisadores. 
O alerta ocorre após a enorme popularidade alcançada pelo ChatGPT, criado pela OpenAI, sobretudo depois de o sistema ter sido embarcado no Bing, da Microsoft.
O chatbot com "capacidade humana" foi lançado em novembro – logo suplantado pelo GPT-4, também da OpenAI, lançado este mês.
O GPT-4 é um "grande modelo multimodal" que aceita imagens e textos como inputs. Ele demonstra uma performance similar à humana em diversas atividades profissionais e acadêmicas – por exemplo, passando em um simulado do exame para exercer a advocacia nos EUA.  (A nota obtida o colocou entre os 10% de melhor desempenho, enquanto o GPT-3.5 também passou na prova, mas ficou entre os 10% piores.)
A OpenAI nasceu sem fins lucrativos e teve Musk entre seus fundadores. Mas em janeiro, recebeu um aporte bilionário da Microsoft, que vai investir US$ 10 bilhões na startup e passou a usar os recursos desenvolvidos pela empresas em seus programas e aplicativos.
Entre as Big Techs, a Microsoft agora assumiu a dianteira em IA, empregando os seus recursos em diversos serviços e aplicativos. O Google e as big techs chinesas correm por fora – e é essa disputa que causa preocupação entre os pesquisadores. 
O tema é bastante caro a Musk. Em 2015 ele já havia sido o organizador de uma outra carta aberta sobre o assunto, que contou com o apoio de Stephen Hawking e outros cientistas. O texto dizia que a IA poderia trazer grandes benefícios, mas que era preciso dar atenção a seus riscos.  
A nova carta pode ser assinada por qualquer pessoa na página da internet da Future of Life. O número de apoiadores já passa de mil, incluindo nomes como Yuval Noah Harari, o escritor de professor da Hebrew University of Jerusalem; Stuart Russell – professor ciência da computação em Berkeley e diretor do Center for Intelligent Systems; Evan Sharp, o cofundador do Pinterest; Rachel Bronson, presidente do Bulletin of the Atomic Scientists; Jaan Tallinn, cofundador do Skype; e Yoshua Bengio, professor do Departamento de Ciência da Computação da Université de Montréal.
SAIBA MAIS
Inteligência artificial: inovação ou risco?