A imprensa britânica divulgou hoje que o piloto de caça ucraniano conhecido como "Ghost of Kyiv" (Fantasma de Kiev) morreu em batalha no mês passado. Em seguida, o comando militar ucraniano desmentiu a notícia afirmando que o "Fantasma de Kiev" é apenas uma lenda e pedindo que parem de divulgar fake news.
A informação da morte do "famoso" piloto partiu da publicação britânica The Times e do jornal ucraniano KyivPost. Segundo as reportagens, citando fontes, o piloto conhecido como "Fantasma de Kiev" era Stepan Tarabalka, de 29 anos, que morreu no dia 13 de março, quando seu MiG-29 estava em grande desvantagem numérica pelo inimigo e abatido durante um combate aéreo. Ele deixou sua esposa Olena e seu filho Yarik, de 8 anos.
A fighter pilot known as the Ghost of Kyiv died in an air battle last month after allegedly shooting down more than 40 Russian aircraft, it can be revealed https://t.co/W0J6OwL9Bf

— Larisa Brown (@larisamlbrown) April 29, 2022
Identity of Legendary Ukrainian Pilot 'Ghost of Kyiv' Revealed by Ukrainian Media.
Maj. Stepan Tarabalka, 29, was killed defending #Ukraine's skies on March 13.https://t.co/FPmlWcvnn4

— KyivPost (@KyivPost) April 30, 2022
Na verdade Tarabalka, nascido na província de Ivano-Frankivsk, realmente recebeu postumamente o título de Herói da Ucrânia e a Ordem da Estrela Dourada por bravura em combate e morreu em março, mas os militares ucranianos dizem que ele não é o lendário "Ghost of Kyiv".
O piloto de caça ucraniano ganhou popularidade no final de fevereiro, quando as autoridades ucranianas publicaram uma gravação online, alegando que o piloto havia derrubado seis aeronaves russas no primeiro dia da invasão. "As pessoas o chamam de Fantasma de Kiev. E com razão", disse um tuíte oficial do governo ucraniano, acrescentando que ele "já se tornou um pesadelo para as aeronaves russas invasoras", depois de derrubar cerca de 40 aeronaves russas.
People call him the Ghost of Kyiv. And rightly so — this UAF ace dominates the skies over our capital and country, and has already become a nightmare for invading Russian aircrafts. pic.twitter.com/lngfaMN01I

— Ukraine / ??????? (@Ukraine) February 27, 2022
Vídeos distorcidos nas mídias sociais mostrando o "Fantasma de Kiev" foram descobertos como sendo imagens antigas ou imagens de fora da Ucrânia.
Muitos chamaram o então piloto anônimo de herói e anjo da guarda, mas alguns afirmaram que ele era uma lenda urbana. A existência do lendário piloto foi supostamente apoiada por algumas fontes ucranianas citadas pelo The Times e por vários tablóides britânicos e indianos imediatamente depois, afirmando que a história do piloto era verdadeira desde o início da invasão russa, "mas naquela época, sua identidade ainda estava em segredo".
The Ghost of Kyiv, who downed 40 Russian aircraft before paying the ultimate price himself for freedom on March 13.
Salute, Major Stepan Tarabalka. You did your country proud. One day soon, there will be a monument erected to you. https://t.co/573Tgj0jZK

— AaydeR (@Aay_deR) April 30, 2022
According to The Times of London, The Ukrainian pilot hailed as the "Ghost of Kyiv" was killed in battle on March 13.

He's been identified as Major Stepan Tarabalka, a 29 yr-old father of 1. pic.twitter.com/QKQt3dsOgh

— Visegrád 24 (@visegrad24) April 29, 2022
"Ghost Of Kyiv" Dies In Battle After Shooting 40 Russian Jets, Identity Revealed https://t.co/wdaZnFjjfX pic.twitter.com/xfQtWrZpPj

— NDTV (@ndtv) April 30, 2022
Ghost of Kyiv fighter pilot 'is killed' after shooting down more than FORTY Russian aircraft https://t.co/8EwaCRJCWr

— Adam Parkhomenko (@AdamParkhomenko) April 30, 2022
Legendary ghost of Kyiv fighter pilot killed after Ukraine claims he downed 40 Russian planes https://t.co/vzwLbKupBu pic.twitter.com/FxS5d71zpj

— The Sun (@TheSun) April 29, 2022
Na reportagem do jornal The Times, após a morte de Tarabalka, sua mãe Natalia disse que "ele sonhava em se tornar um piloto de caça desde a infância".
Quando ele se matriculou em uma escola de aviação, ele frequentemente sobrevoava sua aldeia natal. Em qualquer oportunidade, ele voava perto da nossa casa, fazia um pequeno truque acrobático. E todos na vila, todas as casas e todas as vilas ao redor saberiam que é Stepan voando", disse ela.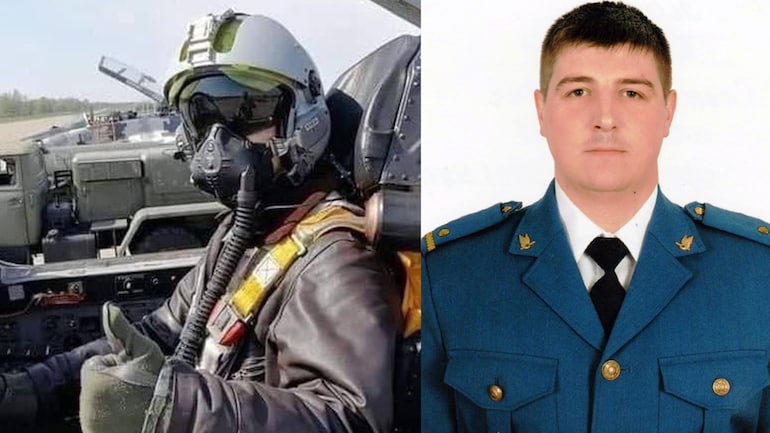 Os pais do major Tarabalka disseram que os militares ucranianos não dariam detalhes de seu voo final ou de sua morte. "Sabemos que ele estava voando em uma missão. E ele completou a missão, sua tarefa. Depois não voltou. Essa é toda a informação que temos", disse seu pai Evon à mídia.
Mas então, o Estado Maior das Forças Armadas da Ucrânia divulgou um post no Facebook dizendo que a informação está errada e que estão espalhando fake news, uma declaração oficial que serve para responder à tais reportagens que provavelmente só poderiam afetar a credibilidade dos militares de Kiev e suas reivindicações passadas e futuras.
Traduzindo, a postagem afirma o seguinte:
?? POR FAVOR, NÃO PREENCHA O ESPAÇO DE INFORMAÇÕES COM FAKES??
———————————-
Mais uma vez, pedimos à comunidade ucraniana que NÃO ignore as regras básicas de filtragem da informação, não emita as desejadas como válidas, verifique as fontes de informação antes de divulgá-la.
?? Herói da Ucrânia Stepan Tarabalka NÃO é o "Fantasma de Kiev" e ele NÃO abateu 40 aviões.
Em 13 de março de 2022, o major Stepan Tarabalka heroicamente morreu em uma batalha aérea com as forças dominantes dos ocupantes russos. Aqui estão as informações sobre ele no site oficial do KPSU: https://www.facebook.com/kpszsu/posts/339462291555059
O Fantasma de Kiev é uma lenda de super-herói cujo personagem foi criado por ucranianos! Esta é uma imagem coletada mais rapidamente dos pilotos da 40ª brigada de aviação tática da Força Aérea, que protegem o céu da capital, que de repente aparecem onde não são esperados!
?? Pilotos militares ainda não estão estudando no exterior no F-16, por mais que todos nós desejássemos.
Nenhuma declaração oficial sobre este assunto foi publicada na mídia!
?? Bem, e por último, para os especialmente criativos – bombardeiros americanos também não sobrevoam a Ucrânia!
Mantenham a calma e usem fontes oficiais de informação.
Glória para Ucrânia!
? Serviço de Relações Públicas do Comando da Força Aérea das Forças Armadas da Ucrânia
Histórias sobre o "Fantasma de Kiev" surgem de vez em quando, dando ao povo ucraniano esperança, orgulho e desejo de lutar.,servindo de exemplo de bravura e amor pela pátria a seguir.
Se a história de Tarabalka é verdadeira ou não, ele forneceu uma esperança para a Ucrânia, que conseguiu afastar os militares russos por mais de dois meses.