No dia 9 de maio, o primeiro caça Eurofighter Typhoon nas cores da Força Aérea do Emirado do Catar fez seu voo inaugural, a partir das instalações da BAE Systems em Warton, no noroeste da Inglaterra.
O voo inaugural de uma hora foi registrado pelo fotógrafo de aviação Simon Pearson-Cougill que compartilhou as imagens com o site The War Zone. O caça com número de série QA404 está com seu esquema de camuflagem definitivo, embora ainda leve o registro temporário ZR505 do Reino Unido. A aeronave com o indicativo TARNISH 10 havia realizado seu primeiro voo sem a pintura em novembro do ano passado.
Great to see the first @eurofighter for the Qatar Emiri Airforce conduct its first flight in its chosen paint scheme from @BAESystemsAir @RollsRoyceUK #qatar #qataremiriairforce #bae #eurofighter #typhoon #warton @AFMonthly @thedrive pic.twitter.com/n5Zyqz8TF3

— Simon Pearson-Cougill (@SimonP_Cougill) May 9, 2022
Em 17 de setembro de 2017, o Ministro de Estado da Defesa do Catar, Khalid bin Mohammed al Attiyah, e seu colega britânico, o secretário de Defesa Sir Michael Fallon, assinaram uma declaração de intenção descrevendo um plano para comprar 24 aeronaves Eurofighter Typhoon para o Catar.
#ICYMI ??has a historic relationship with ??built on working together to promote regional stability and security.

Defence Secretary @BWallaceMP and the Qatari Defence Minister have unveiled a new Joint Training Hawk Squadron to further build these ties.https://t.co/nRBFY0V7iZ pic.twitter.com/cyAW2LTrjq

— Ministry of Defence ?? (@DefenceHQ) November 28, 2021
O movimento do Catar é em si uma tentativa de persuadir a Europa em sua guerra de palavras com a Arábia Saudita. O Catar se viu isolado diplomaticamente da Arábia Saudita, que o acusa de apoiar o terrorismo. No fundo, o apoio do Catar ao Irã deprimiu fortemente os vizinhos dos Emirados. Mas por trás da guerra dos irmãos inimigos é o futuro econômico da região que está em jogo. O Catar precisa de aliados no Ocidente e três importantes compras de caças (Rafale, F-15 e Eurofighter) representam o primeiro passo, pelo menos uma tentativa de se proteger.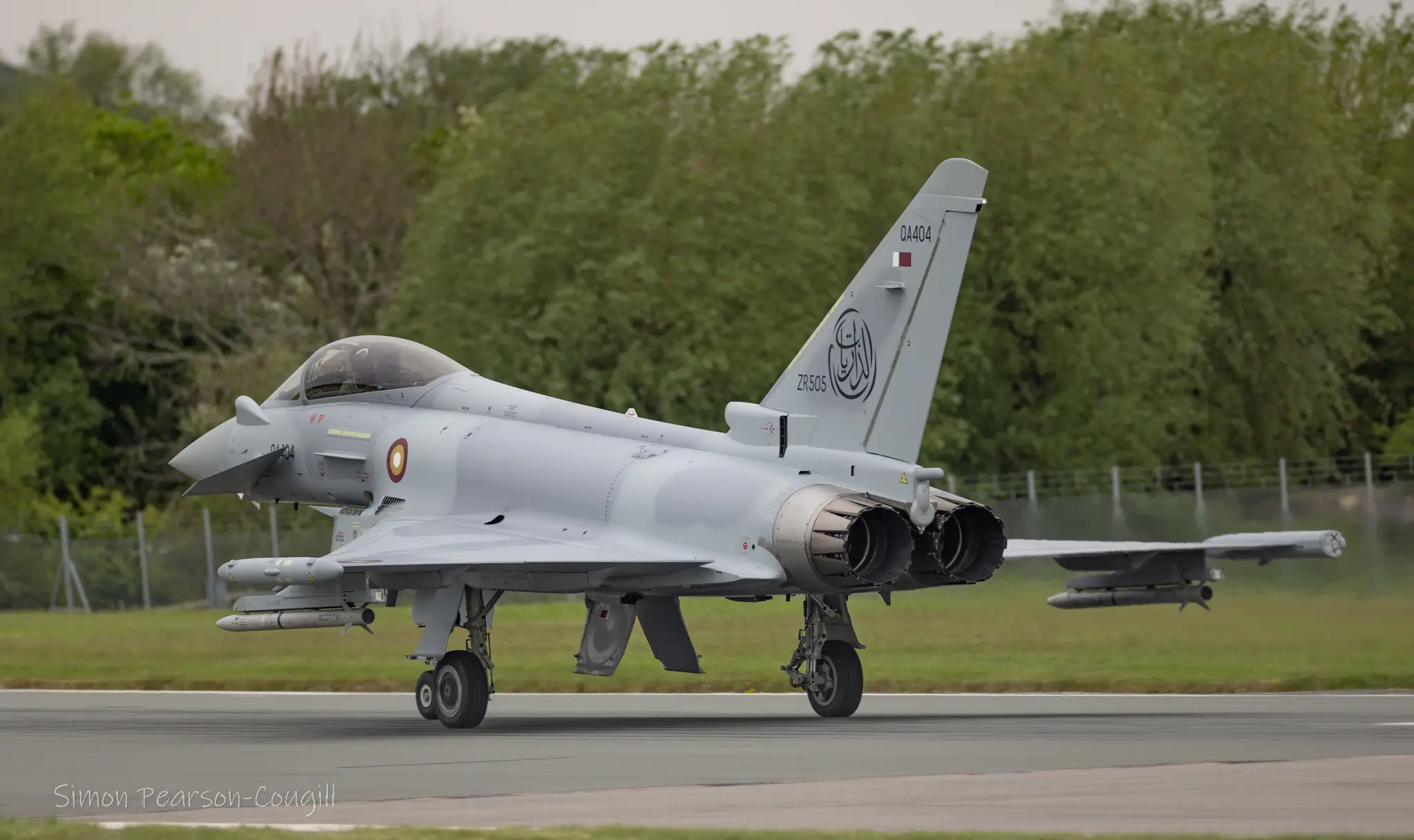 Autoridades do Catar revelam que o acordo aumentará a cooperação de defesa e o engajamento entre os dois países e estabelecerá as bases para as "intenções do Catar em relação ao desenvolvimento e produção do padrão Eurofighter T3, que foi a oferta mais cara.
More No 12 Sqn Typhoon action from my recent project with @BAESystemsAir and No 12 Sqn @eurofighter the joint UK-Qatar unit at RAF Coningsby. @MOD_Qatar @ChiefofAirStaff #aviationphotography pic.twitter.com/AuShMuKXPO

— Jamie Hunter – Aviacom (@jamie_aviacom) April 10, 2022
Atualmente, os pilotos do Catar treinam com os Eurofighters da RAF dentro do Esquadrão 12 e os engenheiros aprendem os métodos da RAF em Cosford. O primeiro grupo de seis pilotos do Catar chegou ao Reino Unido com experiência em aeronaves de combate.