A reguladora de aviação dos Estados Unidos, a Federal Aviation Administration (FAA) e a NASA (National Aeronautics and Space Administration) testaram com sucesso o novo software de gerenciamento de voo no terminal. Quando funcional, a tecnologia ajudará os aeroportos centrais movimentados, calculando os obstáculos desde o pátio para que cada avião possa taxiar diretamente para a pista e decolar.
O programa visa reduzir o congestionamento da rampa e atrasos nos táxis para ajudar a minimizar o consumo de combustível e as emissões de CO2. Em particular, a FAA espera que esta capacidade ajude a economizar mais de 7 milhões de galões de combustível anualmente e elimine mais de 75.000 toneladas de emissões de CO2 por ano.
"O futuro do voo deve ser mais sustentável e ecologicamente correto", declarou Steve Dickson, administrador da FAA, em 28 de setembro de 2021. "Esta nova capacidade, como parte de um sistema de fusão de voos, tem um benefício duplo: reduz as emissões das aeronaves e garante a experiência dos viajantes aéreos mais partidas dentro do horário."
The FAA and @NASA announced the completion of research and testing on new software that will allow more on-time flight departures. The FAA plans to install the air traffic-merging system at up to 27 airports to reduce aircraft emissions and improve travel. https://t.co/9cveANbGXH pic.twitter.com/UzrchC54Gg

— The FAA ?? (@FAANews) September 28, 2021
"A NASA está desenvolvendo tecnologias transformadoras que irão revolucionar o setor de aviação como o conhecemos", disse o administrador da NASA, Bill Nelson. "A prova está na mesa. Esta tecnologia de programação de tráfego aéreo aumenta a eficiência da aeronave e melhora a confiabilidade para os passageiros todos os dias."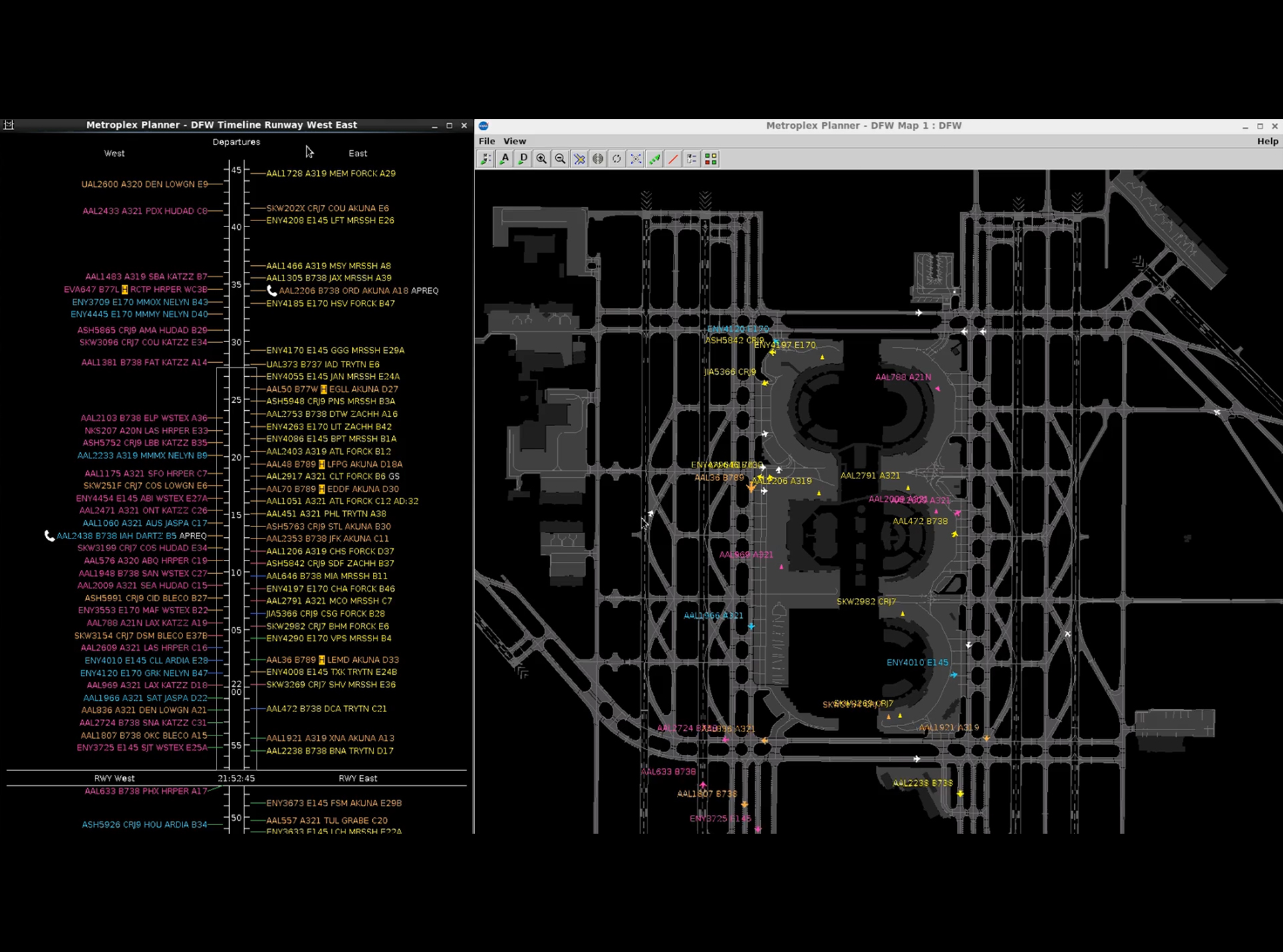 O software faz parte do programa Terminal Flight Data Manager (TFDM). A NASA o desenvolveu em seu projeto Airspace Technology Demonstration 2 em 2015 e a FAA vem testando-o desde 2017.
Nos últimos quatro anos, a FAA conduziu testes no Aeroporto Internacional Charlotte Douglas (CLT) que resultaram em tempos de táxi reduzidos, ajudando a economizar mais de 275.000 galões de combustível anualmente, reduzindo as emissões de gases de efeito estufa em 8 toneladas de CO2 por dia e minimizando atrasos em 916 horas.
Agora, a autoridade pretende implantar essa capacidade em 27 aeroportos centrais por meio de seu investimento em tecnologia de gerenciamento de superfície.
Os aeroportos que deverão fazer parte da implementação são Atlanta, Baltimore, Boston, Charlotte, Chicago Midway, Chicago O'Hare, Dallas-Ft. Worth, Denver, Detroit, Fort Lauderdale, Houston Bush, Las Vegas, Los Angeles, Miami, Minneapolis-St. Paul, Newark, New York JFK, New York La Guardia, Orlando, Philadelphia, Phoenix, Salt Lake City, San Diego, San Francisco, Seattle, Washington Dulles, Washington Reagan National.