Nesta semana, o porta-voz do Departamento de Defesa dos EUA, John Kirby disse que os pilotos ucranianos agora têm mais jatos a disposição do que no inicio de abril, embora nenhuma aeronave "completa" tenha sido doada para a Ucrânia.
"A Força Aérea da Ucrânia tem mais aviões de combate operacionais do que há duas semanas", disse Kirby a repórteres na terça-feira.
Para isso, doações de peças de aviões tornaram isso possível, embora Kirby tenha falado em doação de aeronaves. "Eu diria apenas, sem entrar no que outras nações estão fornecendo, que eles receberam plataformas e peças adicionais para poder aumentar o tamanho de sua frota", disse Kirby.
NEW: Ukraine has NOT received whole fixed wing aircraft from Europe, but parts, Pentagon Press Secretary John Kirby said in correction of the record.

Ukraine has been able to increase its air fleet by "quite a number" with new parts, Kirby said.

— Jack Detsch (@JackDetsch) April 20, 2022
A força aérea ucraniana mais tarde esclareceu a alegação de Kirby, twittando na manhã de quarta-feira que "oficialmente" havia recebido apenas peças de reposição, não fuselagens inteiras. O Pentágono na tarde de quarta-feira confirmou que, sim, os ucranianos receberam estritamente peças sobressalentes.
Officially
Ukraine did not receive new aircraft from partners!
With the assistance of the US Government, @KpsZSU received spare parts and components for the restoration and repair of the fleet of aircraft in the Armed Forces, which will allow to put into service more equipment.

— Ukrainian Air Force (@KpsZSU) April 20, 2022
Esta remessa de peças sobressalentes ajudaram a força aérea ucraniana a recolocar em voo mais de 20 caças, disse um oficial de defesa dos EUA a repórteres.
Alguns relatos anteriores indicam que as peças foram fornecidas pelos governos da Bulgária, Polônia e Eslováquia, que semanas atrás sinalizaram algum grau de disposição em transferir para a Ucrânia antigos MiG-29 ou peças sobressalentes para os mesmos.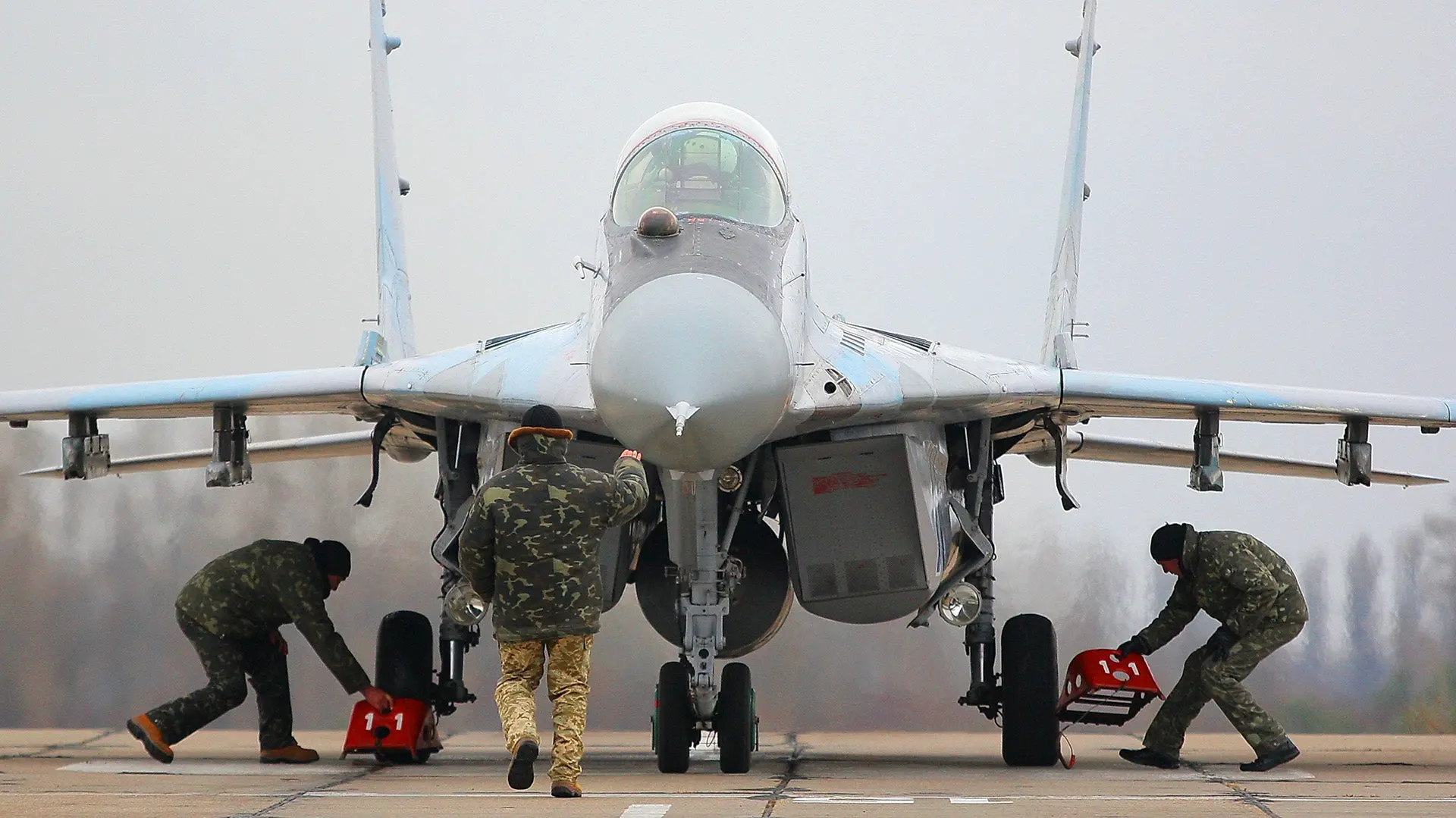 Apesar de alguns discursos diplomáticos, provavelmente destinados a isolar os países da retaliação russa, parece que alguns ou todos os três possíveis doadores entregaram alguns de seus estoques de peças do MiG.
Resta saber quanto pode aguentar a Força Aérea da Ucrânia com os atuais jatos em operação, já que continua perdendo os seus aviões em grande velocidade.
Desde o início da invasão da Ucrânia, a Rússia vem tentando conquistar a superioridade aérea, mirando as infraestruturas e bases aéreas da Força Aérea Ucraniana e destruindo várias aeronaves.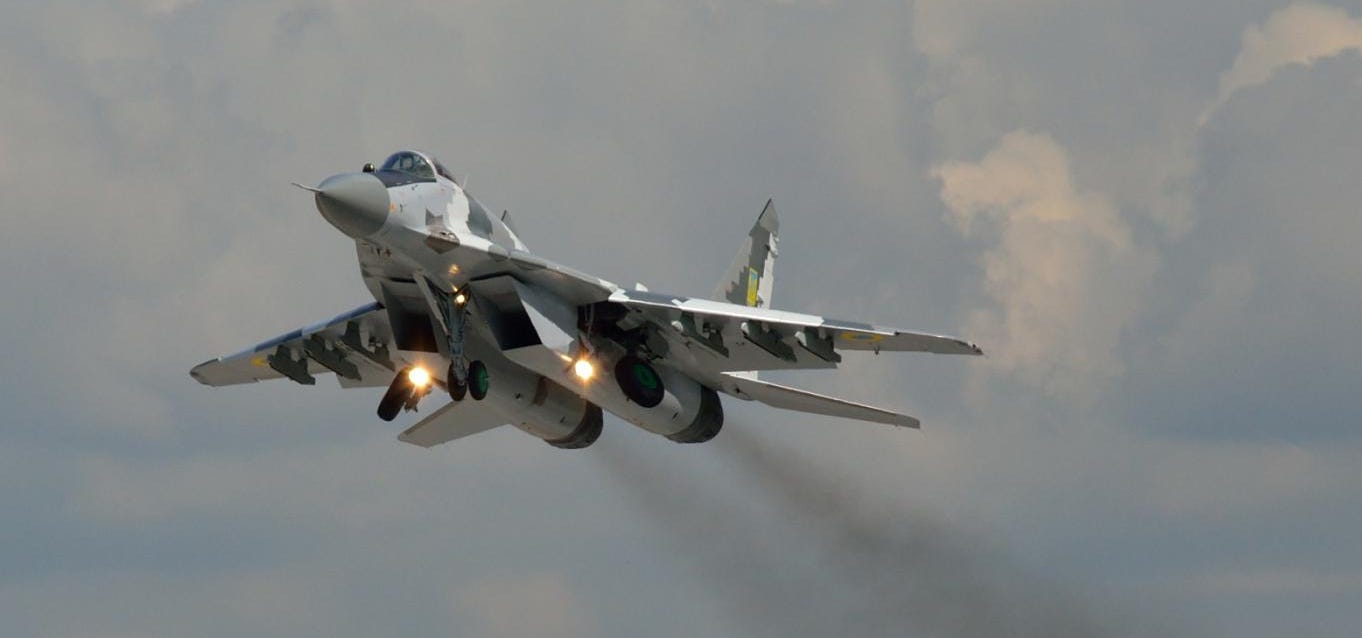 Entre 24 e 26 de fevereiro de 2022, ataques com mísseis no Aeroporto Internacional Ivano-Frankivsk (IFO), sudoeste do país, danificaram significativamente pelo menos seis caças MiG-29 ucranianos estacionados no pátio, de acordo com imagens não confirmadas.
Em 54 dias de guerra, os russos derrubaram nada menos que 15 jatos ucranianos que os analistas puderam confirmar visualmente. Esse total verificado inclui quatro MiG-29. As perdas reais, sem dúvida, são maiores. A grande maioria ocorreu nos primeiros dias.
DoD update on Day 56 of ?? invasion of ??: senior U.S. defense official

• ?? has begun training about 50 ?? military advisors on howitzers
• ?? has added ~20 fighter jets by fixing old aircraft with new parts
• ?? sent 4 planes of military aid for ?? to region in 24 hrs

— Jack Detsch (@JackDetsch) April 20, 2022
Além disso, as forças russas também atacaram instalações de apoio. Em 18 de março, mísseis de cruzeiro russos danificaram a Fábrica Estatal de Reparação de Aeronaves em Lviv, no oeste da Ucrânia. Essa instalação revisava os MiG-29.
A Rússia também vem atacando os depósitos de combustíveis de Kiev. Na quarta semana, os esquadrões ucranianos estavam lançando apenas de cinco a 10 missões por dia, contra as 200 ou mais missões que a força aérea russa era capaz de realizar na Ucrânia ou ao redor. "Toda vez que eu voo, é para uma luta real", disse Andriy, um piloto ucraniano do Su-27, ao The New York Times. "Em todas as lutas com jatos russos, não há igualdade."
Ainda não se sabe ao certo a quantidade de peças recebidas pela Ucrânia e quantos jatos puderam ser recolocados em voo. A Ucrânia ainda solicita repetidas vezes que necessita de mais armamento e aeronaves para poder defender seu país.
NEW: U.S. assesses Ukrainian airspace over the Donbas region remains "contested": senior U.S. defense official

Russia aircraft "aren't staying very long" in Ukrainian airspace because of active air defenses.

— Jack Detsch (@JackDetsch) April 20, 2022
A Ucrânia convocou seus aliados para fornecer aeronaves adicionais da era soviética, como os caças MiG-29 Fulcrum e Sukhoi Su-27 Flanker, ou aeronaves de ataque ao solo Sukhoi Su-24 Fencer e Su-25 Frogfoot.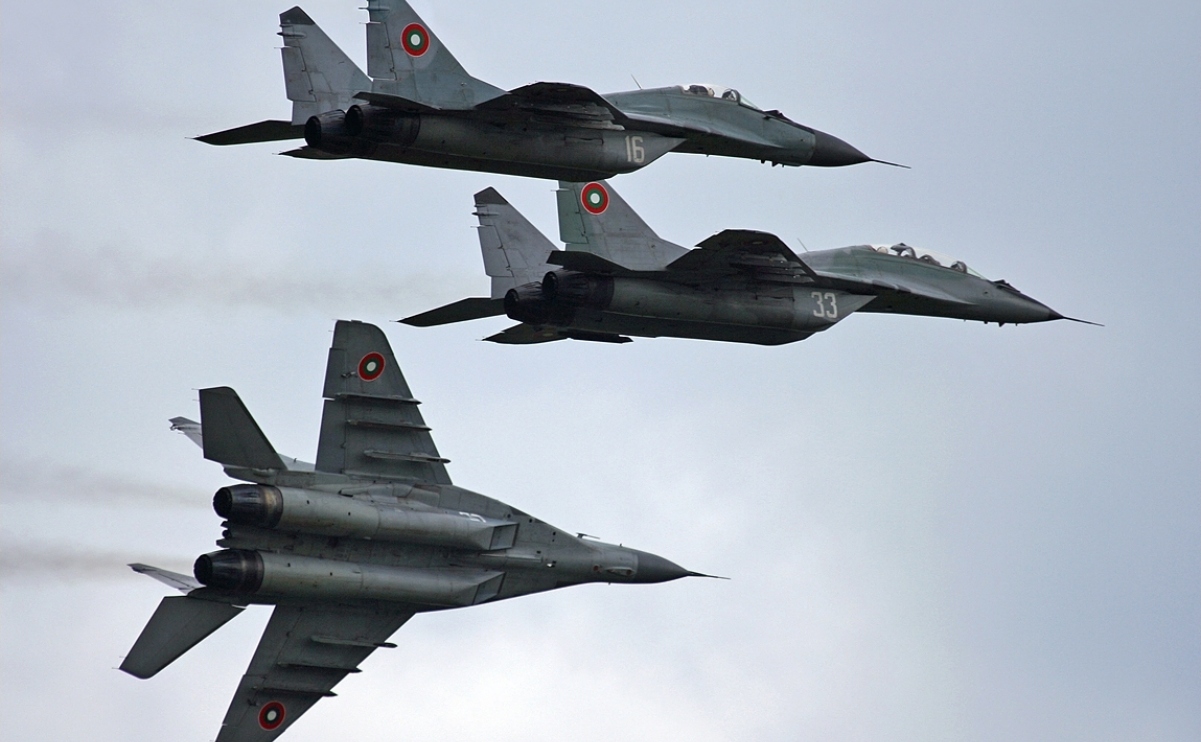 A Polônia tem 28 MiGs antigos de fabricação soviética, que o país está substituindo por novos caças furtivos F-35 dos Estados Unidos. A Bulgária tem 15 e a Eslováquia tem 12. Bulgária e Eslováquia estão substituindo seus caças soviéticos com F-16 de fabricação americana.
As três frotas de MiG-29 de segunda mão são um pouco distintas, como configurações exclusivas de rádio e aviônicos. As frotas utilizam um pool de peças sobressalentes ligeiramente diferentes. Isso aparentemente não teria sido um grande problema para a Ucrânia.
Mas além de aeronaves, a Ucrânia também está sentindo a falta de pilotos capacitados para voar nos MiG-29. Retreinar e preparar pilotos inativos ou reservistas leva tempo, e isto a Ucrânia não tem. Acrescente também um estoque de mísseis e bombas para os jatos poderem realizar suas missões e o quebra-cabeça somente aumenta a dificuldade.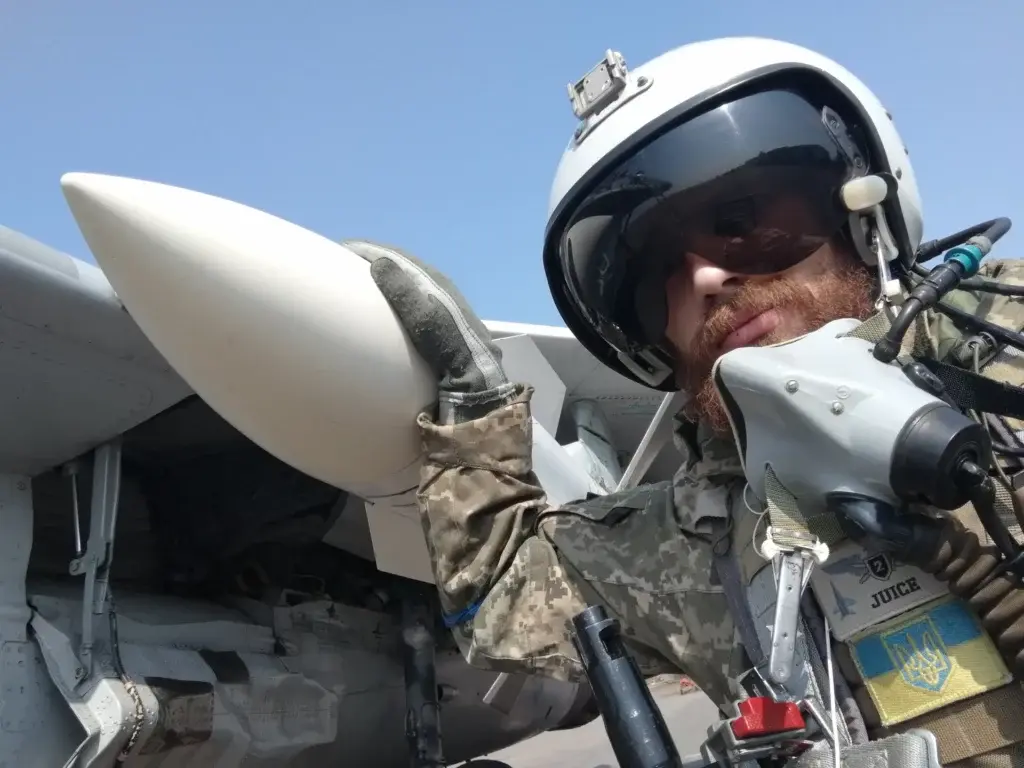 Sendo assim, a Ucrânia continua utilizando drones – tanto os TB2 fabricados na Turquia quanto os octocópteros prontos para uso – para desempenhar os ataques aos militares russos, conseguindo um admirável sucesso.
Em 13 de abril de 2022, o Departamento de Defesa dos EUA (DOD) anunciou que fornecerá à Ucrânia equipamentos e suprimentos recém-autorizados, incluindo sistemas de radar de vigilância aérea AN/MPQ-64 Sentinel, bem como 11 helicópteros Mi-17 e 300 drones Switchblade.