A Força Aérea Indiana (IAF), na terça-feira (19/04), realizou um teste de disparo do míssil de cruzeiro BrahMos a partir da aeronave Sukhoi Su-30MKI na costa leste do país.
De acordo com a IAF, o teste terminou com sucesso, pois o míssil atingiu precisamente seu alvo, que era um navio da Marinha Indiana desativado. "A missão foi realizada em estreita coordenação com a Marinha Indiana", disse a IAF em comunicado.
Today on the Eastern seaboard, #IAF undertook live firing of #BrahMos missile from a Su30 MkI aircraft.
The missile achieved a direct hit on the target, a decommissioned #IndianNavy ship.
The mission was undertaken in close coordination with @indiannavy. pic.twitter.com/UpCZ3vJkZb

— Indian Air Force (@IAF_MCC) April 19, 2022
O teste mais recente se soma à série de disparos de mísseis que o exército indiano está realizando usando o míssil balístico tático BrahMos. Construído sob a joint venture entre a Índia e a Federação Russa, o BrahMos foi projetado para destruir com precisão seu alvo dentro de um alcance de 300 quilômetros. A Índia está atualmente de olho em aumentar as capacidades do míssil, estendendo esse alcance para 800 quilômetros. Além de seu longo alcance, o BrahMos pode atingir velocidades até três vezes maiores que o som (Mach 2.8-Mach 3). Enquanto isso, o míssil de cruzeiro hipersônico BrahMos II pode ser implantado para atingir o alvo dentro de um alcance de 450 a 600 km em uma velocidade de Mach 7.
A Índia também testou com sucesso um míssil de cruzeiro supersônico BrahMos a partir do destróier de mísseis guiados INS Delhi. O teste da variante antinavio do míssil foi realizado usando um lançador modular atualizado a bordo do INS Delhi.
A BrahMos supersonic cruise missile was testfired by the Indian Navy warship INS Delhi on Apr 19. The missile without warhead created a hole in the abandoned ship. The missile travels at speeds around 3000 kmph & is difficult to intercept by air defence systems: BrahMos officials pic.twitter.com/65J6uUirFE

— ANI (@ANI) April 20, 2022
"O disparo inicial bem-sucedido de BrahMos pelo INS Delhi a partir de um lançador modular atualizado mais uma vez demonstrou a capacidade de ataque de longo alcance do BrahMos, juntamente com a validação de operações integradas centradas em rede a partir de plataformas de linha de frente", twittou a Marinha Indiana junto com um vídeo do teste de tiro.
This firing is yet another shot in the arm for #AatmaNirbharBharat (2/2).
#MakeInIndia @PMOIndia@DRDO_India @DefenceMinIndia @SpokespersonMoD @mygovindia @drajaykumar_ias pic.twitter.com/BLxqE5C4YF

— SpokespersonNavy (@indiannavy) April 19, 2022
Uma variante do Sukhoi Su-30, a aeronave Sukhoi Su-30MKI é uma aeronave de combate multifunção desenvolvida em conjunto pela empresa russa Sukhoi e pela Hindustan Aeronautics Limited (HAL) da Índia especialmente para a Força Aérea Indiana. O desenvolvimento desta aeronave de combate começou em 2000, depois que a Índia fechou um acordo com a Rússia para a fabricação de 140 caças Su-30. No entanto, somente em 2002 que a Índia introduziu a primeira variante Su-30MKI fabricada na Rússia na frota da IAF. Dois anos depois, em 2004, a Índia montou nativamente o primeiro Su-30MKI.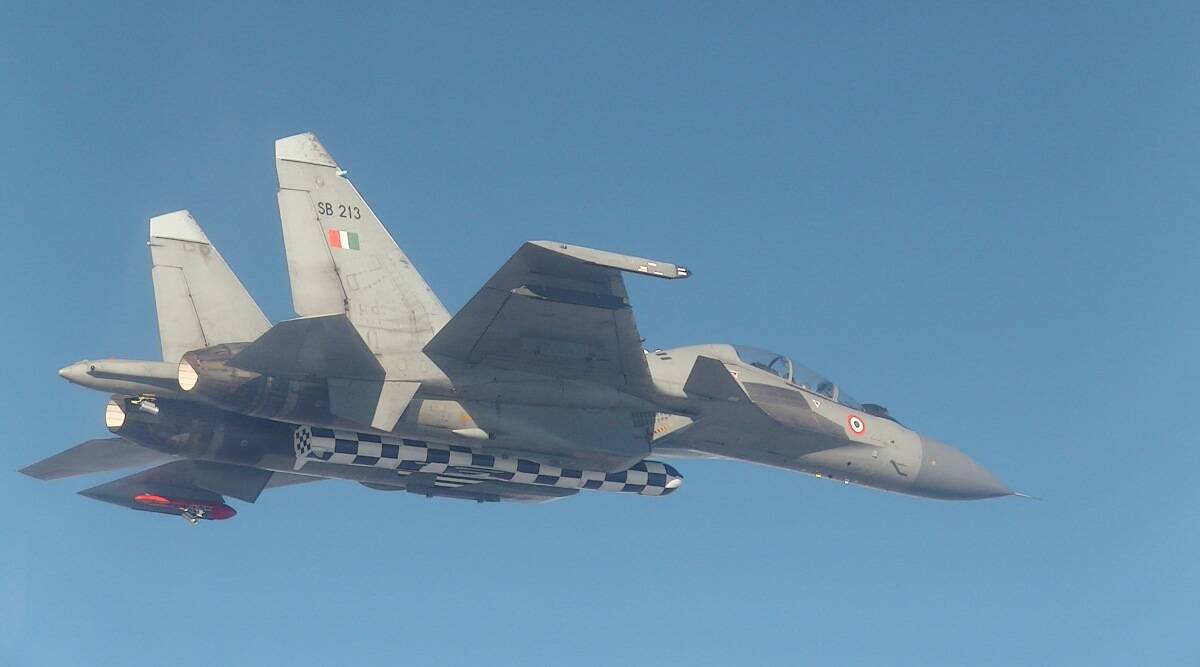 Totalmente capaz de lançar uma série de mísseis ar-terra, o Su-30MKI pode transportar facilmente armamento pesado como o BrahMos, que pesa 2,5 toneladas cada. A aeronave também está equipada com um sistema de navegação por satélite que permite voar independentemente do clima e da hora do dia. Com alcance de 3.000 quilômetros e capacidade de combate de 3,7 horas, o Su-30MKI também possui capacidade de reabastecimento em voo e seção transversal de radar (RCS) de 4 a 20 metros quadrados.