A mídia russa confirmou que o cruzador Moskva, seu carro-chefe de 12.000 toneladas do Mar Negro, sofreu uma grande explosão e afundou. A Ucrânia afirma ter atingido o navio com dois mísseis Neptune, o que a Rússia nega, dizendo apenas que houve uma explosão de munição. Pelo menos um drone ucraniano Bayraktar TB2 parece ter observado o evento e desempenhado um papel na destruição.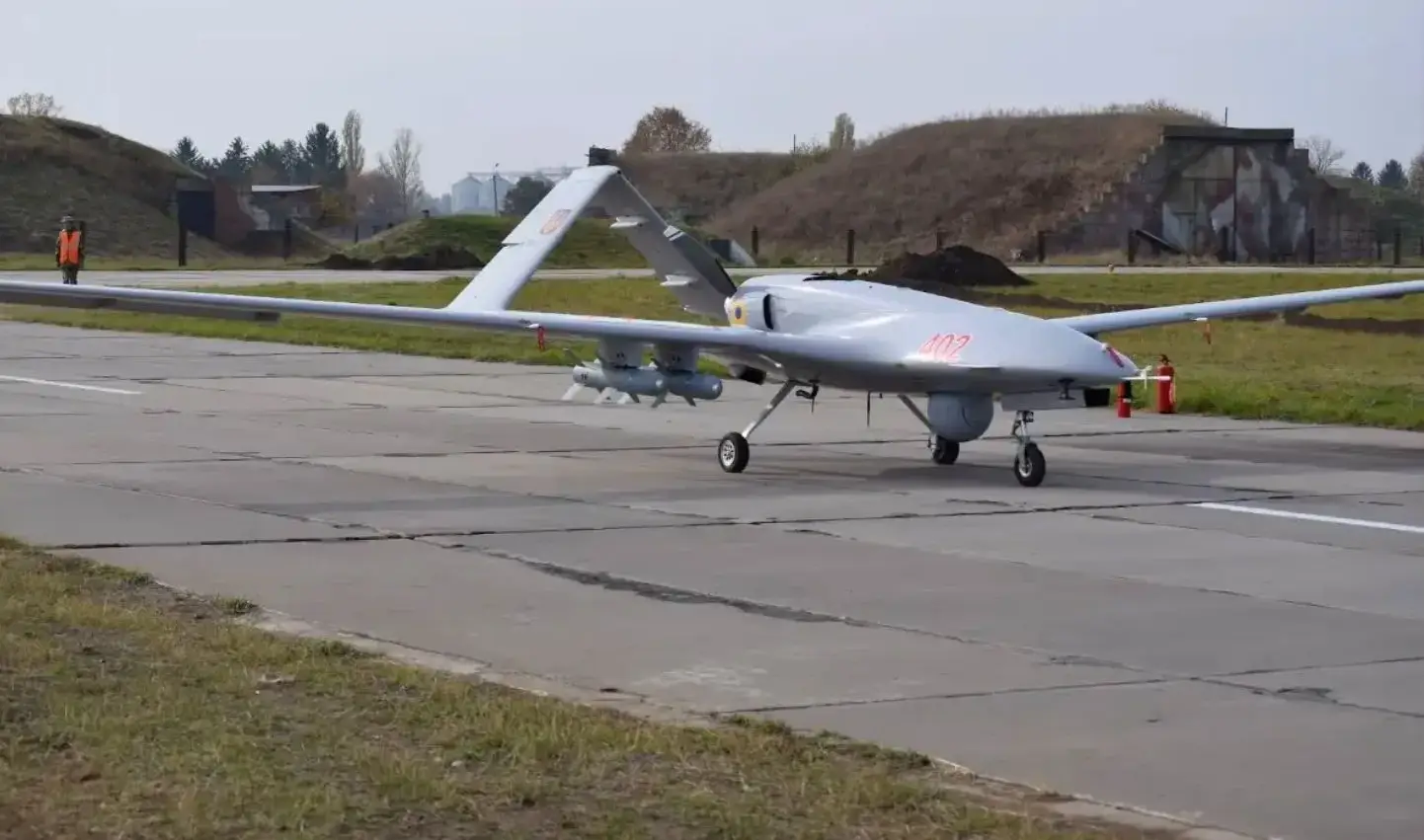 Autoridades ucranianas dizem que Bayraktar foi usado para distrair as defesas aéreas do Moskva. Isso é possível, mas parece improvável, pois as defesas antiaéreas e antimísseis do Moskva são realizadas por dois sistemas distintos – mísseis de longo alcance SA-N-6 Grumble teriam sido usados contra o Bayraktar, deixando seu canhões AK-630 de múltiplos canos – o equivalente russo ao sistema Phalanx dos EUA – livres para engajar mísseis de entrada.
(1/3) Russia has admitted that the Slava-class cruiser Moskva has sunk. As flagship of Russia's Black Sea Fleet, the Moskva served a key role as both a command vessel and air defence node.

— Ministry of Defence ?? (@DefenceHQ) April 15, 2022
Sabemos que o drone de combate dinâmico estava envolvido em algumas fontes. Um deles é um vídeo que os militares russos divulgaram em um tweet na terça-feira mostrando um lançamento de míssil da fragata russa Almirante Essen, alegando que derrubou um Bayraktar (nenhum impacto é mostrado), indicando que os drones estavam na área e possivelmente assediando os navios russos.
Russian ministry of Defense says it has destroyed Bayraktar TB-2 drone with naval air defense system near Crimea.
Video released showing only launch of a missile from the vessel
https://t.co/O6vF9xL3hn pic.twitter.com/FxZQzNHOZA

— Liveuamap (@Liveuamap) April 12, 2022
Também temos um vídeo ucraniano filmado do ar com um escopo de visão noturna mostrando um navio de guerra em chamas à distância, que se diz ser o Moskva. Não é possível verificar isso, mas coincide com a reivindicação ucraniana de Bayraktar na área.
Russian flagship Moskva was shot down by Ukrainian Army with Neptune missile

?? Bayraktar TB-2s were used to distract the target ship

Moskva was the largest warship in Russia's Black Sea fleet#UkraineWar #BlackSea #Russia #Ukrainian #Neptune #RussiaUkraineWar pic.twitter.com/tpWunkv4jy

— kiran joshi (100% Follow Back) (@kiranjoshi235) April 14, 2022
A ala de aviação naval da Ucrânia recebeu seu primeiro Bayraktar TB2 em julho passado. Embora o drone seja mais conhecido como um caçador-assassino altamente eficaz para eliminar alvos terrestres com mísseis guiados a laser, ele também pode realizar missões sobre a água. Especificamente, foi comprado para atuar como observador dos mísseis antinavio Neptune da Ucrânia. A ideia é que o drone localize visualmente um alvo, então a bateria do míssil só precisa ligar momentaneamente seu radar Mineral-U montado no caminhão para sinalizar e lançar mísseis antes de desligar e ficar invisível novamente.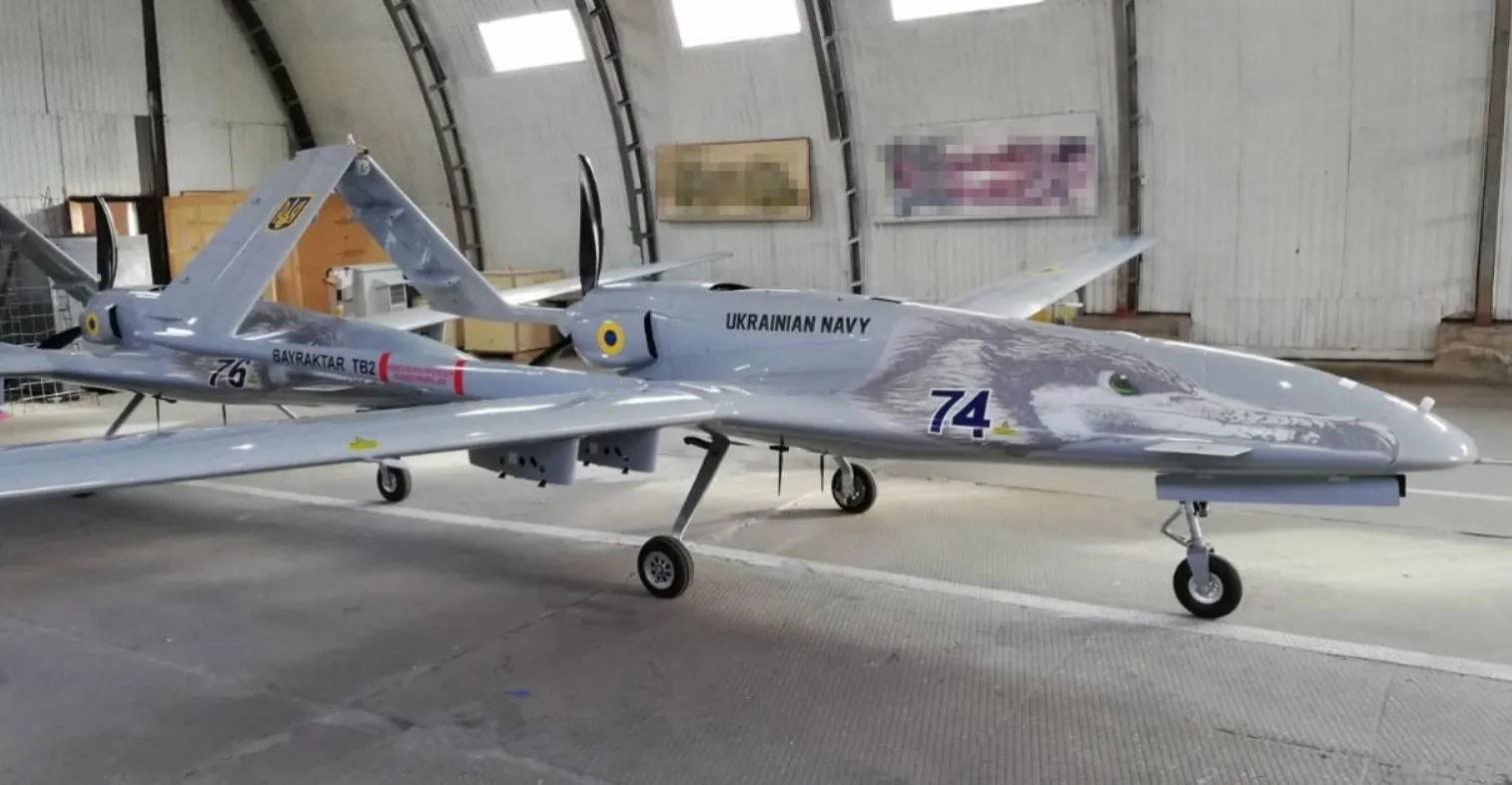 No entanto, antes da guerra, parecia altamente improvável que os mísseis Neptune estivessem prontos a tempo, pois não deveriam estar operacionais até o final deste ano. Quando a Ucrânia alegou ter atingido o navio de guerra Almirante Essen com um Neptune em 4 de abril, houve um ceticismo considerável. Os russos não divulgaram nenhuma informação, não havia imagens e o navio continuou sua missão normalmente.
O Moskwa foi visto no Mar Negro pelas imagens de satélite da Maxar Technologies no dia 10 de abril.
Weather over the #BlackSea has been cloudy for the past few days, hampering attempts at new imagery collections of the Russian #Moskva cruiser. Our last image, shown here, is from April 10, 2022. New imagery will be shared with our trusted media partners when available. pic.twitter.com/9tAbi4alFZ

— Maxar Technologies (@Maxar) April 14, 2022
Também é intrigante que os canhões AK-630 de vários canos guiados por radar do Moskva não tenham feito seu trabalho. A Moskva tem seis deles posicionados para oferecer proteção total. Qualquer míssil que chegue deve ser alvo de pelo menos duas armas, cada uma disparando setenta tiros por segundo. E enquanto as rodadas Phalanx de 20 mm da Marinha dos EUA dependem do impacto, as versões russas de 30 mm são rodadas de fragmentação explosiva e, em teoria, têm um raio de morte maior. As defesas aéreas russas tiveram um desempenho consistentemente inferior nesta campanha, o que pode ser toda a explicação necessária. Os Bayraktars dispararam uma onda de pequenos mísseis para distrair os AK-630 em um momento crítico?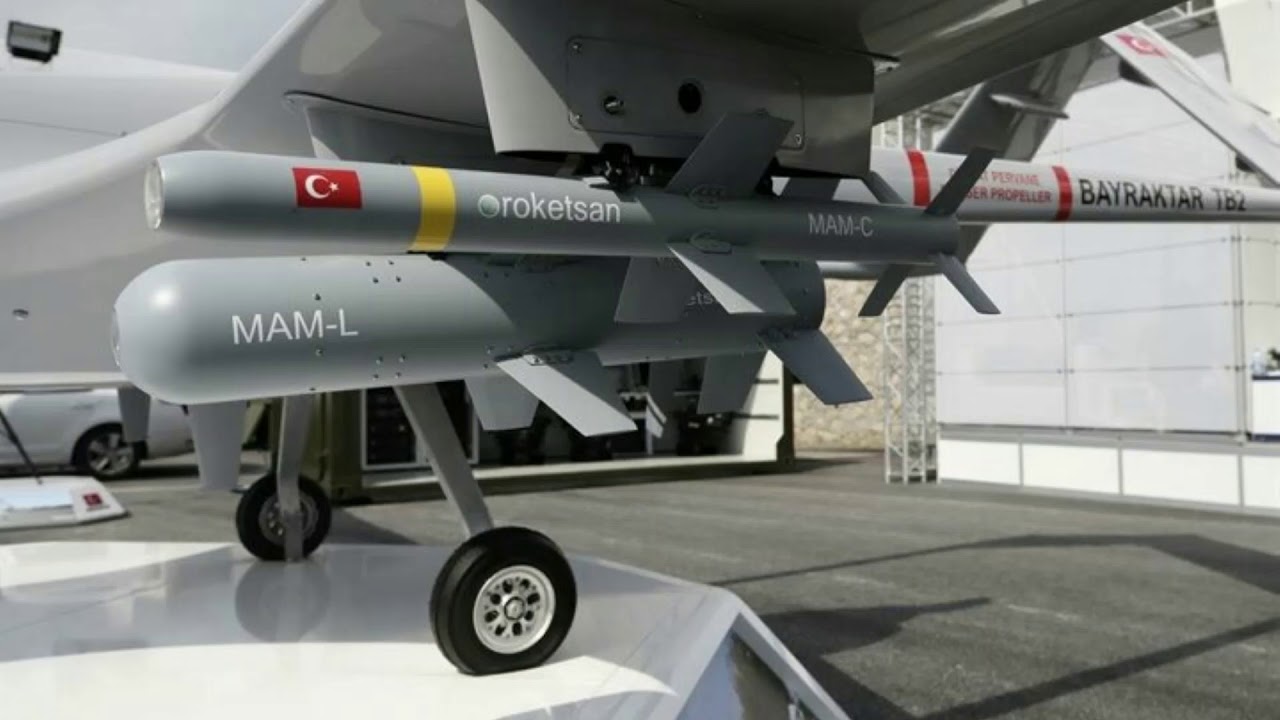 Nem parece haver fotos ou vídeos das baterias Neptune em ação, ou dos mísseis a caminho. Isso provavelmente é apenas uma boa segurança operacional, mas pode ser que os mísseis sejam fantasmas.
Como observa o site de defesa Oryx, os quatro mísseis guiados a laser MAM-L do Bayraktar TB2 também podem ser usados contra alvos navais, com alcance de até 14 km. Esses mísseis comparativamente minúsculos – cerca de 50 libras em comparação com as 2.000 libras de Neptune – não poderiam causar nenhum dano real a um grande navio de guerra. A menos que eles acertem exatamente no lugar certo.
Possibly the biggest naval loss since WW2? Stunning confirmation from Russia that missile cruiser Moskva, the flagship of its Black Sea Fleet, has sunk. Ukraine claims it was hit by missiles, Russia says it was an on-board fire. Whatever the truth, she's on the sea bed now. Huge. pic.twitter.com/8cUvlKpsWs

— Shiv Aroor (@ShivAroor) April 15, 2022
A fonte de defesa OSINT Technical twittou:
One of the things to remember is that the Russian cruiser Moskva carries 16 × P-500 Bazalt ASMs in external launch tubes. Each weighs about 10,600lbs, and is made up of mostly explosive stuff. A hit to any of these units may cause some serious damage, or an "ammunition explosion" pic.twitter.com/PxL1Mus5wG

— OSINTtechnical (@Osinttechnical) April 14, 2022
"Uma das coisas a lembrar é que o cruzador russo Moskva carrega 16 mísseis antinavio (ASM) P-500 Bazalt em tubos de lançamento externos. Cada um pesa cerca de 10.600 libras e é composto principalmente de material explosivo. Um acerto em qualquer uma dessas unidades pode causar sérios danos ou uma "explosão de munição".
Isso pode ajudar a explicar por que o ataque anterior de Neptune ao Almirante Essen fez tão pouco, mas o Moskva parece ter sido completamente destruído. Uma arma pequena e precisa pode "trazer o detonador" e destruir alvos cheios de combustível e explosivos que estão esperando para explodir, mas não terão efeito se atingir uma antepara aleatória.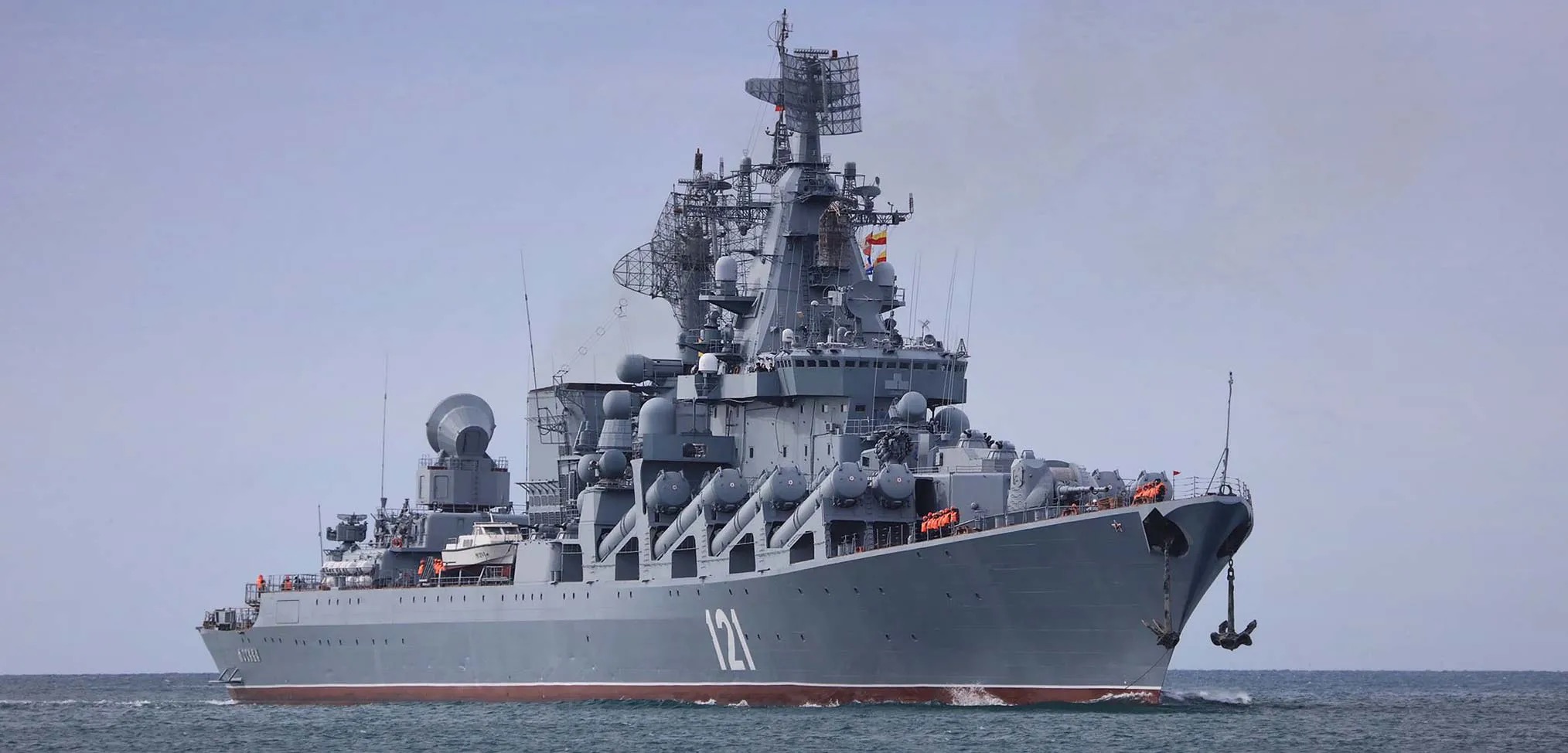 O Moskva também é protegido por dispensadores chaff PK-2. Estes são essencialmente morteiros de 140 mm de cano curto que disparam projéteis que explodem no ar para espalhar nuvens de 'chaff', tiras de folha metálica que têm uma grande assinatura de radar. Os mísseis que chegam vão mirar na nuvem de chaff em vez do navio, ou simplesmente perder de vista o navio na massa de reflexões do radar. (Claro, chaff é ineficaz contra mísseis guiados a laser).
O mais impressionante é que até o momento a Rússia não divulgou nenhuma informação sobre as mais de 500 pessoas a bordo da embarcação de guerra.
In Russia, still not a single word on how many Moskva crew members survived or were killed.
The Black Sea fleet flagship, a giant missile cruiser, was just set on fire *for no reason*, then she exploded, then she sank.
Over 500 crew members — absolutely not a single word.

— Illia Ponomarenko ?? (@IAPonomarenko) April 15, 2022
Os analistas ocidentais já estão correndo para enfatizar que a destruição do Moskva não significa que nossos navios de guerra sejam igualmente vulneráveis a mísseis antinavio. Pode ser simplesmente que o navio não estava em alerta máximo e, portanto, as defesas não foram ativadas a tempo – o USS Stark foi atingido por mísseis Exocet durante a guerra Irã-Iraque em 1987 por esse motivo – nem sua Phalanx nem seus dispensadores de chaff foram engajados.
Sempre se assumiu que seria necessária uma enxurrada de mísseis antinavio para destruir um navio de guerra moderno. Ironicamente, foi para isso que Moskva foi projetada: aqueles dezesseis Bazalt foram destinados a sobrecarregar as defesas de uma força de porta-aviões americana. Agora pode ter sido derrubado por uma explosão desses mesmos mísseis. Podemos não descobrir por algum tempo exatamente o que causou aquela explosão, mas quem estava operando aquele Bayraktar certamente sabe.
An interesting detail — yesterday, the Postal service of #Ukraine? presented a new series of postage stamps "Russian warship, go f*ck yourself".

And guess what? The ship in the picture is Russian missile cruiser #Moskva, the Black Sea Fleet flagship that was destroyed today. pic.twitter.com/E5lokRnDox

— Ostap Yarysh (@OstapYarysh) April 14, 2022
Um dia antes do Moskwa afundar, o serviço postal da Ucrânia apresentou uma nova série de selos postais mostrando um soldado ucraniano mandando um "sinal" para o navio de guerra russo.