A companhia aérea alemã Condor apresentou uma nova, única e arrojada identidade de marca. A primeira aeronave com a nova pintura começou os voos comerciais hoje. Até o verão, seis aeronaves da Condor receberão o visual realmente inconfundível.
Que sorte que a companhia aérea alemã de férias Condor não apresentou sua nova imagem de marca na sexta-feira passada. Porque então muitos teriam acreditado em uma piada de primeiro de abril. Mas não é brincadeira de primeiro de abril, é um novo esquema de cores ousado e surpreendente que a companhia aérea na segunda-feira (04/04).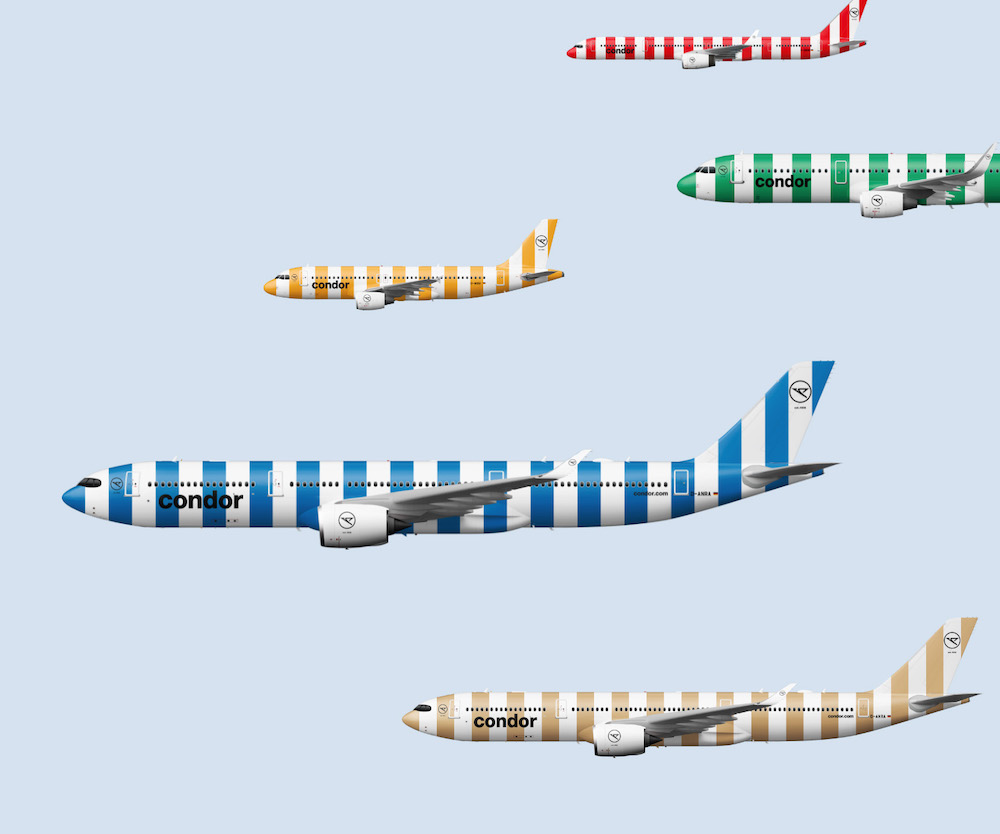 No futuro, as aeronaves da Condor voarão em cinco cores diferentes com visual listrado. Island (verde), Sunshine (amarelo), Sea (azul), Passion (vermelho) e Beach (amarelo areia) foram escolhidos pelos designers como as futuras cores das listras em negrito nas aeronaves da companhia aérea.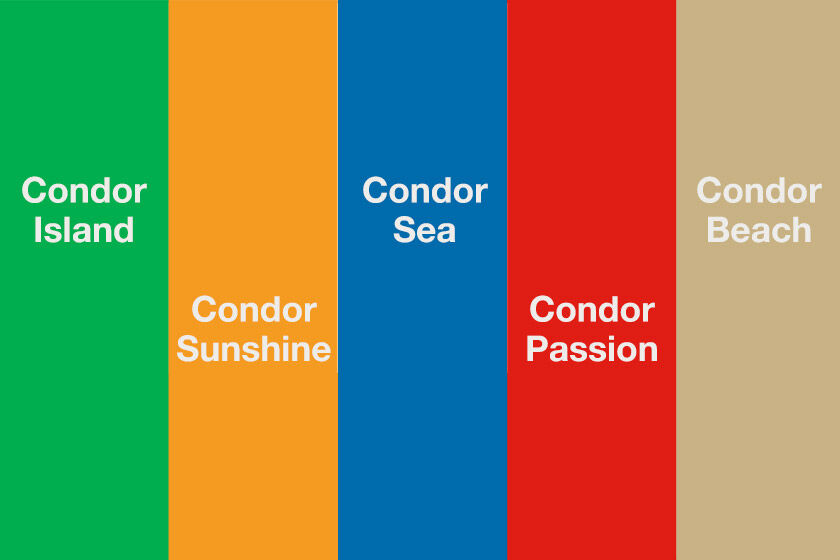 Nas próximas semanas, mais cinco aeronaves Boeing 757 e Airbus A320/1 serão repintadas, para que seis aeronaves com o novo design estejam na estrada no horário de verão", continuou Condor. As máquinas devem ser usadas principalmente em Maiorca, Grécia, Ilhas Canárias e Egito.
…und so wird die erste #A330neo WIRKLICH aussehen. ?

Mission: #Urlaub. Dresscode: #Streifen. Denn Condor ist Urlaub. Und Urlaub ist gestreift! ?

The Future starts now. ?? #CondorAirlines #LeidenschaftIstUnserKompass #TheFutureStartsNow pic.twitter.com/N1g5Vwy3XA

— Condor Airlines News (@Condor) April 4, 2022
O esquema de cores com o qual a aeronave de uma companhia aérea é pintada deve atender a vários requisitos: por um lado, deve refletir o caráter da companhia aérea, deve ser inconfundível e, idealmente, deve dar aos passageiros uma sensação de bem-estar.
A nova pintura da Condor cumpre definitivamente a exigência de exclusividade.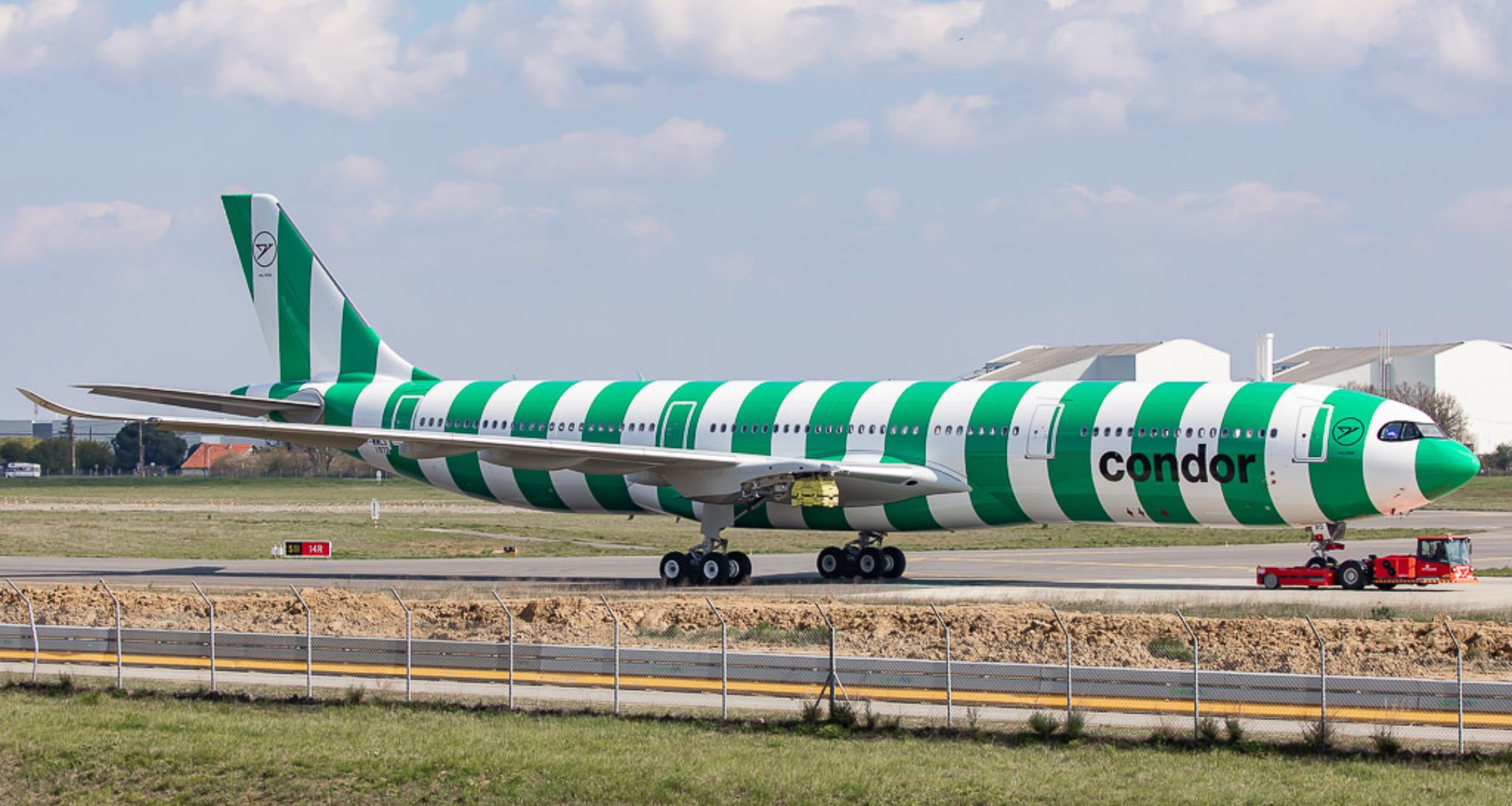 De acordo com a Condor, as diferentes cores devem refletir a diversidade dos destinos atendidos pela companhia aérea, por um lado, mas também a diversidade dos funcionários, por outro.
Condor Airbus A330-900 and hot new livery. Amazing. Did you like or not ? ?#Airbus #a330neo #Condor #AvGeek @aibfamilyflight @TLSWatch ?? pic.twitter.com/48kunZbvbX

— Eurospot (@cliper31) April 4, 2022
As listras, que a Condor chama de "sinta-se bem listras", destinam-se a fazer as pessoas ansiarem pelas férias assim que chegam, pois podem ser encontradas em sorveterias, em guarda-sóis, toalhas e outros acessórios de férias. Na opinião da Condor, são atemporais, elegantes e inconfundíveis.
A nova e ousada imagem de marca da companhia aérea de férias foi desenvolvida pela agência de design Vision Alphabet de Berlim de Remo Masala, que comentou: "Nosso objetivo foi proporcionar à Condor uma independência visual especial, cuja lógica está unida no núcleo da marca Condor: a invenção do voo de férias e do código de férias efetivo, as listras do verão, alegria e liberdade".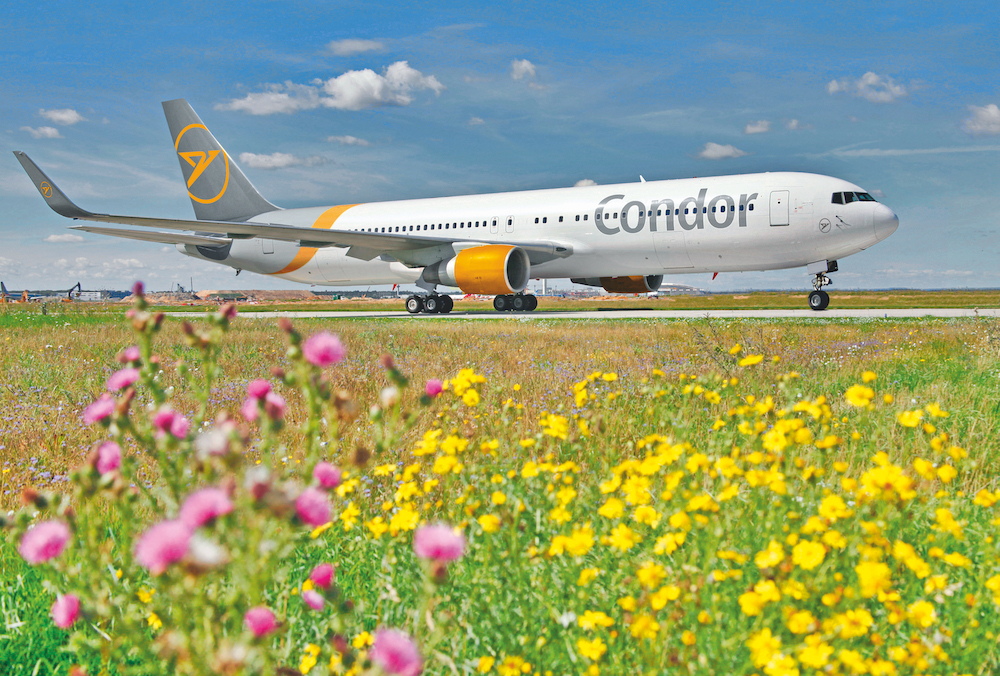 O primeiro jato no novo visual, o A321 com a matrícula D-AIAD – foi pintado em Maastricht nos últimos dias e realizou seu primeiro voo programado no novo visual para Lanzarote hoje. Mais cinco jatos Condor serão adornados com o novo esquema de cores até o verão.
Und da ist auch schon unsere nächste #Schönheit. ? Frisch vom @MaastrichtAachenAirport eingeflogen erstrahlt unsere #A321 nun in neuem gelben Streifen-Look. ??

Wer unseren #Livestream mit verfolgt hat konnte sie schon aus ganzer Nähe bewundern. pic.twitter.com/cAlwkHZBnh

— Condor Airlines News (@Condor) April 4, 2022
Ralf Teckentrup, CEO da Condor, disse sobre o novo esquema de cores: "A Condor passou por uma transformação nos últimos dois anos e meio: de subsidiária de um grupo de viagens verticalmente integrado a uma companhia aérea independente que orgulhosamente olha para trás em sua história e tradição, e ao mesmo tempo o caminho para o futuro. Também queremos expressar isso inequivocamente através de nossa aparência: Condor é férias e Condor é inconfundível – como nosso novo design, com o qual estamos começando agora no futuro. Nossa nova marca registrada são as listras, nossa marca figurativa representa nossa origem e as cores, a diversidade. Essa tríade é nova, o que fica é nossa paixão. Sempre tornou a Condor única e, portanto, reflete-se na nossa afirmação: a paixão é a nossa bússola."
Condor Airlines
Airbus A321-211https://t.co/Bl2ncAfz5s#CondorAirlines #Ournewlook #Airbus #A321 pic.twitter.com/IVA4m14v37

— Neo Kantawich Tirapong (@kantawichppmkt) April 4, 2022
Até 2024, 80% da frota da Condor deverá ter sido repintada. É claro que as novas aeronaves saem direto da fábrica com um visual listrado.