Outra grande conquista do programa NH90 da Força Aérea do Emirado do Catar foi realizada em 31 de março com a entrega dos dois primeiros helicópteros NH90 da variante naval NFH.
A entrega das aeronaves, alcançada de acordo com os compromissos contratuais, foi realizada durante uma cerimônia oficial realizada na linha de montagem final de Tessera da Leonardo em Veneza (Itália) na presença de representantes da Força Aérea do Emirado do Catar, Leonardo e NHI.
Este evento segue a entrega da primeira aeronave TTH para operações terrestres das instalações da Airbus Helicopters em Marignane (França) em dezembro de 2021, enquanto a segunda TTH foi entregue recentemente.
On March 31, Qatar received its first two #NH90 NFH helicopters.

The aircraft handover was performed during an official ceremony at Leonardo's NH90 final assembly line in Italy, in the presence of representatives from the #Qatar Emiri Air Force, @LDO_Helicopters and NHI. pic.twitter.com/loSbGUXlBk

— NHIndustries (@NHIndustriesSAS) April 7, 2022
O programa NH90 do Catar inclui 16 helicópteros NH90 TTHs para operações terrestres, 12 NH90 NFHs para missões navais, um pacote abrangente de serviços de suporte, manutenção e treinamento e infraestrutura associada.
A Força Aérea do Emirado do Catar é um dos poucos usuários finais do NH90 a operar as versões TTH e NFH do NH90 para várias operações terrestres e missões navais. O programa tem potencial para ser estendido no futuro com a adição de 6 + 6 unidades em uma mistura de variantes TTH e NFH. A Leonardo é a contratada principal para o programa geral e também é responsável pela montagem final e entrega dos 12 helicópteros NH90 NFH de suas instalações em Tessera.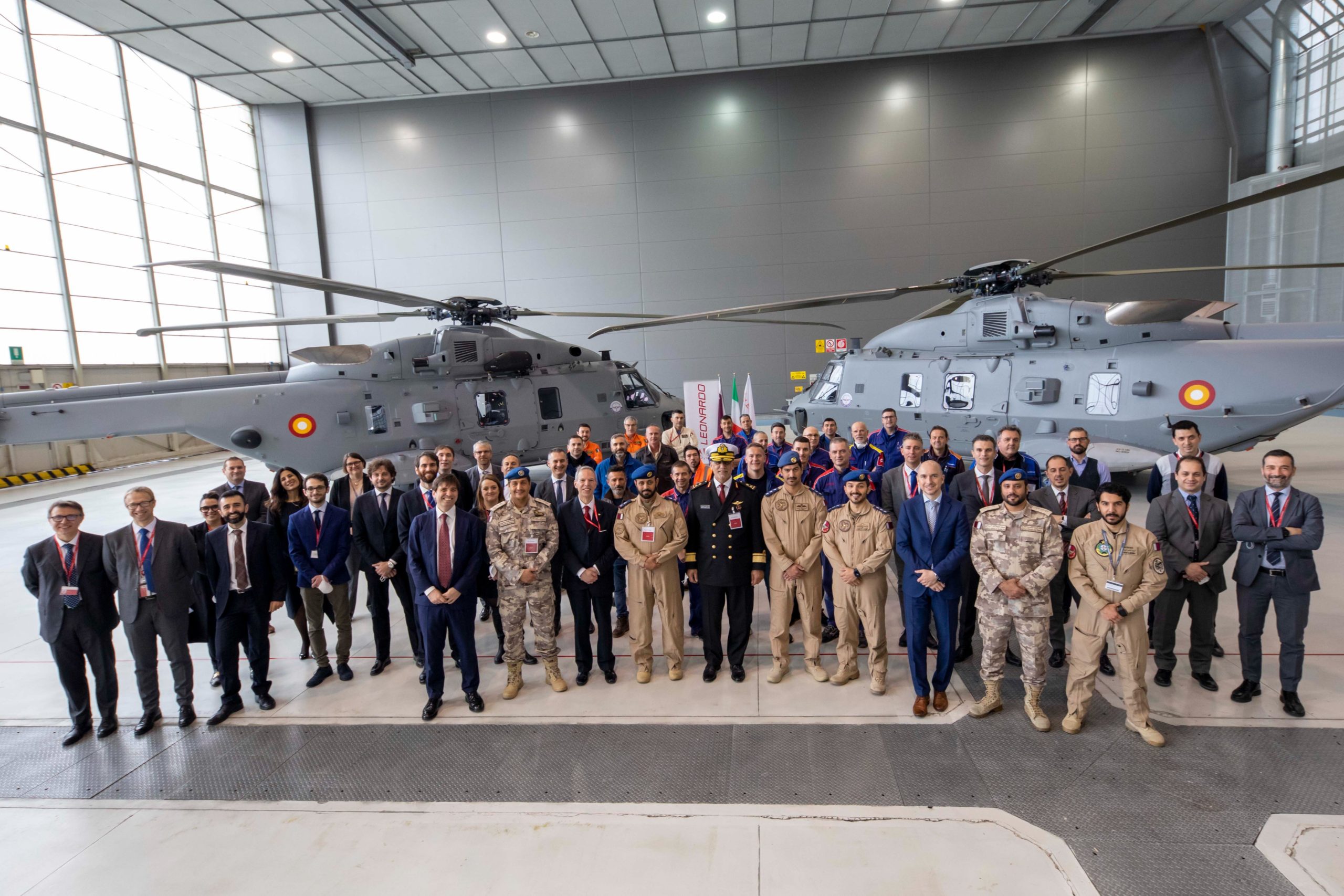 A empresa também está fornecendo simuladores, auxílios de treinamento e um amplo pacote de serviços de treinamento e suporte de manutenção para tripulações e técnicos de manutenção. A Leonardo está fornecendo, contribuindo ou apoiando a integração de vários aviônicos e cargas úteis de sensores, incluindo o sistema eletro-óptico Leonardo LEOSS-T HD, gravador de vídeo de missão HD, sistema de identificação automática, link de vídeo tático e tela Full HD para consoles de cabine.
A Airbus Helicopters é responsável pela montagem final das 16 aeronaves NH90 TTH. As entregas continuarão até 2025.