A Natura&Co acaba de anunciar uma reorganização que vai simplificar sua holding e dar mais autonomia às tomadas de decisão nas quatro unidades de negócios: Aesop, Avon International, Natura&Co Latam e The Body Shop.
Como parte dessa reorganização, Fábio Colletti Barbosa está assumindo hoje como CEO da holding no lugar de Roberto Marques, que deve permanecer no conselho da empresa até o final do ano.
O cargo de executive chairman ocupado por Roberto — e que existia em paralelo aos três co-chairmen — será extinto.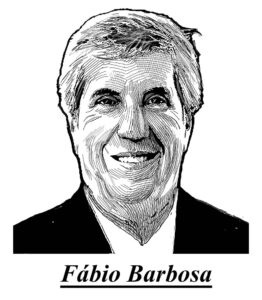 Fábio — o ex-CEO do Banco Real, do Santander Brasil e da Editora Abril — já conhece bem a companhia, onde tem assento no conselho há mais de cinco anos. Ele também é conselheiro da Ambev e do Itaú e sócio da Gávea Investimentos.
"Vamos reorganizar o grupo e deixá-lo menos complexo e mais leve na atividade corporativa," Fábio disse ao Brazil Journal.
Na prática, a Natura vai transferir algumas funções da holding — como a área de planejamento estratégico e recursos humanos — para as unidades de negócio, que terão mais agilidade para tomar decisões e implementar suas estratégias.
A medida deve reduzir os custos da holding, que na estimativa do mercado consome mais de US$ 80 milhões por ano, grande parte em remunerações.
As áreas que serão realocadas e o tamanho da redução de custos ainda não foram definidas. A Natura vai criar um comitê de transição na semana que vem justamente para debater essas questões. 
Segundo Fábio, as lideranças das quatro unidades serão mantidas e elas passarão a ter mais accountability sobre suas decisões e resultados. 
A reorganização é a primeira grande reação da Natura depois que a empresa viu sua ação mergulhar 76% nos últimos doze meses — mesmo antes da derrocada da Bolsa em geral.
A Natura está sofrendo com um ambiente macro complexo e resultados que vieram abaixo das expectativas, além de queixas do mercado de que a companhia se comunica mal. 
"As condições externas não são favoráveis para ninguém, mas sem dúvida tem correções a serem feitas. Muitas correções," disse o novo CEO. "Mas entendemos que a simplificação da estrutura já é uma delas."
Fábio disse que enxerga potencial de melhora em todas as marcas do grupo, mas que as duas mais afetadas recentemente foram a Avon International, que responde por 22% das vendas e tem uma exposição relevante à Rússia e Ucrânia, e a The Body Shop, que é mais dependente das lojas físicas e sofreu com os lockdowns da pandemia. 
No primeiro trimestre, as vendas dessas duas unidades caíram 24% e 26%, respectivamente. 
Sobre um possível spinoff da Aesop, que tem sido ventilado pelo mercado nos últimos meses, Fábio disse que, "nesse momento de transição, não está no radar nenhuma operação desse tipo… Mas sempre estudamos tudo."
A empresa australiana de cosméticos focada na alta renda foi comprada pela Natura em 2013 e vem entregando resultados sólidos desde então.