Filha de um dos maiores marchands do eixo Rio-São Paulo, Antonia Bergamin se uniu a dois sócios para abrir uma nova galeria de arte em São Paulo, a Galatea. 
A abertura da galeria atesta que – apesar da correção global nos preços dos ativos, da inflação e juros em alta – o mercado de arte continua inabalado.  Até quando, é outra história.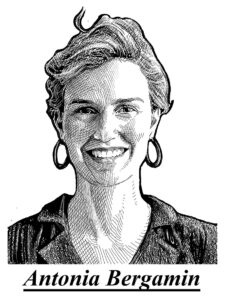 A terceira feira de arte em São Paulo este ano, a ARPA, terminou semana passada com duas galeristas comemorando a venda de todo o stand já nos primeiros dias. 
(O apetite dos colecionadores brasileiros está tão alto que chamou atenção das feiras estrangeiras. Duas representantes da Armory, a tradicional feira de arte contemporânea de Nova York, vieram ao Brasil divulgar o evento previsto para 7 de setembro. A ideia: atrair mais brasileiros – ainda mais coincidindo com o feriado por aqui).
Antonia disse ao Brazil Journal que o público de arte tem se expandido graças ao trabalho dos consultores, que se multiplicaram nos últimos anos. 
"Hoje metade das minhas vendas é feita via art advisors e para pessoas que não tinham o hábito de frequentar galerias," disse. 
Muita gente ainda se sente intimidada com a pompa do métier. As frases mais temidas no meio – "nothing is available" e "we only sell to institutions and museums" – já geraram memes hilários na internet.  
Antonia e seus sócios querem dar mais ênfase aos relacionamentos, tanto com clientes quanto com os artistas, criando um ambiente leve e informal.
"O diferencial da Galatea é a formação complementar dos sócios," disse Antonia, filha de Jones Bergamin, o "Peninha," que atende alguns dos maiores colecionadores do País e promove os leilões da Bolsa de Arte. 
Os sócios de Antonia são Conrado Mesquita, também filho de marchand e especialista em obras raras, e Tomás Toledo, o ex-curador do MASP responsável pela recente exposição Volpi.
Os três têm experiências e qualificações únicas – e a proposta de trabalhar as vendas primária e secundária em doses iguais.   
Para uma galeria nova, é difícil pagar as contas só com artistas jovens – o mercado secundário tem um potencial de faturamento consideravelmente maior. 
Juntar os dois mercados proporciona um ambiente mais sustentável em que a venda dos consagrados permite o investimento nos jovens talentos.   
"Arte boa não tem data," diz Antonia. "Vamos resgatar artistas históricos que não tiveram o devido espaço na época e buscar novos talentos, ampliando a oferta de obras e criando um diálogo entre gerações."
A primeira aposta jovem do trio é o artista carioca Allan Weber, de 30 anos, que trabalha com fotografia e instalações e se inspira nas periferias cariocas.
O trabalho de Allan será apresentado na ArtRio em setembro. No mesmo mês, a Galatea participa em Nova York da Independent Art Fair (que acontece junto com a Armory), onde vai apresentar o artista acreano Chico da Silva (1910-1985), que trabalhou a cultura indígena e popular brasileira em desenhos e pinturas.
Na foto acima, uma obra de 1974 de Chico da Silva que será exposta Independent Art Fair, em Nova York.