Blue Origin, a empresa espacial fundada por Jeff Bezos da Amazon, completou seu terceiro voo tripulado com sucesso. Este voo foi o primeiro em que a cápsula do foguete New Shepard estava operando em plena capacidade.
A bordo estavam seis passageiros, uma mistura de convidados famosos e entusiastas pagantes de voos espaciais. Notavelmente, Michael Strahan, um anfitrião do Good Morning America e ex-NFL rusher do New York Giants, junto com Laura Shepard Churchley, a filha mais velha de Alan Shepard, que foi o primeiro americano no espaço e que deu o nome a cápsula. Ambos são considerados convidados, por isso não pagaram pelos seus lugares. Voando com eles estão clientes pagantes: Evan Dick, um investidor, Lane Bess, o fundador da Bess Ventures, e o filho de Bess, Cameron Bess. Dylan Taylor, um grande investidor na indústria de voos espaciais, completará o grupo.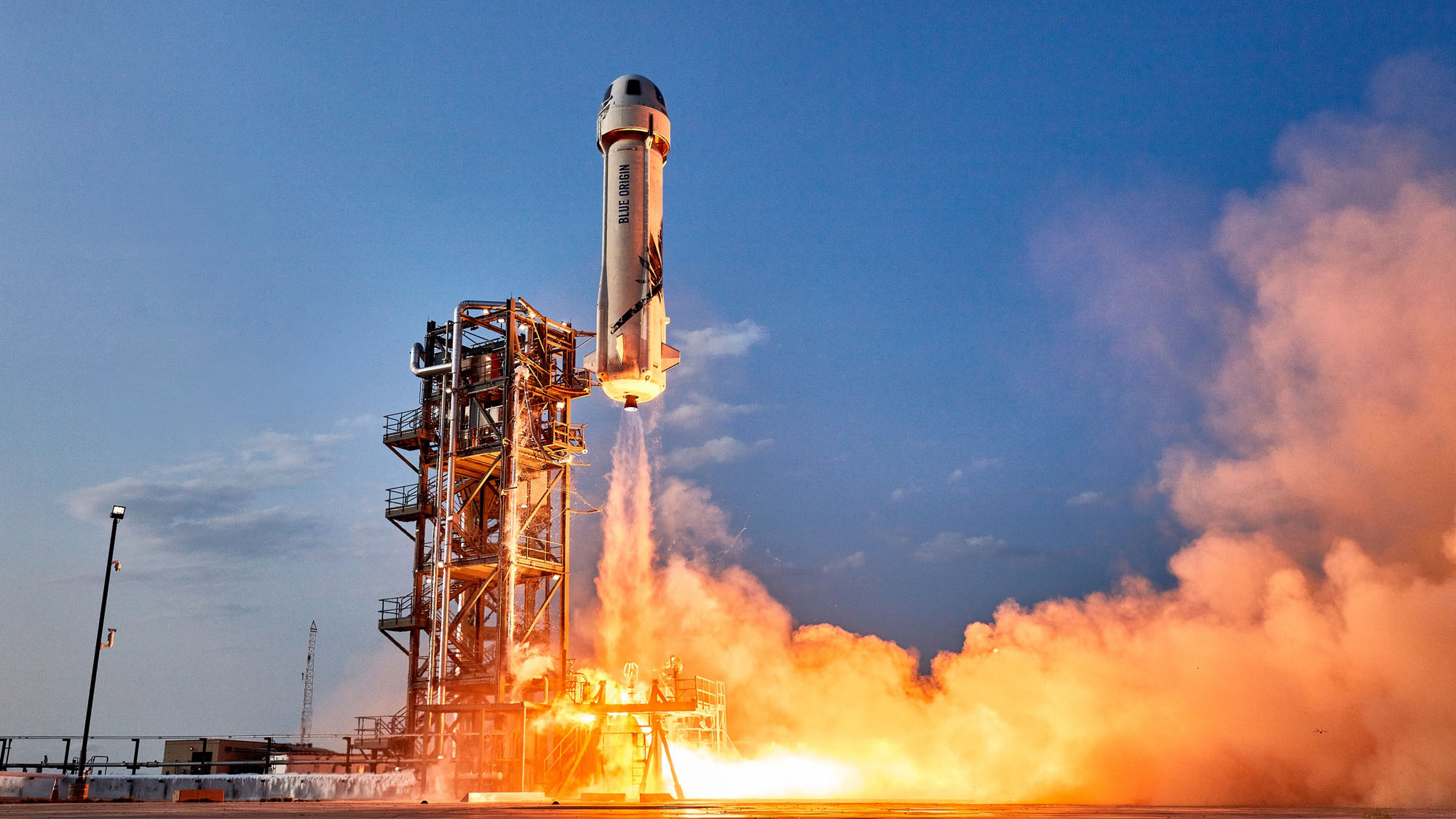 "É divertido para mim dizer que um Shepard original voará no New Shepard", disse Churchley em um vídeo anunciando o voo. "Estou muito animado para embarcar em um voo da Blue Origin."
Em 5 de maio de 1961, Alan Shepard realizou um voo espacial de 15 minutos, 23 dias após o voo histórico do soviético Yuri Gagarin, que foi o primeiro humano no espaço. Dez anos depois, ele se tornaria o quinto ser humano a pisar na lua.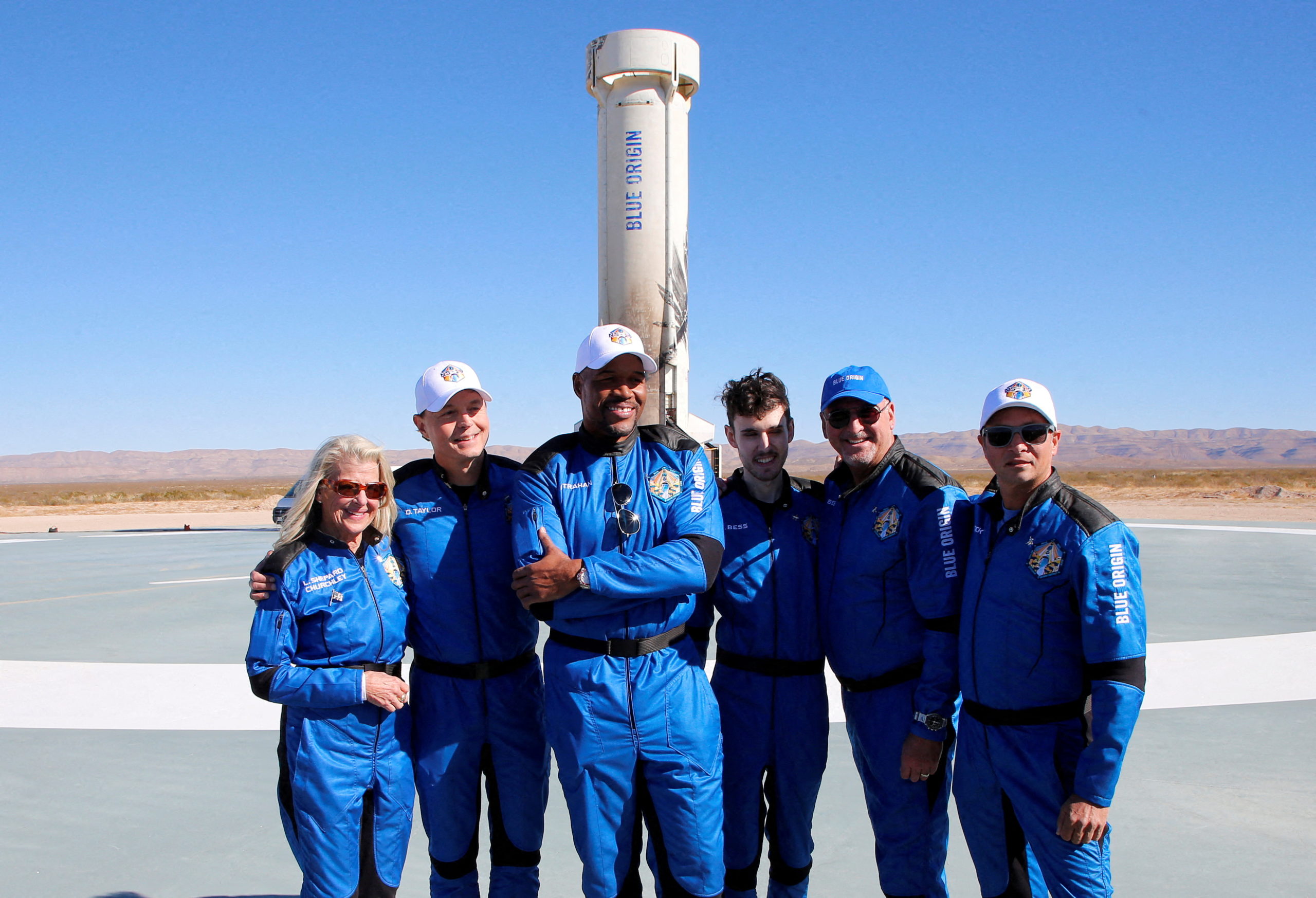 O objetivo do Blue Origin é tornar o espaço mais acessível através do desenvolvimento de lançadores espaciais reutilizáveis.
O foguete decola verticalmente e atinge uma velocidade de mais de Mach 3 antes de atingir o ponto de separação, a cerca de 75 quilômetros (46 milhas) acima do nível do mar.
The view from #NewShepard at apogee is something our #NS19 astronauts will never forget. Today's flight featured a full capsule of six astronauts, each with their own window seat. pic.twitter.com/MOUT4YgnLC

— Blue Origin (@blueorigin) December 11, 2021
Lá, a cápsula é liberada ao passar pela linha Kármán que separa a atmosfera da Terra do espaço, 100 quilômetros (62 milhas) acima da superfície do planeta. Neste ponto, os passageiros podem se levantar de seus assentos e flutuar por alguns momentos em gravidade zero enquanto podem admirar a curvatura da Terra através das janelas de observação.
Touchdown in the West Texas desert! What an incredible day for our astronauts and Team Blue. Congrats to all on a wholly successful mission. #NS19 pic.twitter.com/uN0uxKvUZ1

— Blue Origin (@blueorigin) December 11, 2021
O foguete New Shepard desce sozinho, auxiliado por retro-foguetes para desacelerar. A cápsula segue, descendo muito mais devagar graças à ajuda de paraquedas.