Um juiz federal dos Estados Unidos decidiu manter a Visa como ré num processo no qual a companhia é a acusada de contribuir para a monetização de pornografia infantil ao permitir pagamentos nos sites da MindGeek, a maior plataforma mundial de distribuição de conteúdo erótico e de sexo explícito.
A decisão está sendo celebrada por Bill Ackman, o investidor ativista da Pershing Square. Desde o ano passado, Ackman tem feito uma campanha pública contra as empresas de pagamento que aceitam transações no Pornhub, o maior site da MindGeek. 
"A conduta da Visa é imperdoável e deve lhe causar incalculáveis dados financeiros e reputacionais," Ackman disse no Twitter, adicionando que os membros do conselho estão expostos criminalmente.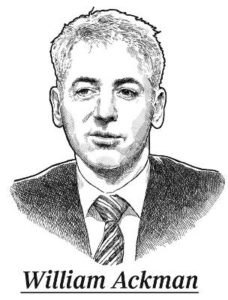 Ackman é notório por sua atuação contra companhias que, na sua avaliação, não agem dentro das quatro linhas. Mas no caso da MindGeek, o ativismo do gestor é por altruísmo: a Pershing Square não mantém nenhuma posição relacionada a companhias de pagamentos.
O juiz Cormac Carney, da US District Court for Central California, emitiu sua decisão sexta-feira passada no caso Fleites v. MindGeek, refutando o pedido da Visa para ser excluída do processo. 
O caso foi aberto por uma mulher que tinha 13 anos quando vídeos seus foram expostos na plataforma de conteúdo pornográfico. Na lista de processados estão a MindGeek, seus executivos e a Visa.
O assunto entrou na mira de Ackman no final de 2020, quando ele leu o artigo "The Children of Pornhub", de Nicholas Kristof, no The New York Times.
O gestor se indignou com a história de Serena Fleites, a garota que acabou exposta depois de enviar os vídeos para um rapaz que estava namorando. Humilhada e traumatizada, Serena tentou o suicídio.
Amigo do então CEO da Mastercard, Ajay Banga, Ackman enviou-lhe uma mensagem dizendo que as empresas de pagamento deveriam deixar de fazer negócios com o Pornhub, pelo menos até que elas removessem os vídeos e fotos de exploração sexual. 
Cinco dias depois, a Mastercard deixou de processar os pagamentos nas plataformas da MindGeek. A Visa aderiu ao boicote logo em seguida. Quase imediatamente, o Pornhub tirou do ar 10 milhões de vídeos, o equivalente a 80% do conteúdo total. 
"Sem a Visa e Mastercard, a MindGeek estava ferrada, já que o PayPal já havia parado de processar os pagamentos deles um ano antes e a American Express não processa pornografia," escreveu Ackman. "Discretamente, no entanto, algumas semanas depois tanto a Visa quanto a Mastercard reautorizaram a MindGeek, ainda que tenham parado de aceitar pagamentos em bitcoin nos sites da empresa em que qualquer um pode subir conteúdo."
Apesar desta restrição, segundo Ackman as empresas continuaram processando pagamentos para o negócio B2B da MindGeek, isto é, a compra de anúncios nos sites gratuitos e de assinaturas para o conteúdo premium – que juntos respondem por 90% da receita. 
"Horas depois, a MindGeek começou a colocar de novo o seu conteúdo ilegal no ar," escreveu o gestor. 
Em sua defesa, a Visa afirma que não pode ser responsabilizada pelas ações de seus clientes – e disse que a indústria de pagamentos colapsaria se tivesse que lidar com essa liability. 
"Manter uma posição neutra é vital para o livre fluxo de comércio," argumentou a empresa, adicionando que "condena o tráfico sexual, a exploração sexual e abuso sexual de crianças". 
Na sua decisão, o juiz bateu forte: "A Visa está sendo mantida como ré neste caso porque se alega que ela continuou a reconhecer como cliente um negócio imenso, conhecido, e altamente visível que ela sabia que usava seus sites para hospedar e monetizar pornografia infantil."
Ackman também notou que a Visa parece ter influência considerável sobre as decisões da MindGeek, dado que a empresa removeu 80% de seu conteúdo quando a Visa parou de fazer negócios com ela. 
A Visa disse que a decisão preliminar do juiz "é frustrante, e descaracteriza a atuação da Visa, suas políticas e práticas."
A MindGeek, que fica em Montreal, disse que nesse estágio do processo a Corte ainda não se pronunciou sobre a veracidade das acusações e está confiante na vitória. Afirmou ainda que tem "tolerância zero" com a postagem de conteúdo ilegal e institui procedimentos de segurança para coibir abusos e irregularidades por parte de seus usuários.
Ackman, que tem quatro filhas, não pretende deixar barato.  Depois de atacar a Visa no Twitter, ele foi hoje à CNBC e à Bloomberg dizer que a Visa terá que pagar uma indenização "muito, muito grande."
Ele disse à agência que sua filantropia vai financiar processos contra a Visa e a MindGeek, e que as vítimas agora têm "um advogado feroz e com bolsos fundos, que não vai ser forçado a buscar um acordo."