NOVA YORK – "Não sou uma pessoa real. Sou uma lenda," dizia Jean-Michel Basquiat, o pintor americano que soube como ninguém refletir as questões de raça, identidade e o estilo de vida de Nova York nos anos 80.
Trinta e cinco anos depois de sua morte prematura, aos 27, sua obra continua atual – e influente. Seus quadros ainda batem recordes nos leilões internacionais – ele está no seleto grupo que rompeu a barreira dos US$ 100 milhões – e seus temas recorrentes ecoam cada vez mais no mundo.
Basquiat morreu de overdose no auge do sucesso, com apenas uma década de produção artística. Suas irmãs, Jeanine e Lisane, resolveram montar uma exposição abrangente de sua vida e obra, reunindo pinturas, desenhos, fotografias, filmes em VHS, brinquedos e memorabilia para apresentar pela primeira vez a intimidade do artista.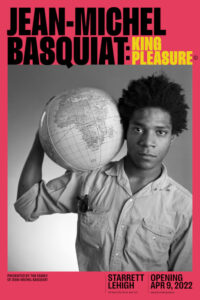 Foram cinco anos para montar Jean-Michel Basquiat: King Pleasure, em cartaz desde abril no Starrett-Lehigh Building, um enorme galpão em Chelsea, onde fica até 1º de janeiro. São mais de 200 obras de arte e artefatos de propriedade do artista – 177 inéditos para o público.
Curadoras e produtoras do evento, as irmãs de Basquiat criaram uma nova maneira de se montar uma exposição. Os museus costumam isolar o trabalho dos artistas de sua vida pessoal. Jeanine e Lisane resolveram fazer o oposto: trazer detalhes da vida do artista como o foco principal, ao mesmo tempo em que apresentam obras inéditas do acervo familiar.
O resultado é uma oportunidade única de mergulhar no universo pessoal de Basquiat, sentir um pouco do ambiente onde ele criou e entender o que o inspirou.
Com uma trilha sonora de músicas que o artista gostava de ouvir  – a versão de Diana Ross de "Ain't No Mountain High Enough" e "(They Long to Be) Close to You", dos Carpenters — a mostra recria os espaços físicos que foram importantes para Basquiat: a sala de jantar da família em Boerum Hill (com prateleira de especiarias original); seu estúdio de pintura na Great Jones Street, 57 (com pilhas de seus livros); e a Sala VIP do Palladium – com espelhos, cortinas drapeadas e candelabros – onde ele passava muitas noites.
"Queríamos que as pessoas entrassem e tivessem a experiência de Jean-Michel – o ser humano, o filho, o irmão, o primo," disse Jeanine Heriveaux em uma entrevista na época da abertura.
Basquiat era considerado pelos críticos um "rare raw talent" no mesmo naipe de Picasso.  Começou a vender obras em uma rapidez sem igual; a piada na época era que não dava tempo nem da tinta secar. Todos queriam se aproximar do jovem frenético, rebelde e genial (inclusive artistas consolidados como Keith Haring e Andy Warhol), e até hoje suas obras continuam a exercer atração e fascínio.
Suas pinturas (e grafites) são habitadas por um vocabulário próprio de símbolos, logomarcas e dinossauros, que curiosamente ele amava retratar.
Consciente de sua posição como um dos poucos artistas negros bem-sucedidos à época, passou a refletir questões de raça no trabalho.
A pintura The Death of Michael Stewart – ou Defacement – retrata um episódio de brutalidade policial contra um artista negro e se tornou uma obra de importância histórica. Basquiat passou a se interessar pelas questões da comunidade negra e disse em suas últimas entrevistas que as pessoas pretas não eram retratadas de forma realista ou suficiente na história da arte.
"Jean-Michel é e sempre foi fogo. Fogo," escreve Lisane. "Ele era um irmão mais velho protetor, indisciplinado e pioneiro, que abriu caminho para tantas pessoas."
As irmãs reconhecem que não são estudiosas de arte ou curadoras: a exposição é apenas sua versão afetiva da história, justamente o que a torna tão singular.
Foto: Ivane Katamashvili