A AeroVironment, especialista em sistemas aéreos não tripulados, disse que doará mais de 100 sistemas de aeronaves não tripuladas (UAS) de reconhecimento Quantix e serviços de treinamento operacional para a Ucrânia em meio à guerra em andamento do país contra a Rússia.
Segundo a empresa, a doação foi apresentada ao embaixador e ao adido de defesa na embaixada da Ucrânia pelo presidente e diretor executivo da AeroVironment, Wahid Nawabi, durante uma reunião na semana passada.
A primeira metade da remessa doada do Quantix Recon UAS deve ser entregue esta semana com o treinamento operacional começando imediatamente, disse a empresa.
A AeroVironment anunciou a doação de drones Quantix após receber um contrato de US$ 19,7 milhões do departamento de defesa dos EUA para a entrega do RQ-20 Puma UAS para a Ucrânia até o final de maio deste ano.
AeroVironment Donates Over 100 Quantix Recon Unmanned Aircraft Systems to the Ministry of Defence of Ukraine and Territorial Forces. https://t.co/UMPpnj80Bt pic.twitter.com/cC4IakpGOT

— AeroVironment (@aerovironment) April 19, 2022
Vale ressaltar que a empresa também entregará os drones de mísseis Switchblade para a Ucrânia como parte de um pacote de assistência à defesa anunciado pelo Pentágono em março deste ano.
"À medida que a luta dos militares ucranianos para proteger sua pátria e defender a liberdade de sua nação contra a invasão da Rússia se intensifica, sua necessidade de soluções que possam oferecer proteção de força e capacidades de multiplicação de força continua", disse Nawabi. "Esta doação fornecerá aos operadores uma ferramenta que pode voar sem ser detectada pelas forças inimigas e não afetada por bloqueadores de radiofrequência para fornecer reconhecimento preciso e rápido de áreas remotas e inacessíveis do campo de batalha em mudança dinâmica.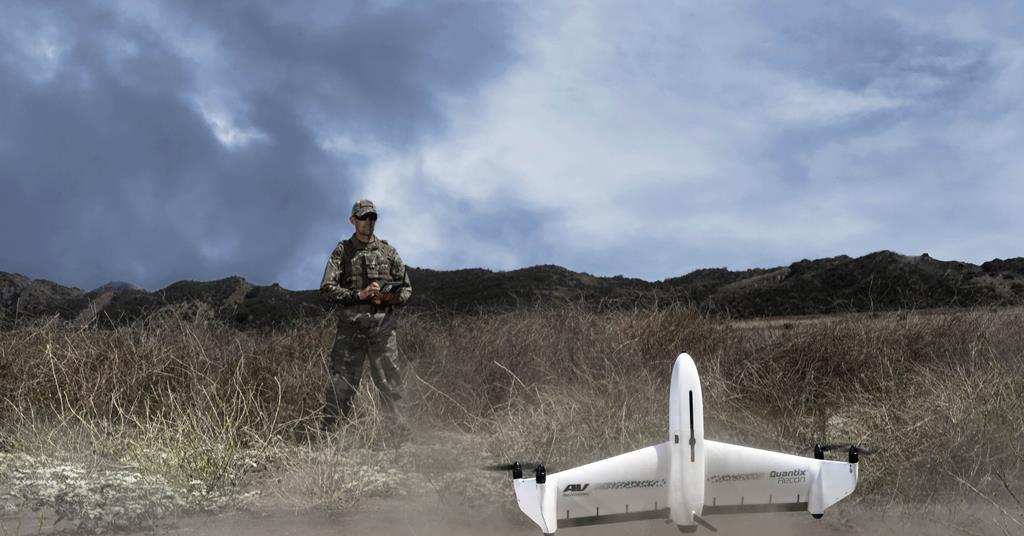 O Quantix UAS é uma solução de reconhecimento leve que fornece inteligência acionável sob demanda usando imagens de terreno, vegetação e infraestrutura georreferenciadas de alta resolução. Com seu projeto híbrido vertical de decolagem e pouso (VTOL), o Quantix Recon combina as vantagens VTOL de um drone multirotor com o alcance, velocidade e eficiência de uma aeronave não tripulada de asa fixa. Com operação de voo totalmente automatizada, o UAS pode pesquisar até 1,6 quilômetros quadrados ou 20 quilômetros lineares, por voo de bateria única de 45 minutos.