Um total de seis aviões de transporte aéreo Y-20 da Força Aérea do Exército de Libertação Popular da China (PLAAF) pousaram no Aeroporto Nikola Tesla na Sérvia em 9 de abril, supostamente entregando o sistema de defesa antimísseis terra-ar FK-3 para a Sérvia.
Embora ainda não esteja oficialmente confirmado que a Sérvia recebeu a variante de exportação do sistema HQ-22 de médio alcance da China, o presidente sérvio Aleksandar Vucic disse a repórteres que "novos sistemas de armas, que serão o orgulho de nossas forças armadas", serão revelados na próxima semana.
Earlier today, 9MAR22, @ BEG: China Air Force Xi'an Y-20A Kunpeng (20042 and 20047).

?: Zoran Skundric pic.twitter.com/KeDOI0WsxH

— BoardingPass (@BoardingPassRO) April 9, 2022
Falando a repórteres em 9 de abril, depois de participar do exercício de larga escala Fire Shield 2022, que ocorreu na faixa de Pasuljanske Livade, Vucic se recusou a confirmar que o FK-3 foi entregue com os voos de aeronaves Y-20, o que tornaria a Sérvia o primeiro conhecido operador europeu do sistema.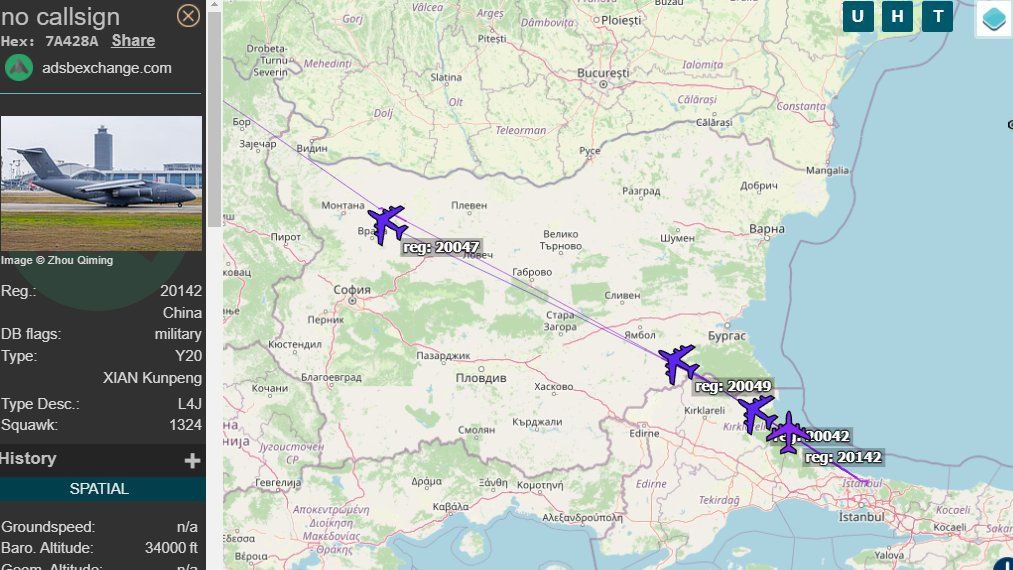 O FK-3 é uma variante ligeiramente rebaixada do HQ-22, que entrou em serviço no Exército de Libertação Popular em 2017. Os mísseis HQ-22 podem atingir alvos em altitudes de até 27 km e ter um alcance declarado de até 170 km. Guiados por radar semiativo, os mísseis são projetados para mísseis balísticos e de cruzeiro, além de aeronaves, helicópteros e UAVs.
Second day of shipments to Serbia: People's Liberation Army AF's six Xi'an Y-20-A Pàng ni? transport planes flew over Bosphorus en route to Batajnica AFB to deliver Guizhou Aerospace Industry Shaanxi Yellow River Group manufactured HQ22 Red Banner SAM system's export version FK3. pic.twitter.com/vAQLQfVPrH

— Yörük I??k (@YorukIsik) April 10, 2022
Coincidindo com a chegada peculiar de seis Y-20 na Sérvia, o porta-voz do Ministério das Relações Exteriores da China, Hua Chunying, disse que o ministro das Relações Exteriores da China, Wang Yi, disse a seu colega sérvio Nikola Selakovic em uma conversa telefônica que a China "apoiaria firmemente a Sérvia na salvaguarda da soberania, integridade territorial e dignidade e na prossecução de uma política externa independente".
Six Chinese Y-20 heavy transport aircraft landed in Serbia.
Reportedly to deliver FK-3 SAMs. pic.twitter.com/AginsWhCYt

— WLVN Analysis? (@TheLegateIN) April 9, 2022
"A China apoia firmemente a Sérvia em fazer julgamentos e decisões com base nos interesses fundamentais do país e da nação. Nós nos opomos a forças externas que exercem pressão política sobre países soberanos e nos opomos a coagir outros países a tomar partido."
O pedido do FK-3 da Sérvia foi revelado pela primeira vez em 2019 no relatório anual da empresa estatal de armas da Sérvia Jugoimport SDPR. Além do sistema de defesa antimísseis, as compras da China incluíram drones CH-92A armados, que a Sérvia recebeu da China em junho de 2020.
O presidente sérvio Vucic disse ainda em 9 de abril que estava em negociações com a França para a compra de 12 novos caças Rafale, bem como com outro país para a compra de 12 Rafales usados. Ele também lançou uma terceira opção para uma solução de aeronave de combate.
Vucic também disse a repórteres que o presidente da Turquia, Recep Tayyip Erdogan, garantiu que a Sérvia poderia comprar drones armados Bayraktar TB2.