Faltando menos de 24 dias para o lançamento do filme "Top Gun: Maverick", uma aeronave ERJ-135 fabricada pela Embraer recebeu uma especial pintura do filme para levar parte do elenco no período de divulgação que antecede a estreia.
O novo filme sequência de 1986 traz de volta Tom Cruise no papel de Pete "Maverick" Mitchell, mas agora pilotando jatos Super Hornet ao invés dos F-14 Tomcat do primeiro filme. Na aeronave ERJ-135 com matrícula N259JX é possível ver estilizado o capacete do famoso piloto de caça pintado na cauda.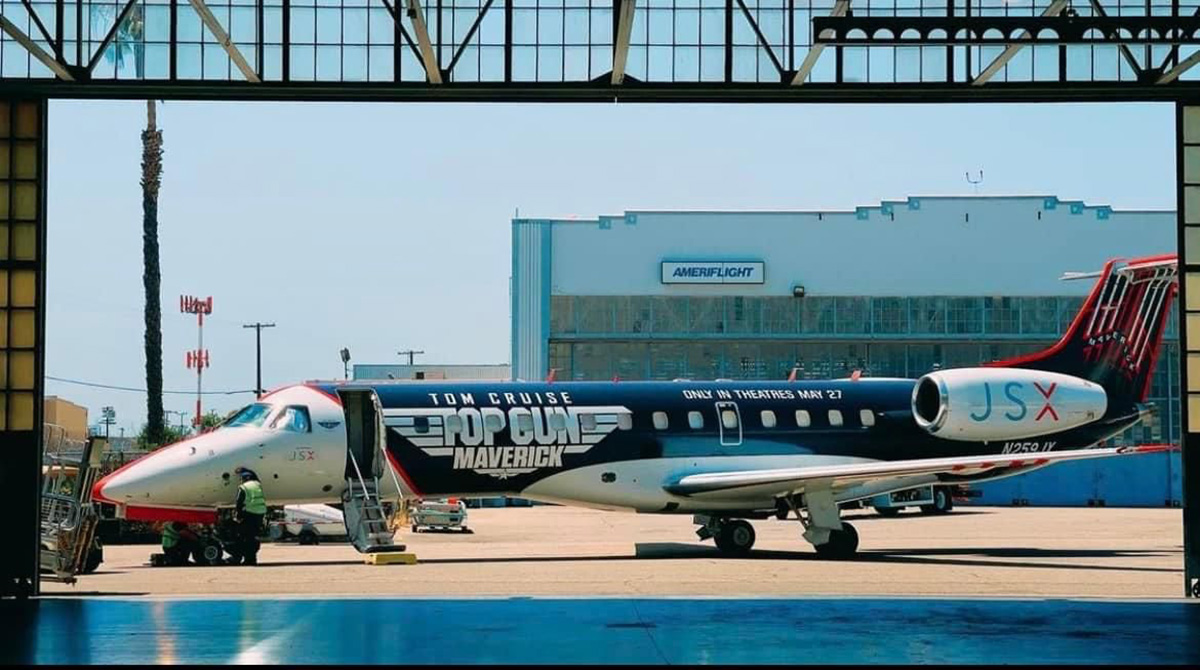 A aeronave ERJ-135 já pertenceu a empresa brasileira Lynx Táxi Aéreo, com a matrícula brasileira PP-WTH, mas nunca chegou a voar no Brasil. Depois de ser produzido em 2001 e ter voado por cerca de 13 anos na companhia aérea American Eagle, subsidiária regional da American Airlines, com a matrícula N739AE. Depois foi estocada no deserto.
— Top Gun (@TopGunMovie) May 1, 2022
Depois, já com matrícula N280EC, foi para a empresa de táxi aéreo americana JetSuiteX, conhecida como JSX que fornece voos premium que qualquer passageiro pode comprar, e com um preço bastante acessível, sendo conhecida por ser uma aérea de boutique. Em 2019, a aeronave trocou a matrícula para N259JX.
Por isso, o estúdio do filme, Paramount Pictures, fechou um acordo para que a JSX fosse a empresa aérea oficial do filme, com isso aplicando a bela identidade visual com a logomarca e a data de lançamento do filme na fuselagem no jato que irá voar pela costa oeste dos EUA nos destinos da JSX.
It's finally unclassified: JSX is the Official Hop-On Jet Service for @TopGunMovie and our fleet is feeling a whole new need…for speed! Grab your wingman – Top Gun: Maverick takes flight only in theatres May 27. #TopGun #FlyJSX pic.twitter.com/qP8eTSF7ho

— JSX (@flyjsx) April 30, 2022
A aeronave começou sua série de voos para divulgar o filme no dia 30 de abril, partindo de Phoenix, no estado do Arizona, com atores do elenco. O filme estreia no dia 27 de maio no mercado americano e no Brasil.
Buckle up, y'all! ?? Top Gun: Maverick Global Tour starts now! @TopGunMovie pic.twitter.com/ktPy6iBhz0

— Jay Ellis (@JayREllis) May 2, 2022
Este é o quarto avião pintado especialmente para o novo filme. Durante as gravações, dois caças F/A-18 Super Hornet da Marinha dos EUA e um F-14 Tomcat aposentado foram customizados para participarem do longa-metragem.
Enquanto os F/A-18E e F/A-18F receberam pinturas da Escola de Armas de Caça da Marinha (NFWS), a famosa Top Gun, o clássico F-14 foi pintado com as cores da chamada "Nação Rebelde". O Tomcat já está com seu "dono", o Museu Aeroespacial de San Diego, enquanto os Super Hornets foram transferidos para os Blue Angels em 2020.